So today is Day # 17 of the 30 Day Digital Challenge – How to create Facebook Ads that Convert
Catch up on what we have already covered; (View the 30 Day Topics Schedule)
Facebook Ads that Convert: One of the most common issues I'm asked for advice on nowadays is Facebook advertising and more specifically, why people's ads aren't converting.
It's a growing problem – marketers are putting budget to Facebook advertising because everyone is doing it so they feel like they should, but without any true strategy behind the campaign or consideration for how likely they are to generate a return.
More often than not, the individuals I encounter have heard great things about the low costs per click (CPC) that Facebook can offer and decided to assign spend here instead of Google in a bid to generate more traffic for less. This is where the problem occurs.
If you're looking for the best platform to reach your customers, then Facebook should absolutely be your first port of call for lead generation. With an estimated 2.13 billion active monthly users worldwide, it's a ready-made market that's ripe for the taking. However, you can't simply treat a Facebook ad campaign like a Google ad campaign and then get frustrated when it doesn't produce the incredible results you were expecting.
By taking this approach, you'll achieve the low CPCs you were hoping for, but none of the clickers will go on to convert – a total waste of money and time.
This is because when it comes to Google, people are already searching for the service or product you offer by entering your keywords into the search bar. Therefore, when your ad appears, they already have a vested interest and are more likely to click and then purchase or subscribe.
Facebook is totally different. Users are just scrolling through their feeds, browsing and socialising with their network. They've come to Facebook to see what their friends are up to and check out pictures, videos and status updates. If a Facebook user clicks on an ad or article, it's because it's stopped them in their tracks and grabbed his or her attention.
So, what's the most effective way to do this?
When designing a Facebook ad campaign, I always consider the three As – audience, attention and analyse. By covering these three bases, you'll create Facebook ads that not only capture the attention of those you wish to target, but drive them to conversion. Here's how: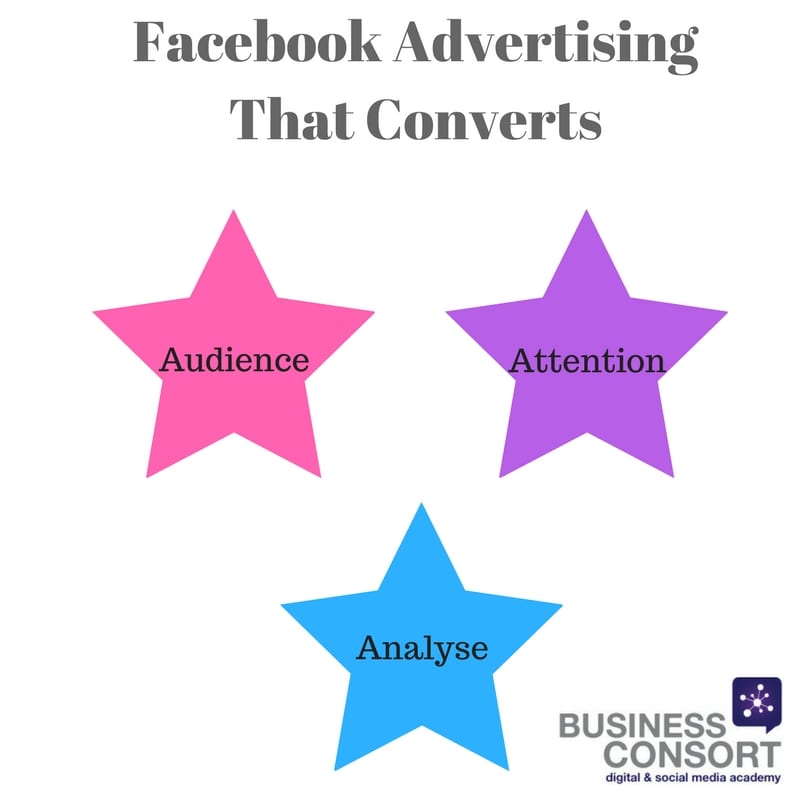 Audience
One of the key benefits of advertising on Facebook is that you can be extremely targeted with exactly who sees your content. That said, many people make the mistake of trying to target too many different people, which is the exact opposite of being targeted, so always try and refine further!
The first sets of options Facebook presents are the general demographics. This is where you initially narrow down your audience by location, age, gender and languages.
Location targeting is particularly handy for consumer-facing businesses with high street outlets and some B2B firms offering localised services. Age and gender are useful for brands selling products targeted at a specific group of individuals, as it allows you to easily exclude those that you know definitely won't make a purchase. Other demographic refinement options include relationship status, education, occupation, ethnic affinity and political preference – all of which could be useful depending on your offering.
Sounds great, right? We're just scratching the surface.
As a social network, Facebook holds data on every page liked, post shared, group joined, interest listed and app used by every member. You can harness this information to be even more targeted, drilling down to find the people who are most likely to click through from your ad and convert.
This also means you can target your competitors' fans and Facebook can generate 'look-alike' audiences – groups of people that are similar to those that already like your page, or subscribe to your emails, for example. Facebook's Custom Audiences tool also allows you to create an audience for your ads from people who visited your site by tracking visitors and creating a list of their profile details.
Ever thought about booking a holiday somewhere and then been inundated with ads for hotels in that country? You can thank Facebook's audience behaviour tracking for this! Facebook tracks the actions people take on the platform and mines data from partner sites – another fantastic tool that can be used for ad targeting.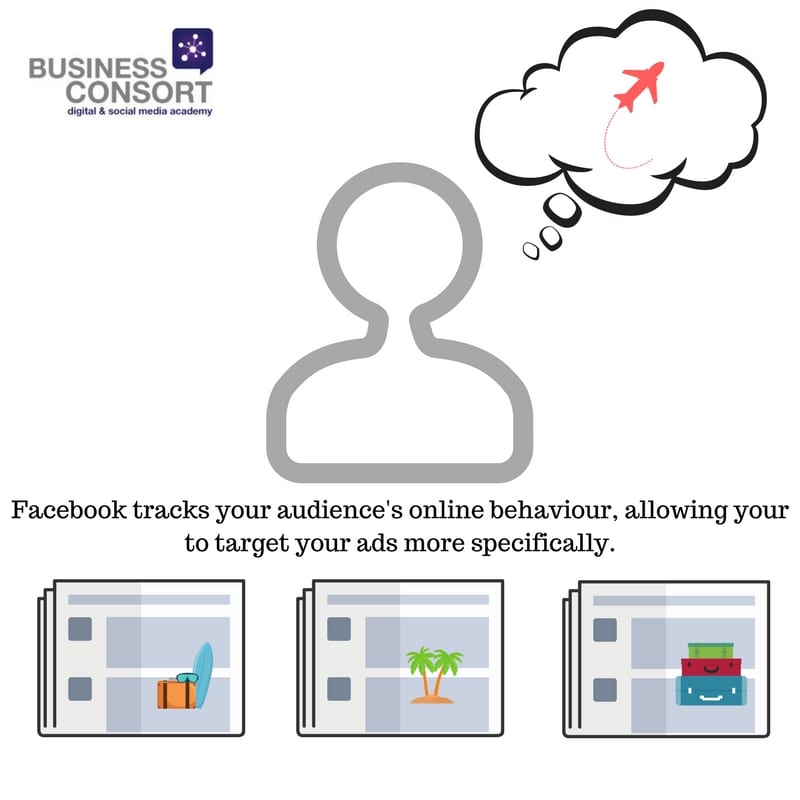 It's likely that you'll have a range of different audiences who will respond better to different content, so create different ad sets for each. However, by putting the time in to defining and refining exactly what your audiences look like at the beginning of an ad campaign, you can rest assured that you're not wasting money.
Attention
So, you know who you want to get in front of, now you just have to make sure that when people see your ad, they click on it. That's where the creation of attention grabbing content comes in.
The first thing Facebook users will see is an image or video, so choose something bright that is more likely to make people stop scrolling and read more. The brain processes visuals 60,000 times faster than plain text, so getting this right is absolutely vital.
The second thing your audience will see is the copy, so this needs to be catchy and engaging. Reel them in with a punchy title which gives an overview of your product or service. Use leading questions that will pique your audience's curiosity and make them want to know more. The rest of the text should go into the finer details and convince them to click through.
When compiling text for ads, consider what kind of thing makes you stop and read on your own Facebook page. Statistics, testimonials, case studies and emotive statements are all proven to work, so these are good places to start.
Last but by absolutely no means least, is your call to action (CTA). Your ad needs to tell people what to do! Be clear and use phrases like 'buy now', 'sign up here' or 'click for 50 per cent off' to boost conversion.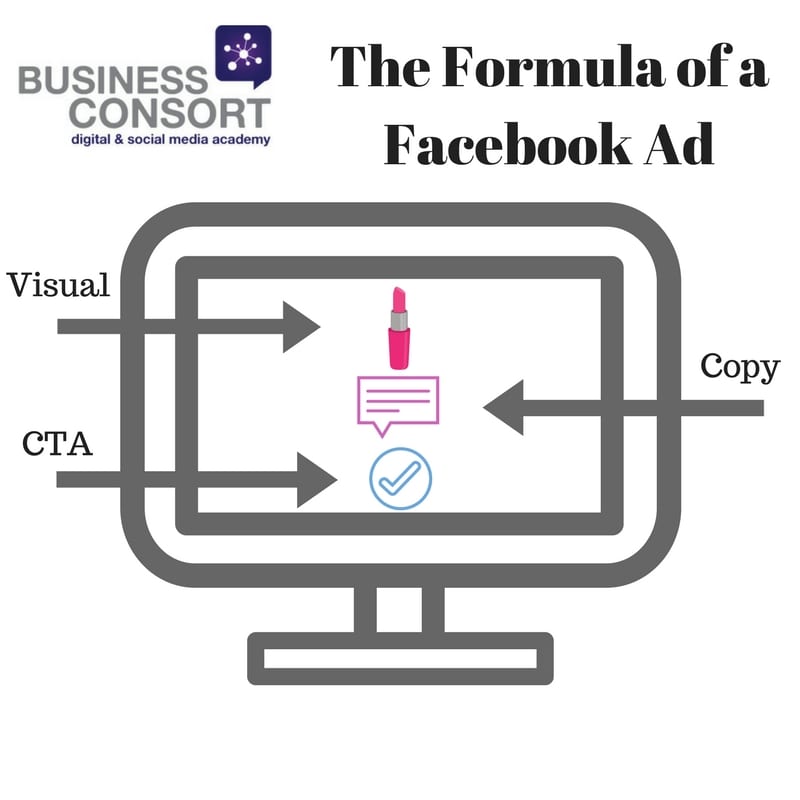 Analyse
As with everything in marketing, there's no one-size-fits-all for Facebook advertising. You won't get it right on your first try either, so don't be disheartened if it takes a few attempts to hit the conversion targets you've set.
You'll need to create multiple ads and split test each one for a different audience, learning from the ads that convert best and dropping the ones that don't. After a few rounds of this, you'll have a set of high performing ads that convert.
Don't think it stops there, though. You should be continually analysing your ad campaigns – further refining your audiences, trying out new styles of image and video and testing different CTAs. Improving your conversion is an ongoing process and one that's well worth committing time to.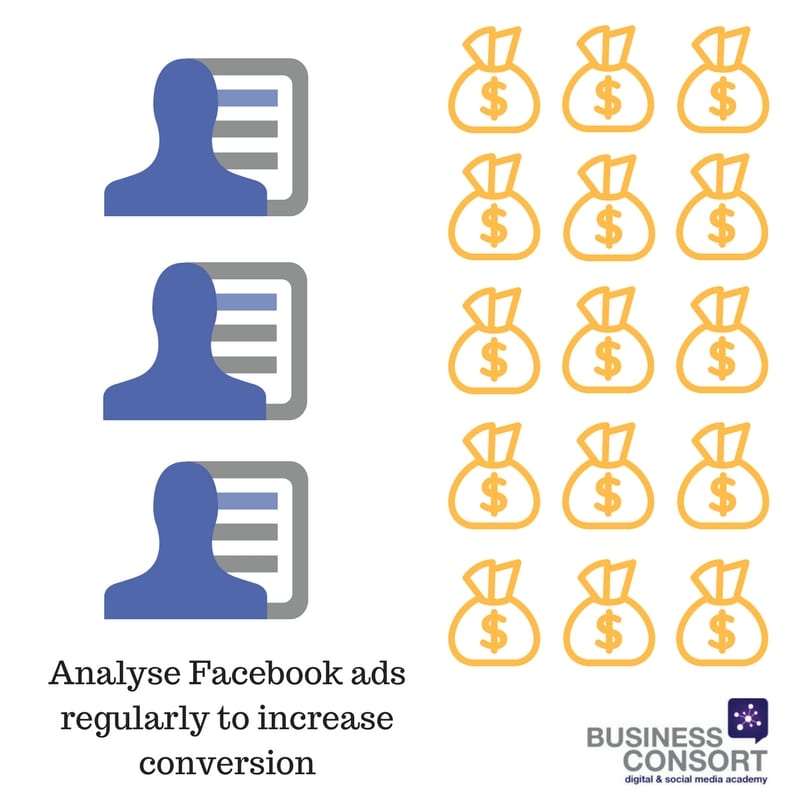 According to Sprout Social, 400 new users sign up to Facebook every minute, demonstrating just how ripe the market is for the taking! The network presents a massive sales opportunity, so if your ads are perfected for conversion, your business has the potential to grow exponentially.
On Day # 6 we covered how to create a Messenger Bot for Facebook Marketing
To learn more about social advertising and how it could improve your business, check out our social media courses.