30 Day
Digital Challenge: What is it & who is it for?….
30 Days of Digital Marketing Tips, Tools and Techniques – Easy to implement tips for busy professionals that can make a huge difference to a online presence, lead generation and sales conversion.
Our 30 Day Digital Marketing Challenge is completely free of charge, and has been designed for entrepreneurs, business owners and marketing managers.
Who is hosting the Digital

C
hallenge?….
Our Founder & Head Trainer Dawn McGruer FRSA MCIM MIoD is launching a massive

30-Day

Digital

Challenge

to drive digital skills across the world – Come and join the digital revolution – Sign Up
Every single day from 1st March 2018 Dawn (who has also has just been shortlisted for Marketer of the Year for the UK Chartered Institute of Marketing Awards) will we sharing a digital marketing tip to help businesses really ramp up their digital profits
How do you

JOIN

the Digital

C
hallenge?….
She will be hosting LIVE LEARNING sessions everyday @ 1pm on Facebook
Make sure you LIKE OUR PAGE to see the daily tips
JOIN THE GROUP to access all the 30 day challenge tips
Sign Up to the 30 Day Digital Challenge & receive video training sessions by emails
Why

did we decide to launch a 30 day challenge?
Well, in January, Damian Hinds addressed the growing digital skills gap in his first public speech as the new Education Secretary, advising that schools need to prepare young people for the digital revolution. As well as traditional academic subjects and public speaking skills, digital literacy is high on the agenda as it continues to prove a fundamental requirement in a high proportion of new jobs.
Dawn says: "I am seeing a skills gap every day in business across digital and public speaking and I am also constantly up-skilling – I just completed the last 7-days of a year long intensive professional speakers course in Dubai and although I am speaking at events and seminars every week you need to hone and sharpen skills to not only keep your competitive advantage but to keep ahead in an ever evolving world of digital media for video marketing as well as on stage.
As Chartered Institute of Marketing accredited study centre and tutor I also have to do around 120 hours a year continuous professional development. Many businesses don't know what the skill necessarily their team are lacking or what isn't working so these easy to implement tips should really help marketing professionals, entrepreneurs and business owners see how a skilled approach can make a huge difference as we still see a low investment in this area of training from some sectors"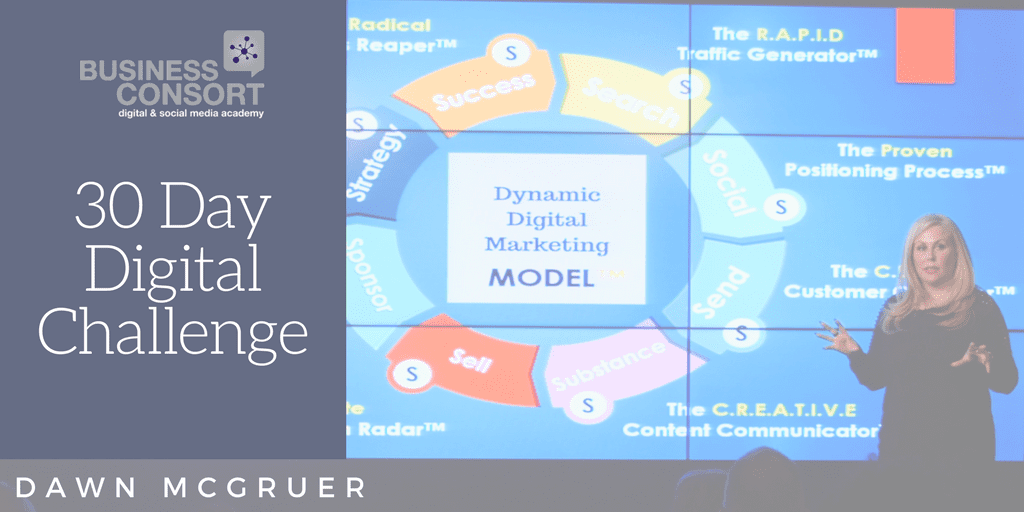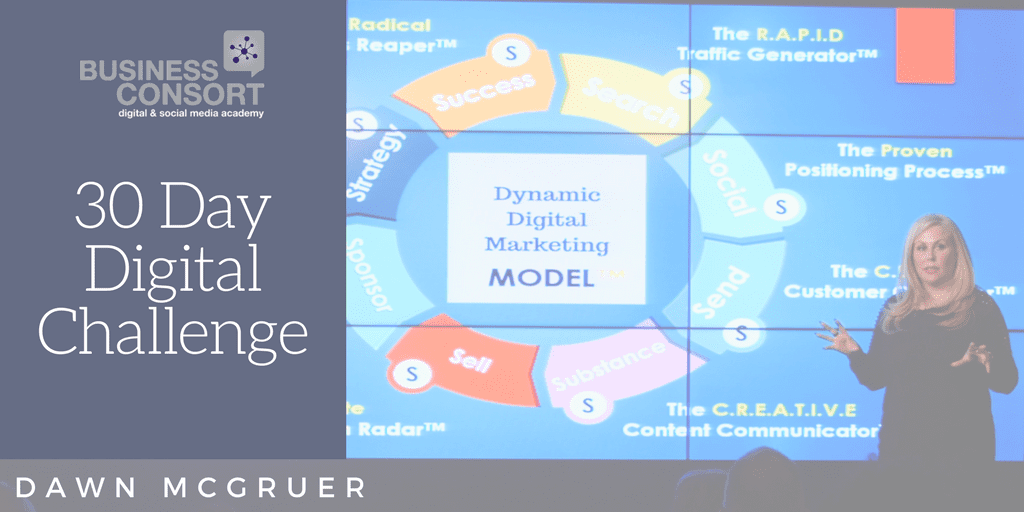 The 30-day Digital Marketing Challenge will share with you, and give you the tools you need to create the perfect content. During the 30-day challenge, I will take you through the tools and actions needed to find your target customers.
Generating sales can be difficult, but I will give you the strategies and tools you need to generate leads and sales.

The challenge will cover the

8 key areas of digital

marketing:
SEARCH

– Find out what your audience wants from you as a business through this Digital Marketing Challenge.

SOCIAL

– Build a loyal and engaged audience of social supporters and turn your network into paying customers

SEND

– Ensure best practice data management for successful email marketing campaigns.

SUBSTANCE

– How to create content marketing that persuades & converts

SELL

– Generate new prospect & generate a steady flow of new & returning customers

SPONSOR

– Drive low-cost quality traffic and leads as well as improving brand awareness.

STRATEGY

– Multi-channel marketing strategies for 2018

SCORE

– How you can measure and improve your ROI for your digital eforts
In this free Digital Marketing challenge, you will gain access to 30 amazing tips, tools and techniques, and I'll be sharing the best actions that drive traffic and win new business and I'm giving all of this to you for FREE!
I will also share with you the importance of being consistent with your message online, the best ways to understand what your audience want from you and how to create content that drives success.
Are
YOU

ready to take the Challenge
?
As I have mentioned above, the Digital Marketing challenge is completely free of charge, and begins on the 1st March 2018 and runs for 30 consecutive days.
If you would like to secure your place for the challenge, sign up here!