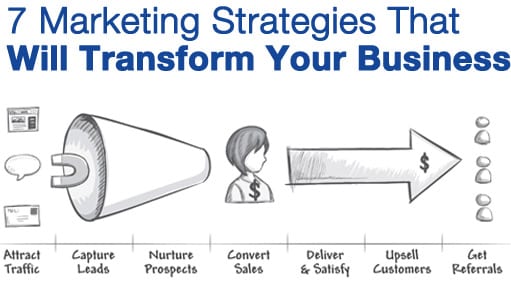 1.) Phase One – Attract – This relates to attracting visitors
When I ask my businesses what would be their number one wish – They often reply 'Get more visitors to our website'.
You may or may no agree but the harsh reality is that 75% of transactions originate from a search engine regardless whether the purchase is made online through an e-commerce site or in a physical location such as high street stores etc.
So what does this mean – Quite simply it means that if your business isn't visible in search results for your key words or phrases then you are losing business!
The customer journey is a key consideration for every business – Think how you would go about sourcing a product or service. I would say most of us would turn to a search engine to research it further.
Then we would select the best looking 'search result'.
This is a step most businesses forget – They skip straight to assuming 'once I appear on page one of Google then they visit my site'.
I am afraid to say that this assumption can be costly to a business because what we actually do is scan the little paragraphs of text to see which one we like the look of – the one that stands out most for whatever reason.
There is a big opportunity for businesses here to stand out from the crowd and if – In marketing terms you OVP (Online Value Proposition) is appealing enough then we choose you but ensure the message seen here is consistent to the one they see when they arrive at your website.
So if it said '12 months for the price of 10′ then they must be able to see this message at first glance when they click-through to your site so they know they have come to the right place – If it's not they'll go back to the search results and choose your competitor.
For instance, the term 'airline tickets' you can see from the below example that there are an array of paid and organic searches to choose from.
With Paid advertising you choose your advert text to appeal to viewers (PPC) and for natural / organic searches you must ensure your website title  says exactly what you want to appear in search results. You only have 160 characters so make sure it's good!
Okay – so you appear in search results, your position and headline grabs attention – what next?
Well the searcher chooses YOUR business then visits your website. Congratulations they have arrived!
We must also consider the other traffic drivers responsible for your traffic – You can use your Google analytics account to see your current site traffic plus the 'social settings' area in 'admin' will tell you which social networks, blogs etc are sending your site the most traffic – Just pop the link in to the social settings list and let Google analytics show you which sources are sending you the most visitors. This will help you establish where to concentrate your efforts and resources.
Other traffic drivers will include things such as social networks, blogs, email campaigns, other online advertising, online press releases, QR codes (Quick response), You Tube – We will cover this in more detail in coming posts including what happens when they land on your site.
Most businesses spend their time grappling to generate more leads – The ideal would be to attract leads rather than have to hunt them out.
To attract visitors to generate leads the process is simple but often neglected. Lead magnets which are things such as free white papers, case studies, reports, webinars, guides and various downloads that add value to the prospect which will entice them to firstly visit you landing pages or websites then part with their data thus becoming a lead in your sales funnel.
These leads will see listings in Google, PPC ads, landing page links or website links in email campaigns, on social networks, blogs and other traffic drivers for your fabulous valuing adding resource that will help their business or satisfy their need want.
Creating lead magnets ( a value adding resource) doesn't have to be a long and arduous task – You can create webinar events, guides, tips sheets and reports fairly quickly for your business – Then design fully hosted landing pages in minutes with key benefits and lead capture forms too – Hey presto you have a link to send out in emails, post on blogs or social networks or in QR code campaigns which will start attracting leads.
This approach is guaranteed to be far more effective in attracting and capturing leads as 97% of you website visitors will not be ready to buy when they visit your site so what happens to them – They are lost into the abyss unless you have something to capture their interest when they arrive at your website or landing page.
We will cover phase 2 – 'Capture' in our next blog.
Recommended Resources
Create webinars – Gotwebinar for up to 1000 attendees or GotoMeeting for meetings less than 25 people or Try Google Hangout.
Create Landing Pages – InstaPage – No technical knowledge needed and costs only £6 a page – Easy to use and you can have a live landing page in minutes as there are tons of templates to choose from that you can customise and brand.
Create Email Campaigns – MailChimp is great because it connect s to your InstaPage and when someone submits a form their data goes straight into your MailChimp email marketing list. Other email software I like are Constant Contact and IContact.
What now?
Make sure you Follow our Blog & Subscribe to receive Phase 2 through to 7
So, how can we help?
1.) Free Digital Marketing Learning Resources – Check out Free Digital Resources & 21-Page Social Media Guide
2.) Work with us – Check out the 7 Week Life Cycle Marketing Training Programme we have developed to help you increase lead generation and conversion – Read more…
Checkout out our website for more resources www.thesocialmediaacademy.org