I started my business at the age of 21 years old and over the past 20 years have grown Business Consort – Digital & Social Media Academy to training and certifying over 27,000 professionals as a CIM Accredited Study Centre.
Dawn McGruer (00:01):
In 2000 just as the internet began
Hi, I'm Dawn McGruer and I am Founder of Business Consort Digital & and Social Media Academy.
Business Consort started life as marketing agency and we had our very own social networking site with built in member directory which also included our in-house panel of experts which soon evolved to extend it's services to host UK wide networking events. We have always been a business with a difference because I always wanted to do something that stood out from the crowd with professionalism and creativity at the core.
The business has always evolved organically through client demand and ultimately became a fully-fledged CIM accredited training academy surpassing some of the biggest Universities and Colleges around the world.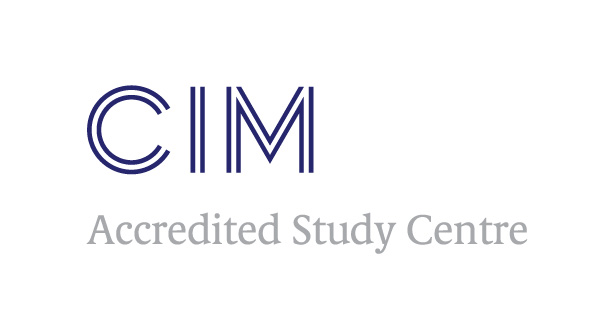 Many moons ago now, back at the ripe old age of 21, I started my first ever business, Aurora Marketing which as a marketing agency. And I wanted to really help businesses of all sizes, start harnessing the massive power of online marketing. I don't know whether this was arrogance or naivety to start my business so young, but I know I was full of energy and optimism and my clients saw this in everything I did.
I had been working for multi-nationals and traveling the world so felt ready to set up my own business. I'd amassed huge, huge experience, and really fast tracked my way into business because some of the businesses I worked for were start-ups. So I was seeing the start from something that was just a premise, right the way through to a global business. There has been nothing better for me than on the job experience.
Dawn McGruer (01:00):
First ever job earning £30,000
I literally started in college and went through the normal route of education, but academia wasn't for me. I had started in workplace quite young with many telling me I would reach a glass ceiling and progression would be difficult and some even saying I would not find a job. I proved them all wrong and my first job I was earning £30,000 at 18. This was a pretty amazing and certainly shut up the doubters!
I mean, this is 20 years ago and even today at that age it was a great salary. I landed myself a good job in a major brand and I fast tracked it through. And this gave me a massive, massive boost to my initial career progression. It was a very steep learning curve, but huge opportunity.
US Business Setting Up UK arm
After a couple of years forging ahead in my career I was full of confidence and nothing seemed to be in my way, every month I was recognised in some capacity for my part in the business and I knew then that I had found my place in life. Business really did excite me and I loved work!
I was offered an opportunity I will never forget because this was the foundation to my success today. I was asked to help set up the UK arm of a US business and this gave me access to everything from the ground up literally from setting up a business premise, recruiting team members and branding vehicles and sourcing software to manage fleets of engineers.
It was the hardest thing I had ever done but seeing it all come together was just the best feeling. That business is still flourishing employing hundreds of staff and still using some of MY processes.
Dawn McGruer (01:55):
I used to be a Programmer
Due to the technical nature of setting up this business I had grown a fascination with the internet and programming which was something that no one else, especially females were doing back then. I decided I wanted to learn programming While was studying it in college, while I was working full time. I was literally coming out of college, doing programming, only female in the class. I was also, I felt ancient at that point, although I was only 18, 19. And I really, really embraced this.
To the point that I decided that I wanted to get my Microsoft exams in engineering. And I got into category five cabling and how you connected patch panels to get computers onto an internet network. And I soon realised that this maybe wasn't the road for me. I am absolutely a techie geek, but I realised that I needed something that was more creative and something that was really business focused after dipping my toe into web and graphic design.
Dawn McGruer (02:51):
Passionate about Business, Marketing & Psychology
I'd got a real passion, from working with a start-up. From seeing everything from a business operational view and that life experience. I was passionate about psychology. I loved the way that you could explore consumers, how they purchased and what that life cycle looked like. My passion was business and making money, and the power of the internet. So how could I work with all of those, and develop my career? What was my career progression?
I decided to study Marketing
I literally started out and decided I was going to do my Chartered Institute of Marketing exams. And this was going to be my entry point into the world of marketing. Now, the internet was still quite new then. If you think about it, Google had just started. And we were seeing the emergence of people taking advantage of email, marketing, and websites. And the programming side and creating websites appealed to me because it had the visual and the creative element I craved.
Dawn McGruer (03:52):
Started my Marketing Agency
Marketing was a passion. I knew as soon as I started doing my Chartered Institute of Marketing course, that this was for me. I did it two nights a week, from six till nine. I do not know how I did it, it almost killed me. And then once I had got to that point, I decided that, yeah, I was going to forge ahead. So my role evolved into the world of marketing management.
And then I decided at 21, because I'd been working in marketing and felt I had this vast life experience to set up an agency – Aurora Marketing. Now, it was not all plain sailing, I have to say. But one of the best learning curves it gave me was an understanding of business, from start to finish as well as from getting my own business online.
Dawn McGruer (04:36):
Virtual Business Partner Programme
Over the past 20 years, I have worked in digital marketing. I have literally evolved at the speed of digital marketing, and so has my career. Right the way through to in 2005, when I set up Business Consort Digital & and Social Media Academy. Now that stemmed from the fact that I had been running a program called The Virtual Business Partner Programme.
As there was only one of me in the agency at that time so I could only work one to many, not one to one. I had lots of clients that I was helping get onto online, utilising their marketing. And I had to programme everything at that point because there was no digital marketing tools. My experience in programming did lend itself very well for that. And obviously pulling reports, I had to write all of those too.
Wrote my First Book
Even as I write this, I think I must have been crazy. Not only had I bought my first house at 19, started a business at 21 I thought why not go one step further and write a book!
The book was about my struggles in life I had experienced 6 losses in 6 months. Also, at this came at a time when I had the pressure of a mortgage and the challenges that came with starting a new business.
The book was entitled 'Character Building'. My Dad would say this to me about anything in life that was difficult or obstacles I had to navigate past. It included 37 authors including some celebrities like Philip Schofield. The focus was inspirational stories about overcoming adversity, and the proceeds went to Cancer Research. It sold across all major book shops and is still selling!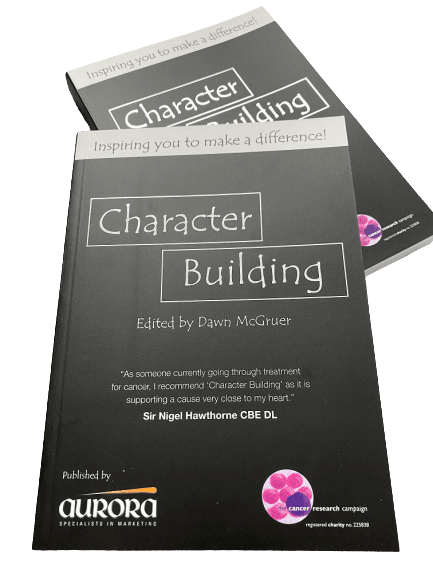 Dawn McGruer (05:24):
Business Consort Was Born
As Virtual Business Partner Programme grew, it soon got to a point where literally people wanted more. And I was basically being pushed organically by and driven by my customers. My business has kind of flourished based on demand.
And what happened is, the emergence of Business Consort which actually came from being approached by a large Northwest exhibition company and being asked to build a social network. Now it was not like Facebook or anything that we know in today's social media, but basically it was a platform to get exhibitors and attendees to connect.
I Built a Social Networking Site
Now little did we know that we were going to get 50,000 people within here. And the platform then soon evolved into it's own social network. And we had a panel of experts and we evolved quickly into doing UK wide networking events. We did events that were hosted in car showrooms, in Aston Martin, Bentley, Ferrari, literally these networking events were at the peak, when networking was just central to business.
We had two groups – business growth for businesses up to 10 million and the Platinum Club for businesses from 10 million upwards where we did exclusive events touring the Bentley Factory with lunches and networking.
The events were special from a diamond auction to an exhibition in the grand atrium at The Hurlingham Club with VIP guests and the chance to find and win a diamond hidden in the grounds.
Dawn McGruer (06:31):
UK Networking Events
And I loved being part of that. And the events were quite different because they were cocktail parties. There were in the evening, we had chocolate fountains, driving simulators, all these different things. We even had a cocktail bar with a drink named after us. Now, once the networking was established and the platform was there, again, the next step for me as a business owner was that my clients, who I was serving on the agency and also networking and the panel, then they wanted their teams training, their client's training.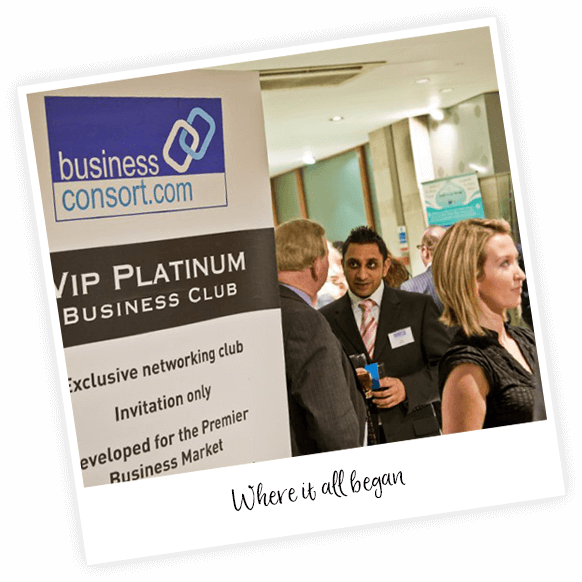 Digital Skills Gap
And as soon as I saw this gap, this skills gap in digital. That it wasn't just about me doing it, I was teaching more and more of the teams and doing this in-house training. But I also saw a lot of rogue businesses because, as with anything, the peak, and the emergence of social and digital, what happened? Well, loads of people out there were teaching people how to do SEO and social media, but these were not always the best practices.
Dawn McGruer (07:25):
Teaching Marketing Best Practice
These were things that could be endangering a business's brand or even online visibility. They could be disqualified by Google. And we saw that in the early 2000's. So I felt that there was a real place for practitioners like me, people who were living and breathing digital marketing, to not just teach the theory, but actually teach the implementation, the tools, the case studies in real world business.
My Training Academy Launched
And I started the academy and I have never looked back. For me, it is the most exciting part of the business because I love teaching, and I love sharing my knowledge. And it's something that really invigorates me. And there's nothing nicer than empowering somebody, and to see how their business scales and grows. We started training about 5,000 students a year, but the most important aspect was this best practice.
Dawn McGruer (08:16):
Becoming a CIM Accredited Study Centre
Back then, I decided that we were going to become a Chartered Institute of Marketing Accredited Study centre. It was a long process, really, really long process. And there was a lot of work to get to that point.
Trained 28,000 Professionals
But do you know what? I am super proud to say that we are… Years and years on, 28,000 students on, that we've trained and certified in the Academy. But the Chartered Institute of Marketing accreditation was super important for the best practice. People knowing that they were being trained to industry standard, the latest tips, latest trends, latest tools.
That things were going to work and that they knew that if they implemented that strategy, it was absolutely the best strategy. And it was a route that was going to be best for their business. And it was going to have, obviously, a positive effect and to help them achieve whatever their business goals were.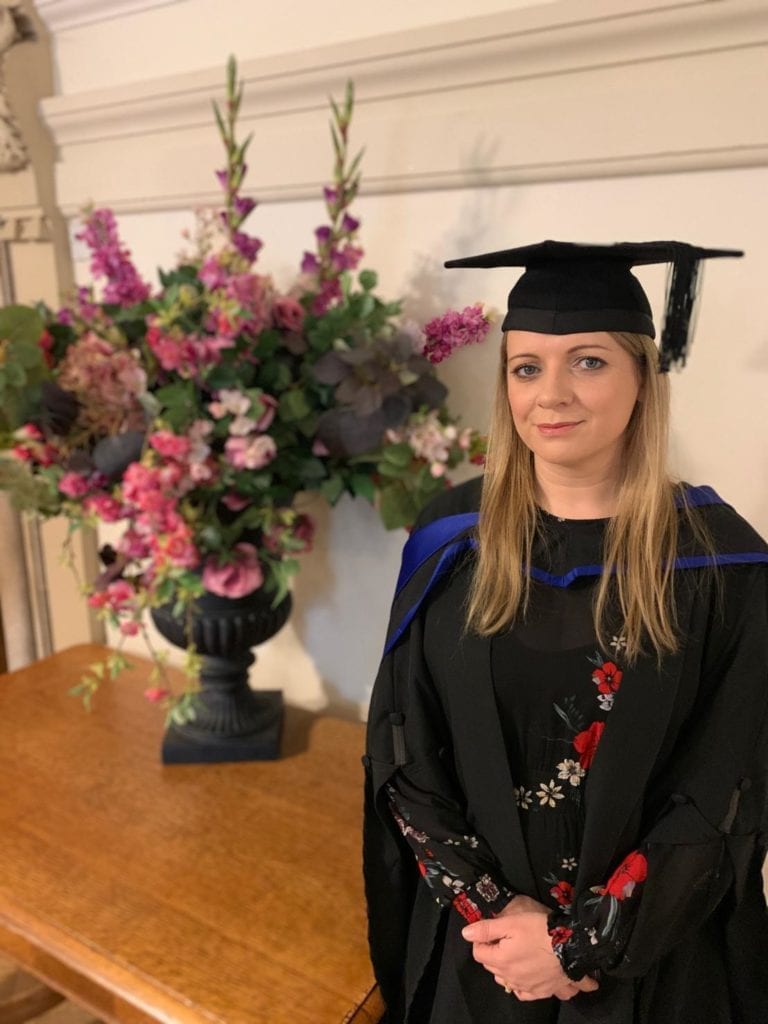 Dawn McGruer (09:07):
CIM Accredited Courses
This is something that, obviously doing accredited courses, I started doing more and more, and we were traveling really UK. We took them online. Obviously started serving clients on a global manner. And taking Business Consort worldwide was a dream that I'd never envisaged, but it happened. And this is when I started really feeling that people were jumping on board on my marketing. They saw the value of digital marketing.
CIM Digital Qualification
In 2010, we were already delivering the CIM qualification. And the great news is, is the qualification that we give access to and our students graduate with, is a worldwide recognised qualification. The CIM diploma in Professional Digital Marketing, what I love about it is, it's actually designed by industry for industry.
Real World Business Strategy
So it's real world strategy. And even the assignments that students do are, creating a plan, reports about lead generation. Everything that you would envisage, that a digital marketer, a proficient digital marketer would do in a role.
Dawn McGruer (10:17):
People were crying out for this. And again, it's still one of the most popular courses that we offer. And once people graduate, it gives a confidence behind knowing, not just from a practitioner level, but knowing they can implement those channels, but also guide in a strategic level from it, and be a leader.
So we have lots of clients who had teams and there were briefing agencies. They were maybe not doing the digital in house, but they needed to understand the concepts and the theories and the actual actions to know whether those suppliers were even doing the right job.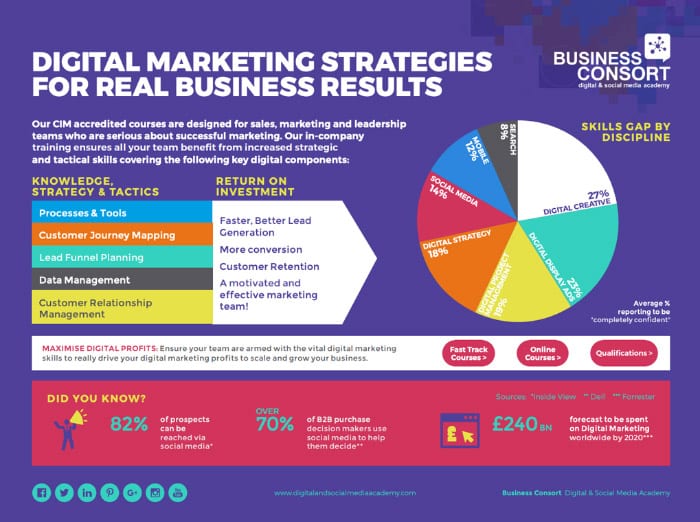 Dawn McGruer (10:53):
Turned My Passion into Profit
For me, there are three things that have been very, very important to me in my story. They are all around learning and mastering the world of digital marketing and social media to scale and grow your business. The first is foundation first so learning the theory, the second learning through implementation and the third learning through seeing in situe through real world case studies.
As a business owner and entrepreneur, I have multiple businesses now, but The Academy is definitely my passion and it's been amazing that I've managed to turn my passion into profit and digital marketing is my hobby. And for me, it's very easy to keep up to speed because I'm living it and breathing it.
Digital Practitioners & Trainers
But we wanted to bring practitioners to people. And I think this is something that we really exude because the way that we teach and the style that we teach is all about case studies. Seeing what the knowledge and the theory is, in real world business and showcasing the tools. A digital marketer needs a tool set.
You need to understand the best tool and best way, the most efficient and effective way to get from A to B. And because we're using these in the agency with clients every day, it's very easy to be a marketing mentor, not just to our students, but to our clients.
Fellowships
In the early 2000's I was awarded my first Fellowship in recognition of my efforts in helping businesses utilise social media in their company. I wasn't the marketing agency that worked just with consumer brands but about 80% of my clients were anything from pharmaceutical to manufacturing. These were the tougher sectors to market through social media but it became my speciality and my efforts paid off for my clients and when The Royal Society granted me a lifetime Fellowship.
I then received my Fellowship from The Chartered Institute of Marketing and started to write for publications like Forbes..
Awarded Best Female Speaker
I have spent much of my career travelling and speaking at events all over the world and when I won Best Female Speaker at the Professional Speaking Awards I was speechless!!! Serioussl I was really taken back and although accolades have never really taken centre stage in how I felt about my success this really was one alongside my Fellowships that I will treasure forever.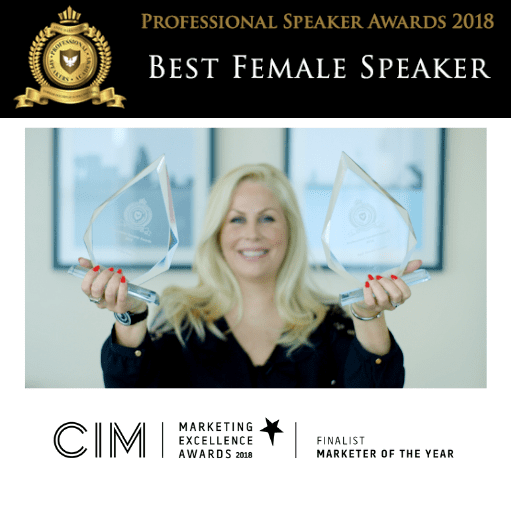 Dawn McGruer (11:48):
Dynamic Digital Marketing Model
In 2019, I published my book, Dynamic Digital Marketing. And this book is very special to me, 400 pages in this book. It is packed full of everything in my head. And the process that we teach within the Academy.
I basically decided I wanted to write book because, within the book, the styling that I created was all around our digital marketing model. And this was something that, when I created my business, I felt that continuity in teaching was key.
Fast Track Academy
So when I did the book, I basically took the principle that we teach our Fast Track Academy and showcased it. So each chapter that we have is basically a section out of my model. The emphasis was about helping people understand exactly what to do, in what order and what results to expect.
I wanted to include all the tools to use as well as 'your turn – take action now' sections after each chapter to implement with activities and checklists to follow.
… The dynamic digital marketing model is basically the eight powerful ways to market your business online. And I identified that there were basically eight key areas that any business needed to know, to be powerful and to be able to reach and attract their ideal clients, nurture them through to profitable customers.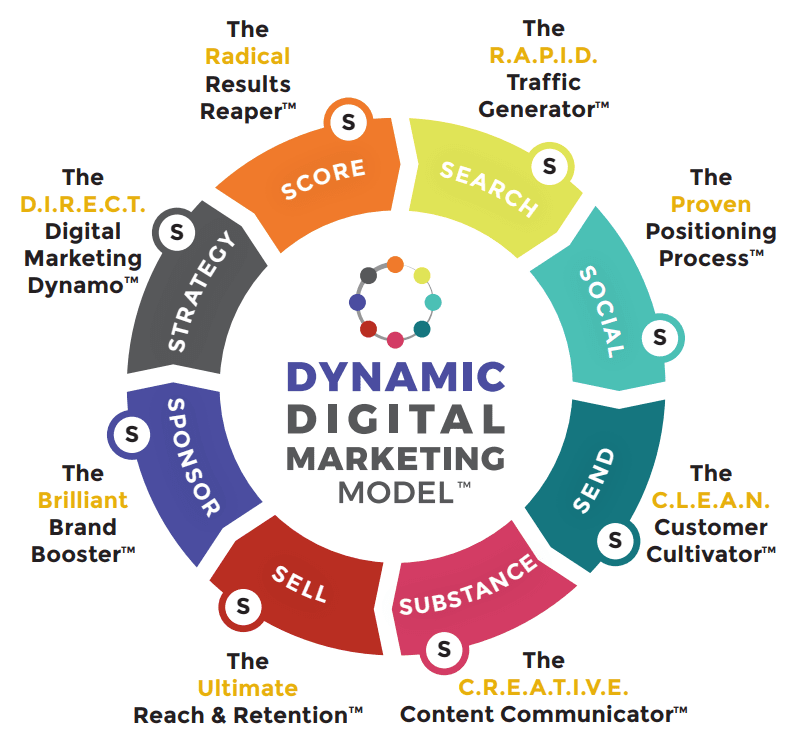 Dawn McGruer (13:02):
CIM Diploma in Professional Marketing
With the fast track Academy, we decided that we would offer that online. We would also offer it as a three-day course, in London and Manchester too.
We would also allow students to then upgrade and take that knowledge and go on and not just have a certified course, but go on to gain the CIM Diploma in Professional Digital Marketing. Which is really popular because, if you've gone in and studied 80% of the syllabus, then many people see that there's a huge opportunity just to do that last bit and to really cement their knowledge, and also get that amazing accolade.
Graduates receive honorifics after their name, and an undergraduate level degree.
Dawn McGruer (13:58):
Wiley Published My Book
Once I started writing my book – I needed a publisher!
I literally sent it by email to one publisher, Wiley, because they were the perfect publisher in my mind for the content and topic of my book.
Then nothing happened! Well not for 6 months. My email had landed in SPAM and one day, out of the blue, I got a message from Wiley to explain they had found my 12-page book proposal in their email junk folder. They also offered me a publishing contract that day.
My book, for me, has been key because as a digital marketing speaker, author and trainer, it's something that, as I say, is a passion. And for me, when my book hit number one on Amazon, then it got shortlisted in the business book of the year awards, was just outstanding.
I think the icing on the cake was when The Book Authority identified my book as one of the world's best digital marketing books, and then one of the best marketing books. So it's been a journey and, it's still evolving for me and it's still growing.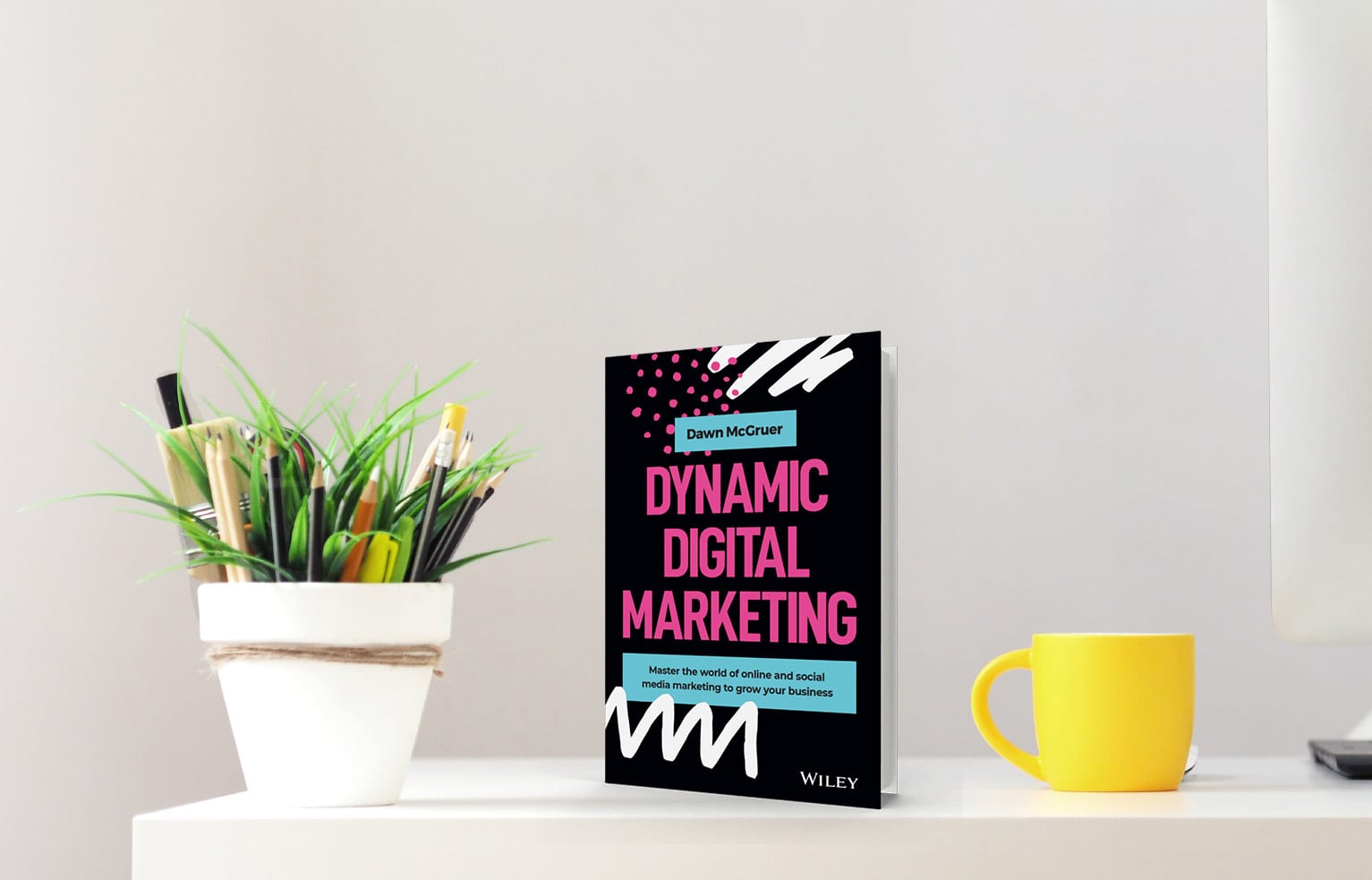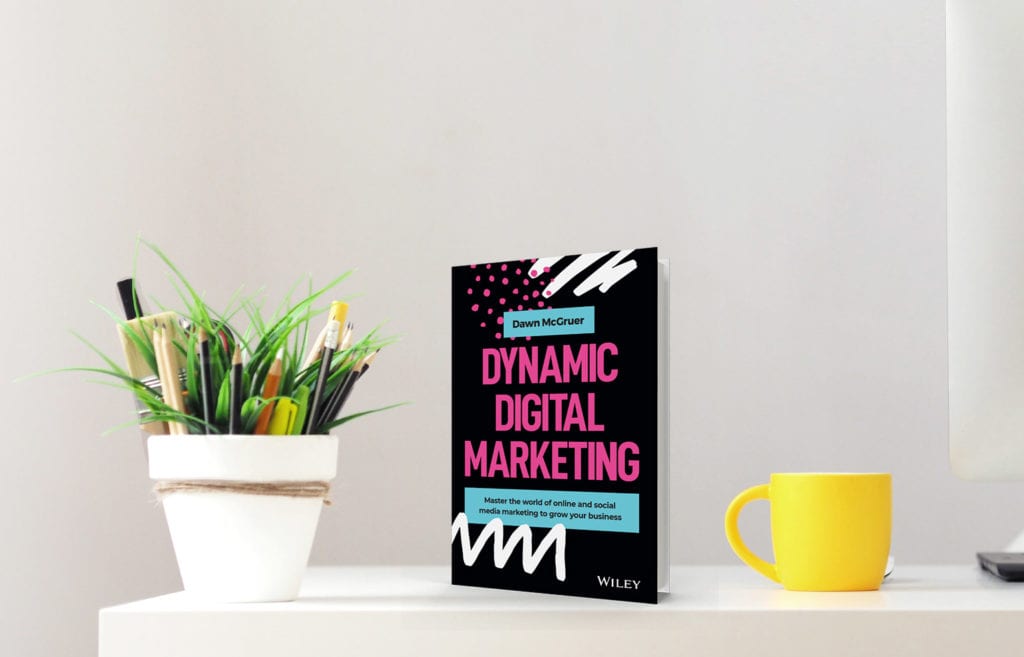 Dawn McGruer (14:52):
Connect & Comment
If you would like to ask me anything about my journey as a business owner or an entrepreneurial journey, or to do with digital marketing, please leave your comments below. But come and connect with me and join me on my journey in social media and digital marketing. And yeah, I will see you on the other side.
I hope you enjoyed my story and I hope it did something to share the possibilities that are available with digital.
Let me know more about you and come and connect with me. And also if you would like digital marketing tips to keep up with the fast pace of online marketing, it might be worth signing up for the dynamic digital digest.
Which is just a free email where I share my latest thoughts, inspirations, tools, tips and trends, and just basically free resources to help my clients and subscribers in the world of digital. So thank you very much. That was me and that was my story.
I would love to connect with you!
Here are my own personal social media profiles – Instagram @dawnmcgruer , Facebook, LinkedIn, Twitter, YouTube
Web: www.dawnmcgruer.com / www.digitalandsociamediaacademy.com
Dawn McGruer's Bio
Multi award-winning speaker, best-selling author, trainer, practitioner and consultant, who has become a key influencer in the world of digital marketing.

Author of Amazon best-seller 'Dynamic Digital Marketing' (published by Wiley) & ranked #1 globally by LinkedIn for Digital Marketing (27,000 direct connections and the same in followers).

Named Best Female Speaker at the Professional Speaker Awards & her Dynamic Digital Marketing Model named Solution Framework of the Year.

Dawn is founder of Business Consort – Digital & Social Media Academy, which has enjoyed over 15 years of success. Her insights are in high demand & her expertise and experience has been rewarded with lifetime Fellowships with the Royal Society and CIM.

And above all else…Dawn walks the digital marketing walk! She's built an enviable 5-million-strong subscriber base from scratch, proving her credentials to lead YOU to digital marketing success.