FREE Digital Marketing Seminar & Networking Event
To follow up on the massive success of our 30 Day Digital Challenge hosted by founder Dawn McGruer we are hosting a FREE digital marketing event in Manchester – Dawn has been doing FREE 10 minute lunchtime learning tips and training sessions covering all the hot topics, trends and insights relating to Digital Marketing in 2018 LIVE everyday @ 1pm on Facebook – These 10 minute sessions are aimed at helping businesses grow and scale and use digital to their advantage to increase profits when there is still a huge digital skills gap globally.
Dawn has managed to exceed the initial target of 1 million video views and has also been shortlisted as Marketer of the Year' in the national CIM marketing excellence awards.
This event is Chartered Institute of Marketing (CPD Eligible) and will encourage attendees to network with like-minded marketing professionals (refreshments included) followed by 90 minute seminar & interactive questions & more networking
Places Limited – Book FREE Tickets Now!
'How to Maximise your Digital Marketing to Scale & Grow your Business
FREE EVENT – Tuesday 17th April 2018
10am-1pm (Refreshments Included) @ GRINDSMITH – DEANSGATE, MANCHESTER
Convince & Convert: Getting web visits & generating leads is one thing but converting them to profitable customers is another. In the ever evolving world of Digital Marketing you will need to keep ahead of your competitors.
FREE Seminar & Networking – Tuesday 17th April 10am-1pm (Refreshments Included)
@ GRINDSMITH – DEANSGATE, MANCHESTER
Topics Covered;
Reaching your audience
Getting your prospects to take action
Capturing, Convincing & Converting leads into profitable customers
The Maths of Selling – The Perfect Return on Investment
Productive marketing to maximise Profits for your digital efforts
Growing and Scaling your business through digital marketing
FREE EVENT– Tuesday 17th April 10am-1pm (Refreshments Included) @ GRINDSMITH – DEANSGATE, MANCHESTER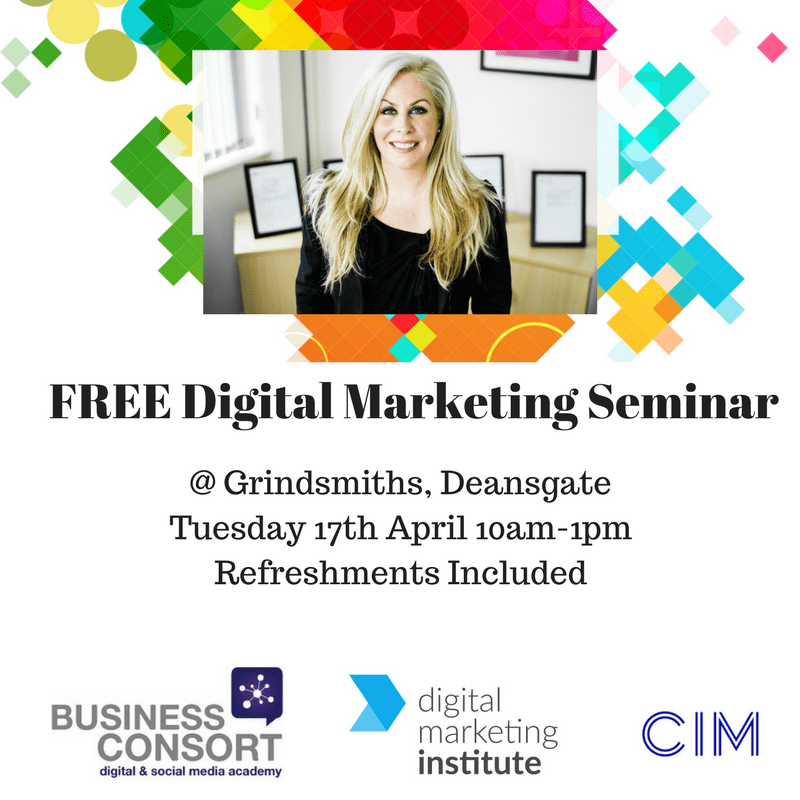 Speaker: Dawn McGruer MCIM FRSA: Founder of Business Consort – Digital Academy – 20 years digital experience: Consultant, Writer, Digital Practitioner, Speaker & CIM Tutor https://www.digitalandsocialmediaacademy.com