LinkedIn Accelerator Online Masterclass
LIVE ONLINE 1-DAY WORKSHOP
Nov 17th – Nov 17th 2021 | Online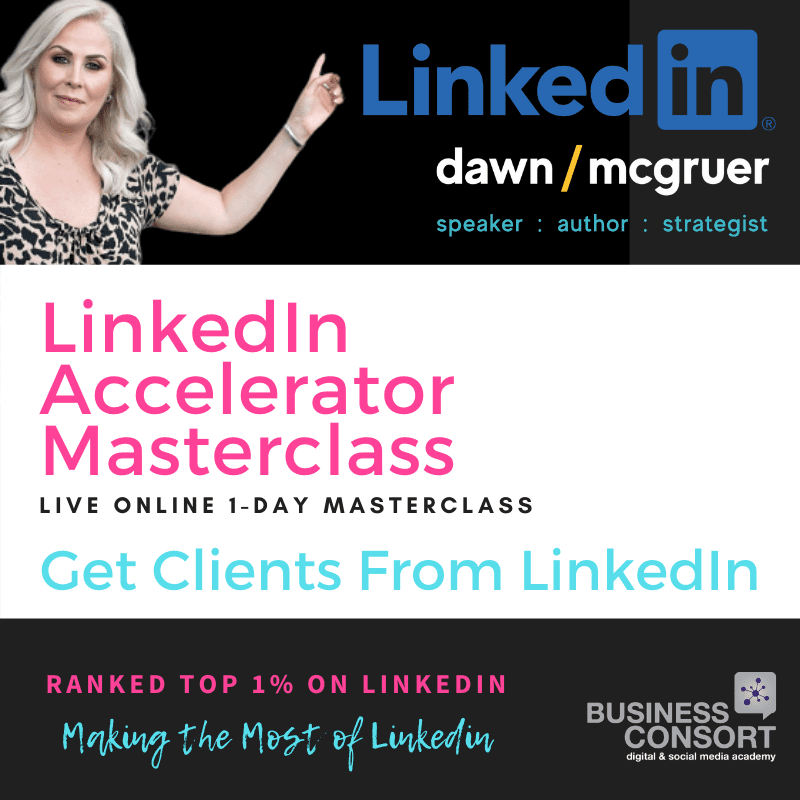 Get Clients from LinkedIn Accelerator Masterclass - LIVE 1-Day Online Workshop
Learn How to Become a LinkedIn Master – Learn how to build a quality network and turn your connections into clients by spending just 10 minutes day!
Pay Upfront: £197 + VAT (SAVE £300 - Normally £597) - For team training we offer 20% discount for 3 or more delegates.
Hosted 3 times a year in Feb, May & Nov
learn how to generate a steady flow of leads & attract your ideal client
Do you want to make the most of LinkedIn?
THE PROBLEM...
...Not sure how to turn connections into clients, get more engagement and really stand out from the crowd?
THE SOLUTION
It is about knowing what the step-by-step process is to get BIG results on social media and feeling supported with the ability to get feedback and advice along the way.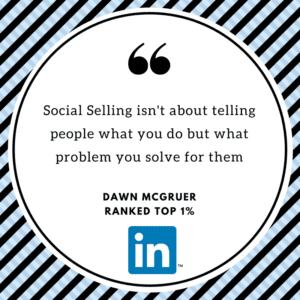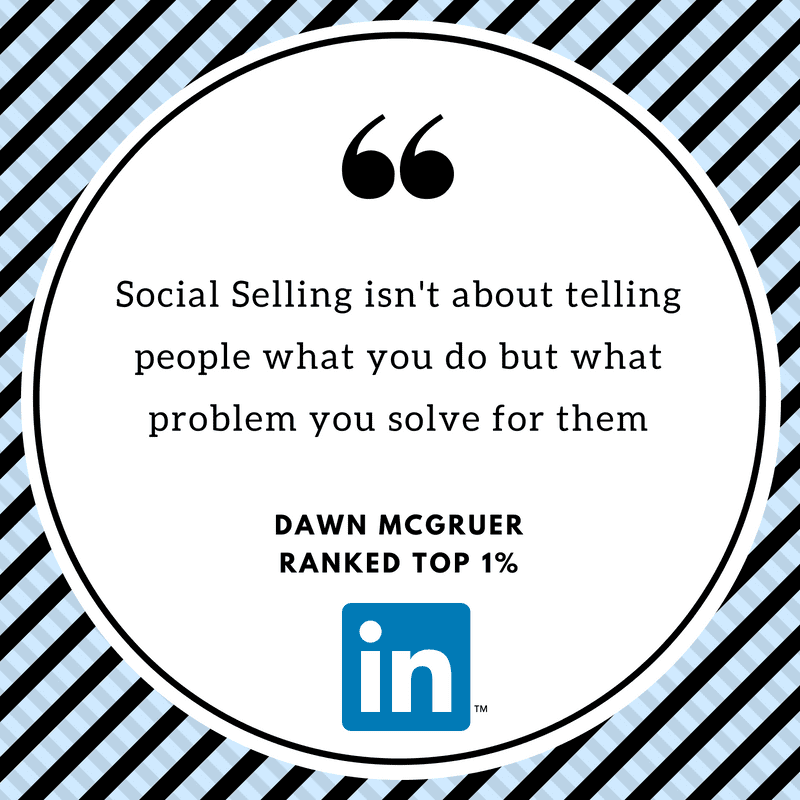 1-DAY WORKSHOP - LIVE ONLINE MASTERCLASS
Having a mentor like Dawn, someone who has actually achieved success on LinkedIn (and actually practices what they preach every day!!!) to show you the way is key to achieve your own goals. She can help you avoid any pitfalls, overcome challenges and constantly give tips to improve keeping you motivated!
AGENDA
10AM - LIVE TEACH - Learn daily activities and our Process spending just 10 minutes a day to get results, how to ramp up your online visibility and Presence and create a winning Profile. Harness the power of LinkedIn for lead generation using tactics to Partner and form strong alliances, collaborations, referral and revenue streams by developing deeper relationships with your connections.
11.00-11.30AM - MORNING BREAK
11.30-1.00PM - LIVE TEACH - Using our unique Posting with Purpose Strategy that aligns to achieveing your business goals to get engagment and generate leads from your content and posts, craft your messaging to truley Position you as an expert in your field and showcase your Proposition with clarity and confidence.
1.00-2.00PM - LUNCH BREAK
2.00-3.30pm - 90-Min Co-Working Session - This is your chance to implement and create your content strategy and walk away with a years worth of content planned and totally aligned to achieving your business goals - We will be using planners and vision board style processes to get the inspiration and creativity flowing!
3.15PM - AFTERNOON BREAK
3.30-4.00PM - Q & A - You will have your Content Plan Created and wow what a feeling - You will feel super in control and focused!!!!
You will learn a huge amount in this live and interactive 1-day masterclass which includes a co-working session in the afternoon to implement the tips and tactics you learnt in the live teach. Dawn will be on hand to help with any questions and take a look at your LinkedIn profiles to advise on improvements. So no need to worry about logging into online courses, just show-up, learn and implement and start seeing results straight away!
Take the procrastination away and get it done with the help and support of your very own LinkedIn Influencer!
LEARN FROM AN INLFUENCER
Learn from #1 Ranked LinkedIn Influencer Dawn McGruer how to get clients from LinkedIn and use this powerful network to ramp up your lead generation.
As well as being an avid animal, art and wine lover she is also a Best-Selling Author of Dynamic Digital Marketing + Multi-Award-Winning Digital Marketing Speaker & Trainer too!
OUR RESULTS ARE TESTIMONY TO OUR TRAINING
Check out Dawn's LinkedIn profile & Connect
She has an enviable network of over 27K connections and the same in followers
Dawn generates over 80% of leads for her businesses
This powerful network has helped her amass over 5 million subscribers.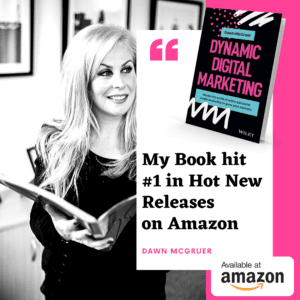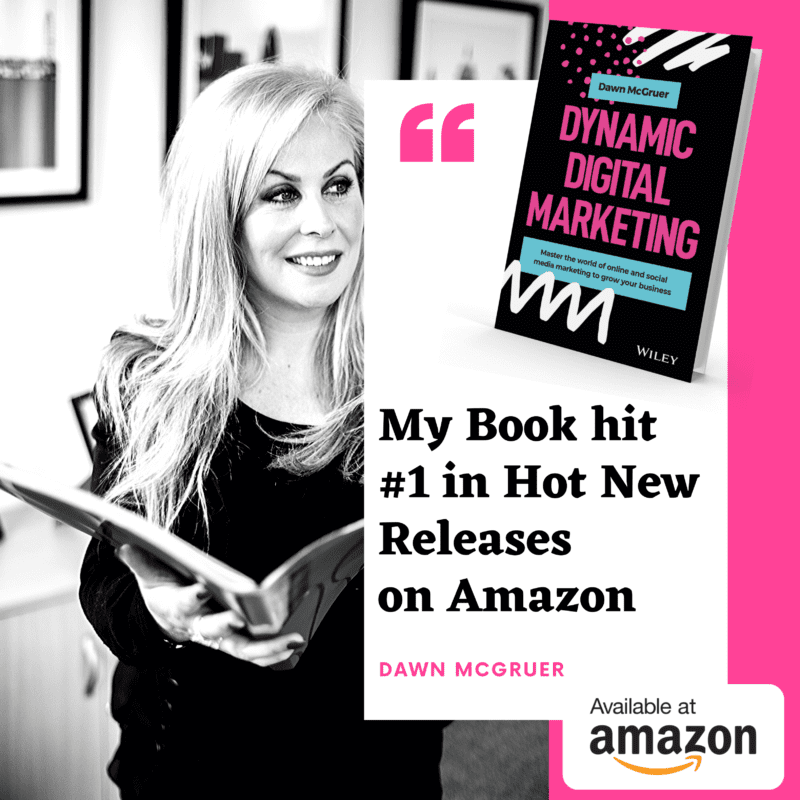 AS FEATURED IN FORBES
Dawn was recently featured in Forbes with her article 'Making the Most of LinkedIn'
She proactively uses LinkedIn every day and has generated huge visibility and influence on this network as well as driving over a million in sales from just this one channel.
GET CLIENTS FROM LINKEDIN - LIVE MASTERCLASS - ONLY £197 + VAT (WORTH £597)
1-Day Online Workshop 10am-4pm - We only host this live workshop 3 x times a year in February, May and November

Wed 17th Nov
Live & Interactive Online Session - Full LinkedIn Demo + Strategy Session to get you off to a flying start spending just 10 minutes a day to get results.
Includes Workbook, Copy of Slides + Recording - You have LIFETIME to the masterclass + UNLIMITED after course support.
BONUS - FREE Quick Fix Online Group Coaching & Advice during the Co-working & Implementatation Session in the afternoon - Ask you own questions and get personalised advice about your profile and strategy from your course leader.
YOU WILL LEARN
7 Steps to Social Selling Success geared to turn your connections into clients
Process - The LinkedIn Accelerator Formula - Our formula to GET RESULTS IN JUST 10 MINUTES A DAY! Learn tactics to accelerate success, overcome any challenges + quick wins and develop your strategy for your business goals
Purpose - Learn how to post with purpose and align your content to achieve your business goals, learn how to create content that converts and revolutionise your posts views and engagement to attract your ideal client
Presence - Improve your profile views, search appearances + build and grow a quality network
Positioning – Get seen as the go-to expert in your field and use LinkedIn to really sell your products and services
Profile - Create a winning profile that really showcases you and what you can offer using persuasive content and creative ways of presenting your skills and areas of expertise
Proposition - How to present your brand and business messaging to generate leads & convert connections into clients
Partner - The Associate Accelerator - How to build relationships and take the online to the offline
PRIVATE SUPPORT GROUP
Includes Private Support Group where Dawn will provide feedback & advice
THIS IS FOR YOU IF;
Consistently Convert Connections into Clients
Use LinkedIn as a Lead Generation Tool
Get BIG Results from Your Social Media Efforts
Use the Power of Video to Revolutionise Your Online Visibility
Increase Your Influence as a an Expert in Your Own Field
Don't Want to Spend Hours Writing Content & Doing Your Social Media Marketing
Create Viral Content + Trend Across Your Industry Topics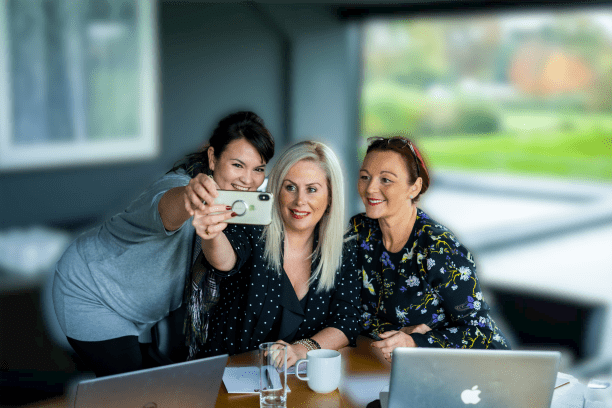 YOUR INVESTMENT
LIVE LINKEDIN MASTERCLASS - £197 + VAT Includes Workbook, Copy of Slides + Recording
You have a LIFETIME access to UNLIMITED after-course support.
Interested? Got Questions?...Call our team 0800 334 5784
or email us [email protected]
generate leads from linkedin while you sleep
LinkedIn has been around since 2002 but yet is hugely under-utilised in business as powerful lead generation tool - We generate 80% of our leads each week through LinkedIn spending just 10 minutes a day!
This course is for you if you...
Accelerate your career & boost your business
JOIN OVER 25,000 CLIENTS WHO HAVE ACHIEVED AMAZING RESULTS!
Don't take our word for it, here are just three clients who have gained huge benefit from joining BUSINESS CONSORT ACADEMY
INTERESTED?....GOT QUESTIONS?....
Call our team 0800 334 5784 or...
BEST PRICE | BEST QUALITY | BEST EXPERIENCE
Our price guarantee means we promise we are 20% cheaper than any like-for-like accredited course + discounts are available for multi- delegate and courses or charity bookings.
LEARN FROM LEADING DIGITAL EXPERT - dawn mcgruer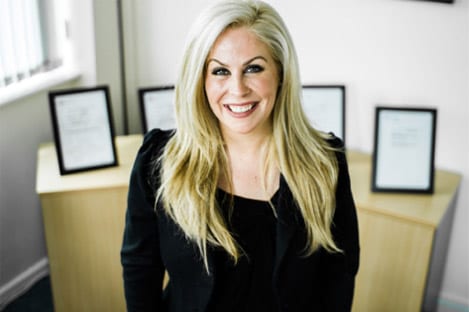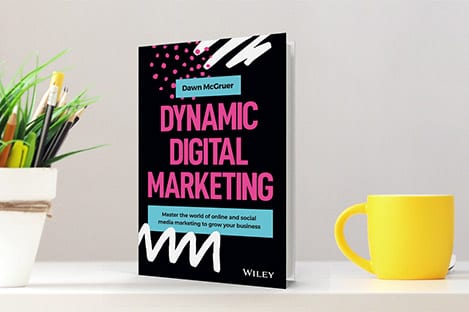 Dawn McGruer is an award-winning speaker, best-selling author, trainer, practitioner and consultant, who has become a key influencer in the world of digital marketing.
Dawn is the author of Amazon best-seller 'Dynamic Digital Marketing' (published by Wiley) & ranked #1 globally by LinkedIn for Digital Marketing.
She was named Best Female Speaker at the Professional Speaker Awards & her Dynamic Digital Marketing Model named Solution Framework of the Year.  
Dawn is founder of Business Consort - Digital & Social Media Academy, which has enjoyed 15 years of success. Her insights are in high demand & her expertise and experience has been rewarded with lifetime Fellowships with the Royal Society and CIM.
And above all else…Dawn walks the digital marketing walk! She's built an enviable 5-million-strong subscriber base from scratch, proving her credentials to lead YOU to digital marketing success.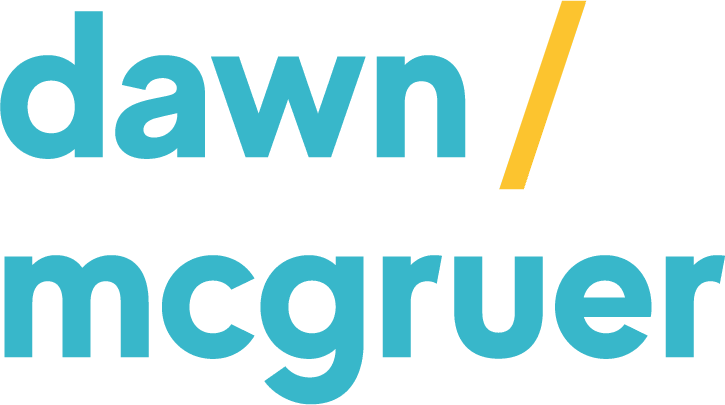 Best Female Speaker - As featured in




just some of the lovely people we work with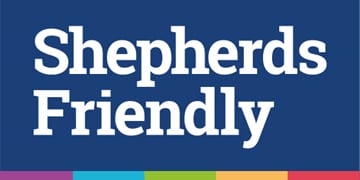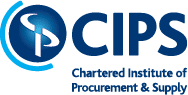 Frequently Asked Questions
This online live masterclass is an intensive workshop and fast track way to get your profile working for you and getting your online visibility and profile views dramatically boosted.
The actions we layout in the masterclass are easily achievable for busy business owneers, professionals and entrepreneurs and the co-working session really helps you get your strategy implemented so you can start seeing results straight way
We guarantee you will double your engagement and audience in just 4-weeks leaving 2-weeks to start seeing some tangible leads coming through.
We promise what we will teach you is exactly what our Founder has done and is doing on LinkedIn to generate 80% of our leads each and every week from this powerful network as well as ranking #1 globally for her industry.
These are average results from the 6-week programme;
899% Increase of Profile Views
1500 NEW quality connections
373% Increase in Engagement
80% Increase in Lead Generation
Although this is a 1-Day Live Online Masterclass swe will ensure you have the support and advice to progress through getting your LinkedIn strategy working for you to get clients and grow your influence on this powerful network. We offer unlimited after-course support so you can continue to develop your LinkedIn progress with our help!
NO – Even if you are a well-versed LinkedIn user or a complete social media novice we promise the course will show you a strategy that guarantees success regardless what stage or age you are in your LinkedIn journey!
Course Level: Anyone who wants to generate clients from LinkedIn from start-up to established, from LinkedIn newbie to savvy social networker. We have got you covered and you can move at your own pace and start implementing using Dawn's easy to follow-up step-by-step strategies in the co-working and implementation afternoon session.
Your results will be a direct result from your efforts so if you aim to spend 10 minutes a day implementing what you learn then this would be a good base and anything from this point onwards will bring bonuses in the form increases across your results from visibility to inlfuence and leads.
Once you have your LinkedIn strategy in place then expect to spend between 10 minutes a day to a maximum of 2 hours a week. 
You can but you would need to purchase access for each delegate as the fee for attendance is for one person but we offer team discounts so please get in touch and we can arrange muliple delegate discounts to be applied for your team
Emma Mallinson, Global Marketing Product & Solutions Manager, Shell
"The training has given us the ability to lead discussions with our global digital teams within the organisation to request the appropriate support to get channels up and running.
It's also given us the know-how on building digital such skills into our communications strategy and reaching the right people".
Darius Ward, Entrepreneur 
"Dawn combined the what and how of Digital Marketing in perfect symphony.
As a result of her guidance and class training, I've become a Certified Digital Professional and secured my first 6-figure contract with a major Swiss company"
Fiona Challis - Speaker, Author, Channel Enablement & Sales Expert
"Dawn is truly outstanding to work with!
Not only was Dawn a dynamic speaker with excellent presentation skills, she has extensive knowledge and is a true expert in digital marketing and how drive new lead generation and build lasting relationships with your prospects online."
LOOKING TO TRAIN YOUR TEAM IN DIGITAL MARKETING?
Look no further!
All courses are available to be delivered to your team, at your premises.
Save 40% on delegate fees too (from £199 + VAT per delegate!)
Other courses you may be interested in
So…anything else you need to know, to get started?
Just fire away with your questions.
Our team are always here to help on 0800 334 5784!