Description
The Consort Club (Consort was included in our business name as we united others through networking and through our alumni so we felt it apt for our club as we will be companion, associate, or partner acting as you virtual business partner) – The Consort Club is a business community to support growing and scaling your business through maximising digital marketing and ultimately your profits.
This is our most comprehensive package available to cover all aspects of digital marketing with the choice of studying fully online or blended with 3-Day workshops – It offers the ability to spread the cost and your studying over 12-months.
The perfect way to develop your digital skills with no upfront fees but simple monthly payments which package all the elements you need to grow your digital skills!
The Consort Club is unique in the fact that we not only provide online training but also the option to join face-to-face sessions – All of our training is focused towards implementation, managing and measurement to constantly evolve and improve your marketing to optimise results.
By joining the Consort Club you will have access to your own virtual marketing consultant with over 20 years of experience and numerous awards. The critical success factor is not just learning but implementing what you learn in your role or business with the full support and guidance of your coach and mentor to run successful marketing campaigns.
It costs from £49 a month and we guarantee the knowledge and network you will gain every month is well worth the investment.
Guess what The Consort Club is eligible for CPD (continuous professional development) so what does that mean?….It means that if you are already or choose to become CIM (Chartered Institute of Marketing member then you can work your way to either maintaining or attaining Chartered Marketer Status.
This is the highest accolade you can achieve in digital marketing and is recognised worldwide. You will need to complete a learning aligned with the Professional Marketing Competencies framework during each CPD year for a minimum of two consecutive years if you want to achieve this status.
PLEASE NOTE: This is a 12-month commitment so please be aware once you sign-up you are eligible for all 12-months payments and failure to pay may cause the debt to be pursued by a 3rd party on our behalf. All prices are subject to VAT.
ONLINE MEMBERSHIP
£49 + VAT / Month (Pay Annually £499 + VAT – SAVE £89)
Add the CIM Digital Diploma in Professional Marketing to your digital skills package for an upgrade of under £600 a year – £129 + VAT / Month for 12 months (Pay Annually £1359 + VAT – SAVE £389)
Online Fast Track Course with 24 x masterclasses covering every aspect of digital marketing (regularly updated) WORTH £749
State-of-the-art online learning portal with discussion forums – bite size video lectures
Certification every time you complete a masterclass – CIM accredited (CPD eligible)
Private Facebook Group – Interactive, Motivational Support Network  packed full of Tips & Advice
Weekly Tips Tuesday Blog & Newsletter
Access to expert advice direct from world leading digital influencer Dawn McGruer FCIM FRSA MIoD
Support around maximising digital marketing profits to scale and grow your business
Digital Campaign Case Studies – Advice on campaign ideas & improvements
Access our network of experts & network with like-minded peers
FREE webinars and online workshops
FREE Bootcamps at least 2 x a year in London & Manchester (normally £99 each) – streamed online too for those unable to attend physical events
LIVE weekly Q & A with Mentoring & Coaching
Resource Library: Free Tools, Planners, Templates & Checklists
FREE 90 Day Plan & Video Series WORTH £349
Referral Programme: CASH TO YOU for referrals £200 per referral
20% discount for any Business Consort products & services
Discounted rates for software & tools we recommend

BLENDED MEMBERSHIP
£149 + VAT / Month (Pay Annually £1599 + VAT – SAVE £189)
Add the CIM Digital Diploma in Professional Marketing to your digital skills package for an upgrade of under £600 a year – £199 + VAT / Month for 12 months (Pay Annually £1999 + VAT – SAVE £389)
Includes all the benefits of online membership PLUS face-to-face courses – £149 for the first 12 months and you can choose to continue as a club member online thereafter for just £49 a month – this is a great option to spread payments to develop your digital skills and not only offers are online fast track course but choose to attend our 3-day Ultimate Digital Marketing or Social Media Courses in London or Manchester (worth £1249).
Sign-up get instant access to our online learning portal and our customer services team will be in touch to confirm which date you wish to attend courses if you choose this option.
3-Day Ultimate Social Media Marketing – social media essentials + advanced social media + video workshop
3-Day Ultimate Digital Marketing – digital marketing essentials + advanced digital marketing + digital creative workshop. 
MANCHESTER – 9th-11th Oct 2018 / 13th-15th Nov 2018 / 5th-7th March 2019 / 11th-13th June 2019 / 17th-19th Sept 2019 / 12th-14th Nov 2019
LONDON – 2nd-4th Oct 2018 / 30th-1st Nov 2018 / 19th-21st March 2019 /  25th-27th June 2019 / 24th-26th Sept 2019 / 19th-21st Nov 2019
Please Note: if you are looking for 1:1 coaching then the Virtual VIP Academy is the option you would require as The Consort Club offers group coaching & mentoring in digital marketing.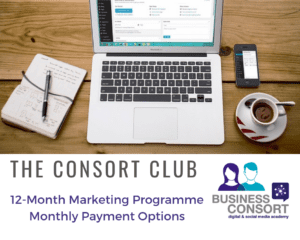 So what do you get?
The Consort Club Membership has been designed to benefit every stage of your business or career – On-Going Coaching & Mentoring from a world leading and award winning digital marketing author, speaker, consultant and our founder of our academy and agency – Dawn McGruer FCIM FRSA MIoD.
It is geared to constantly developing your digital knowledge in an ever evolving world of fast changing tools and strategies so is ideal if you want to keep your finger on the pulse and keep ahead of your competition by being the first to know about the latest tips, tools and proven techniques to create and run successful digital campaigns.
We host regular LIVE training sessions in the private Facebook Group as well as our very popular group Q & A clinic where you can ask the expert their advice on your digital campaigns.
Who is the club for?
Whether you are a start up or established business looking to develop an already high level of expertise the Consort Club will offer a perfect way to continuously develop your digital skills and keep abreast of the ever evolving world of digital.
Being part of this exclusive club will benefit anyone responsible for actually running their own digital marketing campaigns to those who are the driving influence responsible for briefing agencies or teams.
Benefit from expert advice but also mix with like-minded professionals and peers – Having your own dedicated forum where you can proactively seek strategic partnerships, source suppliers, collaborate on joint ventures is a valuable asset to any marketer – There is nothing better than being part of a community because The Consort Club will be your go to for all aspects of growing your business.
Think of the club as having your very own guiding star to support you  on your own personal digital journey – from learning the basics, starting a business to running global campaigns the key is that the club offers advice that you can use to develop your own digital marketing plan.
We will help you with positioning your brand to attract and generate leads, ensuring efficient and automated processes are in place to reach your target market using the best tools for the job to making sure your proposition is presented in the best way to convert profitable customers.