Description
Digital Creative & Video Marketing Workshop London
PLEASE NOTE: We also offer this course as part 2-day intensive course – Includes certification as the course is accredited by The Chartered Institute of Marketing, course materials, unlimited after course support, all refreshments and lunch on both days. Read more…
The Digital Creative Workshop covers the actual creation of digital marketing content – It is ideal for anyone who wants to actually learn how to create planning and monitoring templates to assist with your digital marketing, creation of marketing content such as video, photos, graphics, images, infographics, animated presentations – writing for the web covering blogging and web pages. We also cover email campaign design, landing pages, social posting, online adverts and banners – The complete digital tool kit to create all things relating to successful digital marketing.
Who is the course for? This course is designed for those wishing to take control of their digital marketing creative.Don't ever be held back by your skills and never have to ask your web team or other team members to create digital content again – take control and leave the course with a full set of ready made templates as well as the knowledge of not only how to create digital creative but how to create creative that sells! Suitable for agencies and businesses of all shapes and sizes.
Course Level: Suitable for all levels
What will the course cover?
The course covers the practical implementation, management of all aspects of digital marketing creative and is hosted as an interactive Creative workshop

Digital Creative 
How to create engaging content such as: video, photos, images, infographics, animated presentations yourself!!!!
Designing high impact social media profiles and pages
Creating Ad campaigns
Create landing pages that convert to leads
Writing search engine optimised content for the web
Writing blogs that drive traffic and interaction
Design effective email campaigns and templates
What the perfect anatomy of a homepage looks like
Design tactics for website conversion optimisation
How to perform and record results of your digital marketing audit (including competitor analysis)
How to create a digital & social media strategy using our planning template
How to record metrics aligned to your own business goals using our template
Using digital marketing campaign results to improve lead generation and conversion going forward
Case studies and proven strategies to inspire!
Video Marketing 
We'll be guiding you through the process on how to create effective video content.
We'll take you through some simple hacks to produce valuable content quickly and simply.
We'll also look at how video marketing can work within your marketing process and your sales process in order to maximise ROI.
Video marketing techniques and how to use videos effectively for your business
How you can create films yourself.
How to optimise and repurpose videos for social media platforms.
Introduction
• What kit is required for a successful shoot
• Planning and storyboarding your shoot
• Video theory and technology basics
Phone Setup
• Difference between phone operating systems
• Using 3rd party applications to improve your shooting
Shooting basics
• Working with manual video settings
• ISO and shutter speed explained
• Setting a custom white balance
• Setting a fixed focus point
Getting Good Sound
• The advantages of a plug in microphone
• Controlling your sounds environment
• Positioning your microphone
Lighting your shots
• How to use natural light
• Basics of three point lighting
• Using light to create contrast
• The benefits of using a reflector
Shots and composition of an interview
• Framing basics
• Positioning your interviewee
• Looking or not looking at the camera
• Shooting reverses, noddies and pieces to camera
• How to shoot for easier editing
Where is the venue?
Business Consort Training Venue in London
CitizenM Tower of London Hotel,
40 Trinity Square,
London
EC 3N 4DJ
Located right on top of Tower Hill Underground Station and close to the Tower of London and Tower bridge. Our vibrant and plush training rooms are situated on the 7th Floor of CitizenM with absolutely amazing views of the Tower of London. Great rates are available at this hotel if you are looking for a base whilst attending the course.
Nearest Tube / Station: Tower Gateway & Fenbchurch 2 mins or Aldgate Tube 5 mins
You will be welcomed on arrival  with optional breakfast available from 9am – The course kicks off at 10am with Tea & Coffee available in the room. Lunch is served at 1-2pm (1-hour break) and we cater for all dietary requirements plus there will be an array of refreshments available all-day to keep you energised and focused on developing your digital skills (we have a morning and afternoon break for 15 minutes).
What's included?
All course materials and refreshments PLUS unlimited after-course support.
Accreditation for CPD hours – This course has been accredited for CPD hours within the Chartered CPD Programme by the Chartered Institute of Marketing. You will receive a certificate after completing the course, which can be used as evidence for your CPD record card.
Course Trainer Dawn McGruer MCIM FRSA MIoD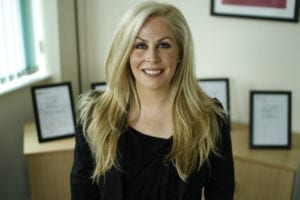 Dawn is a strategic digital & social media marketing trainer, practitioner, consultant, author and blogger who has over 20 years experience in the digital marketing arena.
She is also the Director of Business Consort which was established in 2005 and has developed  it into one of the world leading training organisations which is accredited by The Chartered Institute of Marketing.
With over 5 million subscribers Dawn has become a key influencer in this area and provides Social Media and Digital Marketing Training Courses including the CAM Diploma in Digital Marketing.
She has trained 1000's or organisations including some of the world's largest Global brands across most industries.
Dawn has also just been invited to become a Fellow of the RSA – The Royal Society for the encouragement of Arts, Manufactures & Commerce founded in 1754.
This invite comes as recognition of her expertise in the field of social media marketing and her work to raise awareness of the advantages of social media to business owners.
Please bring laptops and your log in details for the social networks on the day as the course is interactive.
Interested?….Got Questions? Request a call back or get more information
Need advice?….Book a Discovery Call with a course specialist to discuss best options to accelerate your career and boost your business – These are not sales calls but are geared around you getting the best advice so you can decide the best route for you using the experience and knowledge of our Chartered Institute of Marketing trainers and practitioners.