facebook & instagram lead generation ads
LIVE ONLINE WORKSHOP & LIVE AD SET-UP
TUESDAY 25TH APRIL 10AM-1PM
Lead Generation Ads Masterclass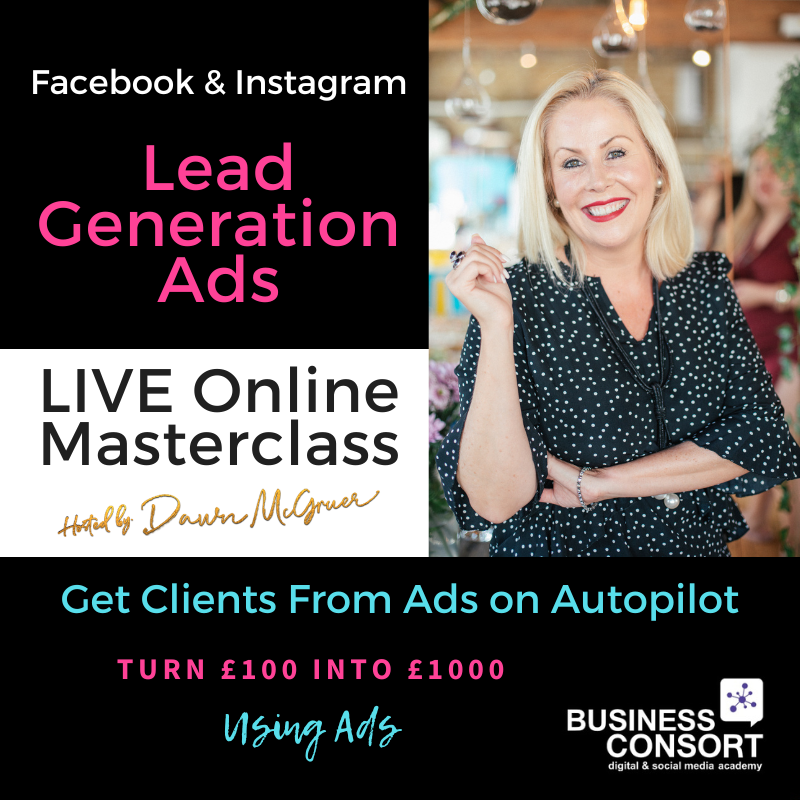 Monday 20th March 10am-1pm LIVE Online
Cost: £297 + VAT - Includes certificate + post-course recording
+ Best-Selling Dynamic Digital Marketing Book delivered to you!
+ Bonus Online Marketing Made Easy Bundle & Mini-Course
For team training we offer 20% discount for 3 or more delegates.
Create Killer Facebook & Instagram Lead Generation Ads that Convert  - You could be generating a steady flow of leads that convert to customers each and every day. We will show our latest case studies of LIVE Ads that are generating leads from as little as 50p!
LIVE Online Course with a difference because we will set-up templates for your ads then all you have to do is turn them live!
COURSE SUMMARY & BENEFITS
FROM YOUR TRAINER DAWN MCGRUER
create killer ads that convert
If you could turn £100 into £1000...would you say YES?
Frustrated with Facebook Ads?...Want to understand how to use ads to generate profits...not drain your resources? Why not learn how they work, so you can run your own! Or train your team and stop holding your business back.
Facebook Ads sound great, don't they?! Within minutes you can reach more of your audience, get more leads + convert more customers = more profit!
Maybe you've tried Ads before – but got the wrong people. Or they didn't convert into actual cash sales. Or maybe they flopped from the beginning, not even getting you a single lead!
BUT has this idea actually turned into reality for you? Or have your Ads been costing you money, rather than generating profits for your business?
Your Ads should be reaping a return on your investment – NOT draining your cashflow!
This course is for you if you...
Want a steady flow of leads coming into the business that convert into clients
Want to make the most of Facebook Ads as a lead generation tool
want to increase your online visbility, influence and establish yourself as an expert in your field
YOU WILL LEARN;
The strategy as well as the practical step-by-step demos, using our own real-life case studies - And you'll never need to build Ads from scratch again!
How to use our Ads Framework to create your Ads template and repeat the process, over & over. We'll cover the important pitfalls to avoid too – like getting your audience wrong – and insider tips, to get your Ads working!
The step-by-step process to get BIG results on social media. And having the support, feedback & advice you need, along the way, to guarantee your success!
LEARN FROM AN INFLUENCER
Dawn's created huge visibility & influence on Facebook, driving £millions in sales. She's a Speaker, Trainer, Best-Selling Author of 'Dynamic Digital Marketing' & Digital Influencer (ranked in the top 1% on LinkedIn!).
She proactively uses Facebook every day and has generated huge visibility and influence on this network as well as driving over a million in sales from just this one channel.
But above all else…Dawn walks the walk Our Ads generate 899% Return on Investment!!!
She has over 5 MILLION subscribers worldwide, and our Facebook Ad results are testimony to her knowledge, training and expertise as our Ads generate a lead on average every 8 minutes! 
Each month, she invests around £10,000 in Ads for just one of our courses. And get a return of £99,920 - A whopping profit of £89,920! 
But you DON'T need a huge budget, to start seeing huge results.
PLUS we only pay for results for our Ad campaigns. We get brand awareness and vast reach for FREE & only pay for a lead or a client.
Our Ads don't cost us money. They are our key source of customers in our business. And all our marketing contributes to our profitability - not our costs.
So if that sounds like strategy you'd like to adopt…then this is definitely the course for YOU!
Take the procrastination away and get it done with the help and support of your very own Facebook Ad Expert!
Are you ready to make the most of Facebook Ads?
BOOK YOU PLACE NOW - £297 + VAT  Certificate + Recording Post-Course too.
Interested? Got Questions?...Call our team 0800 334 5784
or email us [email protected]
Within 10 minutes with Dawn, I realised I was doing my Facebook ads all WRONG!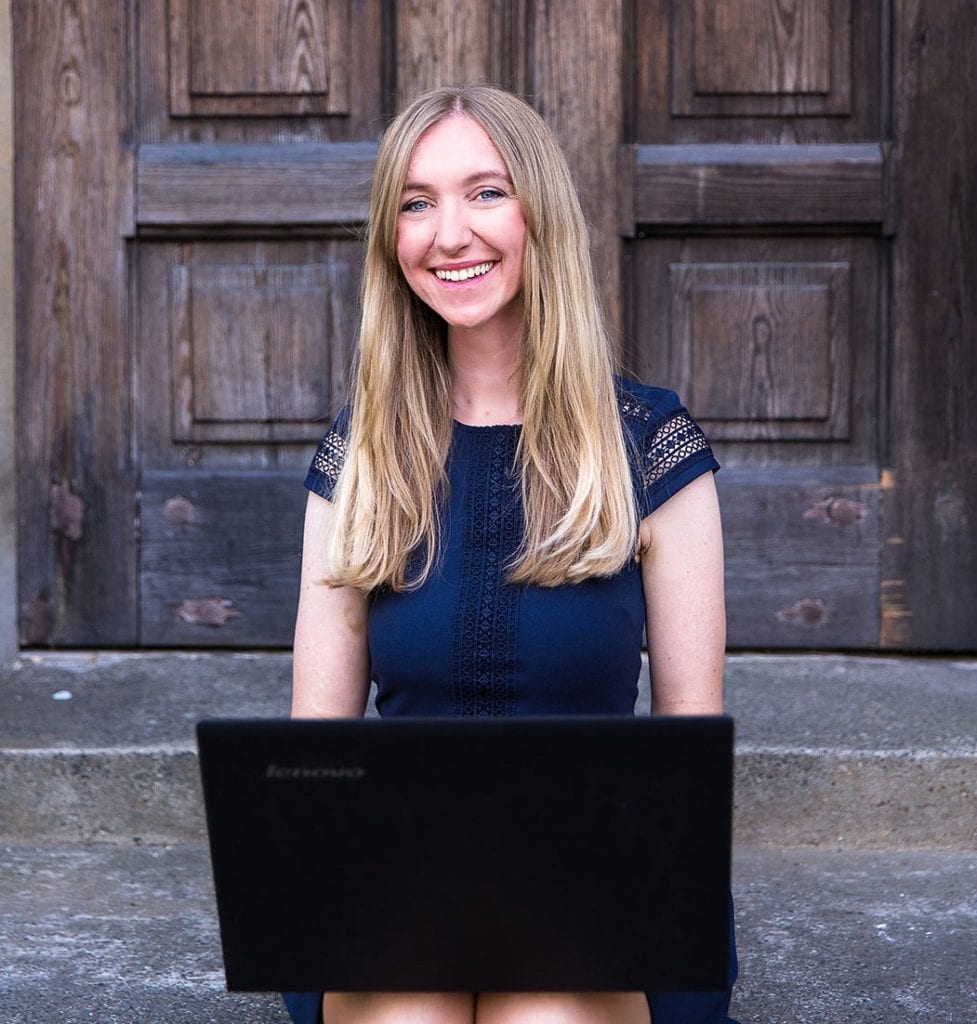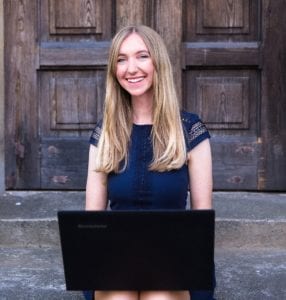 It was no wonder I was wasting money & not seeing results. Dawn taught me see my ads strategy in a whole new way. Why targeting the way I was always told - based on age, location & interests - wasn't really converting (but costing me a fortune). Now, following the strategy & simple steps Dawn gave me, it makes way more sense! Building & retargeting a warm audience, who are actually interest in me & my business. Thanks so much Dawn, for all your help. Only wish I'd learnt this from you a long time ago
Laura McDouall - The Copywriting Project
generate leads from Facebook while you sleep
Facebook Ads are hugely under-utilised in business as powerful lead generation tool - We generate leads and convert new customers every single day of every single week just by spending just 10 minutes a day optimising our ads!
LEARN FROM LEADING DIGITAL EXPERT - dawn mcgruer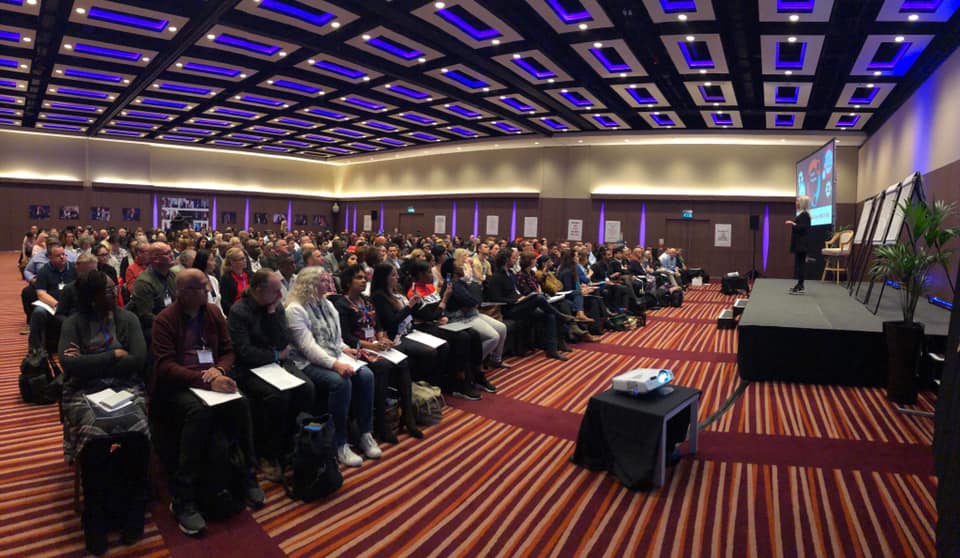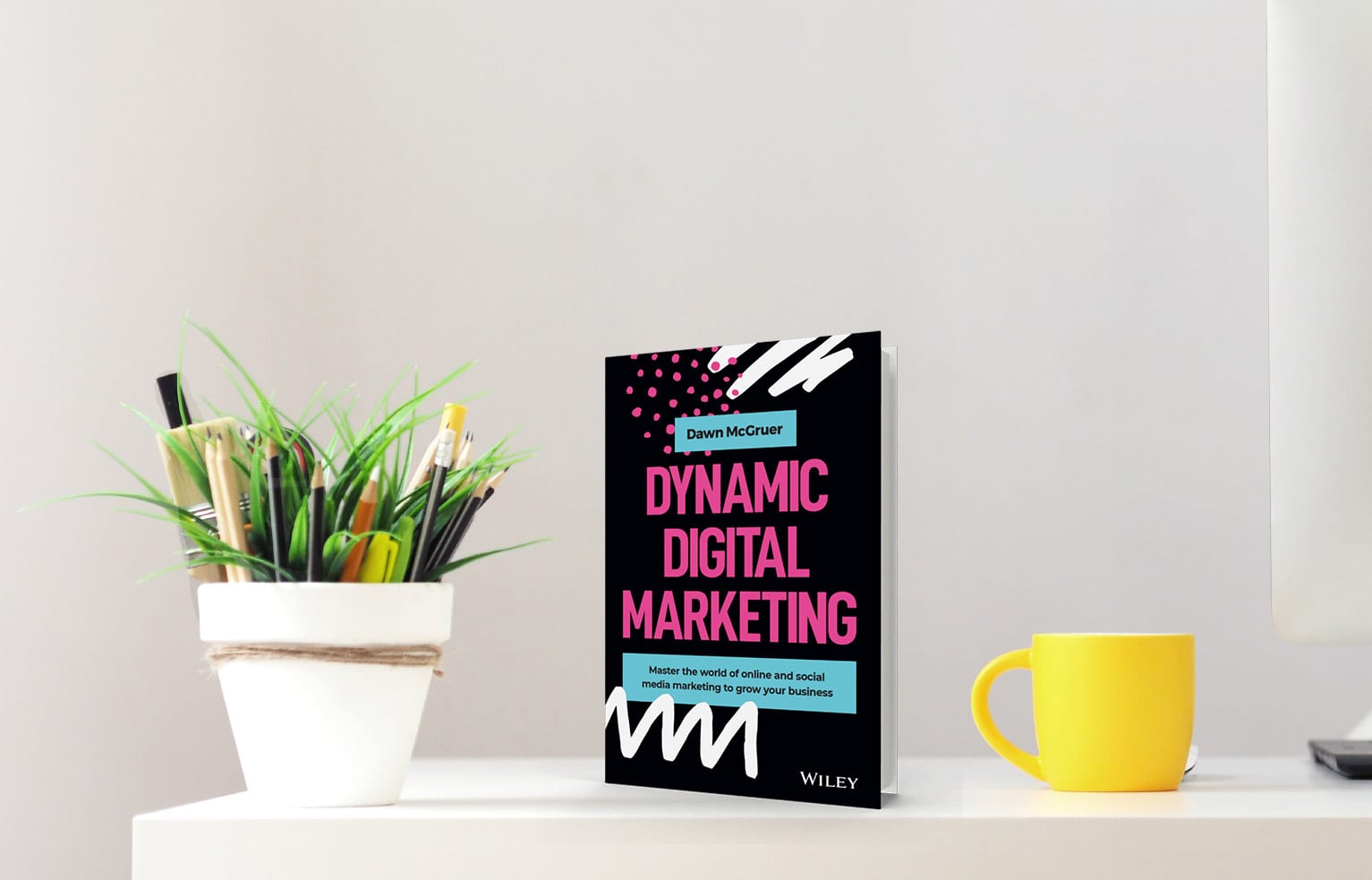 Dawn McGruer is an award-winning speaker, best-selling author, trainer, practitioner and consultant, who has become a key influencer in the world of digital marketing.
Dawn is the author of Amazon best-seller 'Dynamic Digital Marketing' (published by Wiley) & ranked #1 globally by LinkedIn for Digital Marketing.
She was named Best Female Speaker at the Professional Speaker Awards & her Dynamic Digital Marketing Model named Solution Framework of the Year.  
Dawn is founder of Business Consort - Digital & Social Media Academy, which has enjoyed 15 years of success. Her insights are in high demand & her expertise and experience has been rewarded with lifetime Fellowships with the Royal Society and CIM.
And above all else…Dawn walks the digital marketing walk! She's built an enviable 5-million-strong subscriber base from scratch, proving her credentials to lead YOU to digital marketing success.
Best Female Speaker - As featured in




Frequently Asked Questions
How long can I access the course?
After the live masterclass and implementation session you'll get a copy of the masterclass recording
Does it matter what level of experience I have using Facebook Ads?
NO! Whether you know your way around Ads manager; have dabbled in the past or are starting Ads for the first time…
We'll work through the full strategies, from the ground up to get your Ads set up – you'll be set up for Ads success!
Do I need a big FB Ads budget, to make the most of this programme?
NO! The strategies you'll learn work for all businesses – whatever stage you're at & whatever level of budget you have available.
So even if it's just £5 a day, you can get started & implement what you learn. And then re-invest all your lovely profits, back into more Ads!
JOIN OVER 30,000 CLIENTS WHO HAVE ACHIEVED AMAZING RESULTS!
just some of the lovely people we work with