Description
Online Digital Marketing Course
Learn Anytime – Anywhere!
Learn all the essentials needed to run a digital marketing plan covering all aspects of internet marketing!
As soon as you sign-up online you will receive your login details to get started straight away.
Digital Marketing Essentials – Is available to study Online or Face-to-Face in Manchester & London
3 Hour Online Course
Quickly up-skill through our instant access online course – This course has bite-size video lectures to keep your focus and get you up to speed with digital marketing channels used in business today

Who should attend?
The Digital Marketing Course covers all the essential areas of internet marketing and is ideal for those starting out or who are looking to develop their knowledge about the best digital marketing tools available & develop a basic digital strategy.
Course Level: Suitable for novices or beginners.
The course will focus on achieving 3 key objectives;
Extend your knowledge in essential techniques & tools used for effective digital marketing
Learn practical and proven strategies to generate leads & ultimately increase business profits
Have the ability to apply a digital marketing framework and plan to your business
What topics will the course cover? 
Social media
Blogging
SEO
Content marketing
Email marketing
Online advertising & much more….
WATCH THE DEMO: See what our Online Learning Portal looks like inside
Certification & Accreditation for CPD hours
This course has been accredited for CPD hours within the Chartered CPD Programme by the Chartered Institute of Marketing. You will receive a certificate after completing the course, which can be used as evidence for your CPD record card.
Benefits:
Guaranteed small class sizes & apply what you learn as soon as you return to the office.
What's included?
Includes certificate, all course materials and unlimited post course support.
This practical course is not just strategy it's packed full of ideas, tools and resources that will act as the framework to your life cycle marketing plan.
You need no technical knowledge as we provide easy to use digital tools and resources for email, social, web and internet marketing and advertising.
Unlimited After-Course Support
We offer full support during the course as well as unlimited after-course support to keep you up to date with the best digital tips, trends and techniques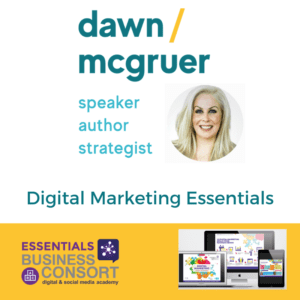 What will you learn?
Following this training course you will a better understanding of:
Essential digital marketing tools, the key channels and the underlying principles
How to put together a digital marketing plan / strategy
How to set objectives for your online marketing activity
Integrated search marketing strategies
How to run effective email marketing campaigns
Social Media marketing for business
Online display advertising networks and banner formats
Blogging & Online PR
Mobile apps, mobile websites
Basic Analytics: monitoring your digital marketing success & setting KPI's
If you are looking for a more in-depth course to cover all aspects of Digital Marketing then our Online Fast Track Course is the one for you.
Certified & Accredited
All of our courses are accredited under the Charetered Institute of Marketing CPD Programme
Dawn's Bio
Dawn is the founder of Business Consort – Digital & Social Media Academy which boasts an alumni of 25,000 trained and certified professionals worldwide.
She is an award winning digital marketing speaker (Best Female Speaker), author and trainer who has become a key influencer in the world of digital over the past 20 years having amassed over 5 million subscribers and is Ranked in the top 1% on LinkedIn in her industry(45,000 strong LinkedIn network) LinkedIn Profile
In addition, she also was shortlisted for the CIM Marketing Excellence Award 'Marketer of the Year'.
She has signed an amazing publishing contract with Wiley for her second book due to be released in Autumn 2019 and continues to be invited to speak on stages across the world to share her digital marketing knowledge. The book is based around her Award-Winning Solution Framework which is the Digital Model she teaches at the Academy.
She was also invited as a lifetime Fellow of the RSA – The Royal Society for the encouragement of Arts, Manufactures & Commerce in recognition of her expertise in the field of social media marketing and her work to raise awareness of the advantages of social media to business owners.
She is also a highly regarded judge for the annual Digital Experience Awards (DXA Awards).
Her vast marketing skills and experience as a senior marketer has been recognised as she has been awarded a CIM (Chartered Institute of Marketing) Lifetime Fellowship which is an extremely high accolade to achieve.
Dawn hosts a weekly podcast 'The Dynamic Digital Marketing Show' and also has a 30 episode series 'Digital Marketing Made Easy' both available in iTunes