Description
Online Fast Track Digital Marketing Course
Online Courses covering every area of digital marketing required in business today!
£597 + VAT or Pick'n'Mix – Choose any of the 8 modules for £97 + VAT each (we will be in touch to see which module you would like once you place your order)
A great all round course covering all aspects of digital and social media marketing for business today – online courses fully supported with interactive learning sessions and your very own virtual marketing consultant. Our study buddy group offers the opportunity to network with like minded professionals as well as gaining guidance on running effective digital campaigns.
If you are looking to quickly up-skill in the world of digital marketing then the Fast Track Digital Marketing Course is the perfect course which is available to study Online or Face-to-Face in London or Manchester
This course also includes 3-hours of bite-size video lectures to quickly upskill you in each of the digital channels such as Social Media, SEO & Search Marketing, Email Marketing, Blogging & Content Marketing, Online Advertising and more…!
8 ONLINE COURSE MODULES
The course covers all aspects of digital marketing required in business today; 
SEARCH – Demystifying the dark art of SEO (Search Engine Optimisation) including writing for the web & blogging
SOCIAL – Social Media Marketing – 7 Steps to Social Media Success: Facebook, Twitter, LinkedIn, Instagram, YouTube, Google
SEND – Email Marketing Magic (Cover Sales Funnels, GDPR, Lead Generation + MailChimp Tips)
SUBSTANCE – Content Marketing: Creating Content that Converts such as graphics, social posts, infographics, video, animations etc.
SELL – Social Selling (Our Director & Trainer for this course is ranked #1 GLOBALLY by LinkedIn!)
SPONSOR

 – 

Creating Killer Ad Campaigns (Road Map for Creating Online Ads) + 

Online Advertising – Google AdWords, Social Media Advertising, PPC and more…

STRATEGY – Dynamic Digital Strategy (Auditing & Planning)
SCORE -Digital Metrics & Analytics (Google Analytics) – Turn Marketing into a Revenue Generator (campaign measurement)
+ FREE BONUS Module – Digital Marketing Essentials
Course materials updated every 12 weeks to get it currrent and ever-evolving with digital marketing tactics
On completion you'll receive a CIM accredited certificate to celebrate your success but you also have the choice to upgrade to turn your certification into a qualification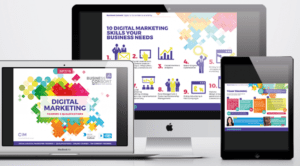 Course level – Ideal for busy professionals who need bite size learning and mentoring. Suitable for all levels as we focus on every aspect of tips, trends, techniques and tools to empower today's digital marketer.
All courses & mentoring are accredited under the Chartered Institute of Marketing CPD Programme – receive a certificate upon completion – The Perfect way to become a CIM Chartered Marketer or maintain your membership.
Client Testimonial
Emma Mallinson – Shell Petroleum Ltd – Global Marketing Product & Solutions Manager
"The training has given us the ability to lead discussions with our global digital teams within the organisation to request the appropriate support to get channels up and running.
It's also given us the know-how on building digital such skills into our communications strategy and reaching the right people."
Includes; 
8 x Modules (+ BONUS Overview & Case Study videos)
Interactive discussions, practical exercises and quizzes
Supporting Downloadable Course Guides
Bite-size, high-Definition Video Style Lectures
Watch Video Lectures on Mobile Devices – Anywhere & Anytime!
Study Buddy Group with other online learners
Flexible Learning at your own pace
CIM Certificate Upon Completion
Internationally Recognised Accreditation – Accredited under The Chartered Institute of Marketing CPD Programme
Built-in Digital Marketing Skills Audit Tool allowing every student to easily identify knowledge gaps.
Unlimited Course Support
Gain Up-To-Date Industry Knowledge
PLUS free tools, templates, checklists, resources, articles & guides
WATCH THE DEMO: See what our Online Learning Portal looks like inside
Dawn's Bio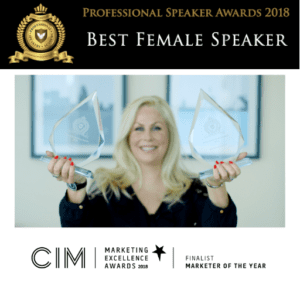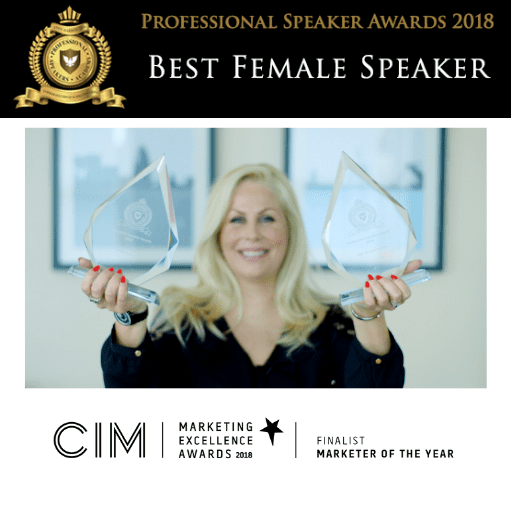 Dawn is the founder of Business Consort – Digital & Social Media Academy which boasts an alumni of 25,000 trained and certified professionals worldwide.
She is an award winning digital marketing speaker (Best Female Speaker), author and trainer who has become a key influencer in the world of digital over the past 20 years having amassed over 5 million subscribers and is Ranked in the top 1% on LinkedIn in her industry(45,000 strong LinkedIn network) LinkedIn Profile
In addition, she also was shortlisted for the CIM Marketing Excellence Award 'Marketer of the Year'.
She has signed an amazing publishing contract with Wiley for her second book due to be released in Autumn 2019 and continues to be invited to speak on stages across the world to share her digital marketing knowledge. The book is based around her Award-Winning Solution Framework which is the Digital Model she teaches at the Academy.
She was also invited as a lifetime Fellow of the RSA – The Royal Society for the encouragement of Arts, Manufactures & Commerce in recognition of her expertise in the field of social media marketing and her work to raise awareness of the advantages of social media to business owners.
She is also a highly regarded judge for the annual Digital Experience Awards (DXA Awards).
Her vast marketing skills and experience as a senior marketer has been recognised as she has been awarded a CIM (Chartered Institute of Marketing) Lifetime Fellowship which is an extremely high accolade to achieve.
Dawn hosts a weekly podcast 'The Dynamic Digital Marketing Show' and also has a 30 episode series 'Digital Marketing Made Easy' both available in iTunes
Testimonials
Simon Perriton – CEO – Just IT Training, Chairman – JITR, CEO – Skills Team, Joint MD – Central Careers Hub (October 22, 2018, Simon was a client of Dawn's)
Dawn has worked with Just IT for the last 6 months and added great value to the Digital Marketing pathway that we run. She is passionate about her sector and incredibly knowledgeable about all things digital. She has brought people together to facilitate change and Dawn has worked well as a collaborator to innovate with new services which have benefited both candidates and employers.
Fiona Challis – Multi-Award Winning Speaker, Author, Channel Enablement & Sales Expert (October 18, 2018, Fiona was a client of Dawn's)
Dawn is truly outstanding to work with! I hired Dawn to work with some of my membership group as moving from traditional to digital marketing is a key business priority for them this year! Not only was Dawn a dynamic speaker with excellent presentation skills, she has extensive knowledge in the IT and technology industry (which for my membership was a huge bonus), she is a true expert in digital marketing and how to use digital marketing to drive new lead generation and build lasting relationships with your prospects online, she completely 'wowed' us with the number of online tools and tricks that we can use immediately to grow however most importantly she practices what she preaches, hence being ranked number 1 on LinkedIn in her market. This is great social proof that everything Dawn teaches delivers results! She really is a great attribute to any company she works with!
Sarah Campbell – Marketing Manager – The course was completely bespoke to us. I felt it was well researched and the course content was very useful and I have come away having learnt a lot. I would definitely recommend Business Consort and will hopefully be booking either myself or a colleague on a course in the near future. Overall the course was 10 /10 – Dawn is a great trainer she covered a lot in the course and she has done a huge amount of in-depth research into what we are trying to achieve. She understood our position and articulated the course content in a way where I feel confident in getting new improved ways of working in place straight away. 
There are over 200 reviews on our site for strategy and mentoring so feel free to take a look at the latest ones here – Customer Feedback
Sign-Up Online for the Online Fast Track Course 
Got Questions? just call our friendly team on 0800 334 5784 or contact us