Description
The Digital Marketing Fast Track Course – EARLY BIRD OFFER when you enrol now – SAVE £400!
Bundle of 8 Online Courses covering every area of digital marketing required in business today!
ONLY £349 + VAT (normally £749) 
A great all round course covering all aspects of digital and social media marketing for business today – online courses fully supported with interactive learning sessions and your very own virtual marketing consultant. Our study buddy group offers the opportunity to network with like minded professionals as well as gaining guidance on running effective digital campaigns.
8 ONLINE COURSE MODULES – The course covers all aspects of digital marketing required in business today; 
SEARCH – Demystifying the dark art of SEO (Search Engine Optimisation) including writing for the web & blogging
SOCIAL – Social Media Marketing – 7 Steps to Social Media Success: Facebook, Twitter, LinkedIn, Instagram, YouTube, Google
SEND – Email Marketing Magic (Cover Sales Funnels, GDPR, Lead Generation + MailChimp Tips)
SUBSTANCE – Content Marketing: Creating Content that Converts such as graphics, social posts, infographics, video, animations etc.
SELL – Social Selling (Our Director & Trainer for this course is ranked #1 GLOBALLY by LinkedIn!)
SPONSOR

 – 

Creating Killer Ad Campaigns (Road Map for Creating Online Ads) + 

Online Advertising – Google AdWords, Social Media Advertising, PPC and more…

STRATEGY – Dynamic Digital Strategy (Auditing & Planning)
SCORE -Digital Metrics & Analytics (Google Analytics) – Turn Marketing into a Revenue Generator (campaign measurement)
Team Training Options & Licences – We can licence team members to study the Online Fast Track in Bundles of x 10 licenses which vastly reduces the fee (SAVE£109 per person) £20 + VAT per person per month for 12-months or an additional £80 per month to add the CIM diploma upgrade (SAVE £289 per person). Just get in touch and we can arrange an invoice – Contact Us
Online Digital Marketing Boot Camp for Business which includes 8 Modules (+ BONUS Overview & Case Study videos)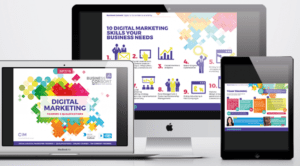 Course level – Ideal for busy professionals who need bite size learning and mentoring. Suitable for all levels as we focus on every aspect of tips, trends, techniques and tools to empower today's digital marketer.
If you are looking to gain a qualification then we'd suggest you opt for a diploma
As we train on average 5000 students a year the biggest request we have is to actually go on-site and help implement what they have learned so we listened and developed this training, coaching mentoring programme so we can be your very own virtual digital marketing agency.
All courses & mentoring are accredited under the Chartered Institute of Marketing CPD Programme – receive a certificate upon completion – The Perfect way to become a CIM Chartered Marketer or maintain your membership.
Your Trainer & Mentor: Multi-Award-WinningDigital Marketing Speaker, Author, Consultant, Founder & Head Trainer Dawn McGruer MCIM FRSA MIoD at Business Consort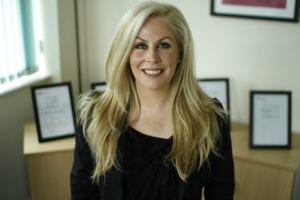 Dawn is a strategic digital & social media marketing trainer, practitioner, consultant, author and blogger who has over 20 years experience in the digital marketing arena.
She is also the Director of Business Consort which was established in 2005 and has developed it into one of the world leading training organisations which is accredited by The Chartered Institute of Marketing. With over 5 million subscribers Dawn has become a key influencer in this area and provides Social Media and Digital Marketing Training Courses including the CIM Diploma in Digital Marketing.
She has trained 1000's or organisations including some of the world's largest Global brands across most industries.
Dawn has also just been invited to become a Fellow of the RSA – The Royal Society for the encouragement of Arts, Manufactures & Commerce founded in 1754. This invite comes as recognition of her expertise in the field of social media marketing and her work to raise awareness of the advantages of social media to business owners.
Simply register and you will get your next steps emailed to you with details of your induction how to get started and how to access your online learning portal
SPECIAL OFFER: £349 + VAT  (normally £749 + VAT)
Client Testimonial: Emma Mallinson – Shell Petroleum Ltd
"The training has given us the ability to lead discussions with our global digital teams within the organisation to request the appropriate support to get channels up and running.
It's also given us the know-how on building digital such skills into our communications strategy and reaching the right people."
Global Marketing Product & Solutions Manager
So what will you get? 
well in addition to your online learning hosted in our state-of-the-art portal you'll get;
8 x Modules (+ BONUS Overview & Case Study videos)
Access Online Learning Library 24/7: state-of-the-art Online Learning Portal
Interactive discussions, practical exercises and quizzes
FREE BONUS 2 minute Tips videos
Access Secret Facebook Group
Weekly LIVE Q & A Mentoring in our Private Facebook Group with Dawn your Trainer & Consultant
Coaching Sessions through the Facebook Group to assist in developing your strategy for your role and guidance on how to achieve your specific business goals
Weekly Next Steps Emails
Supporting Downloadable Course Guides
High-Definition Video Style Lectures
Watch Video Lectures on Mobile Devices – Anywhere & Anytime!
1-Hour Bite Size Lessons
Study Buddy Group with other online learners
Flexible Learning at your own pace
Certificate Upon Completion
Internationally Recognised Accreditation
Accredited under The Chartered Institute of Marketing CPD Programme
Built-in Digital Marketing Skills Audit Tool allowing every student to easily identify knowledge gaps.
Unlimited Course Support
Direct contact with course tutor & coach
Accountability check-ins with your coach
Hall of fame: Your success showcased to our entire community
Gain Up-To-Date Industry Knowledge
PLUS free tools, templates, checklists, resources, articles & guides
WATCH THE DEMO: See what our Online Learning Portal looks like inside
SPECIAL OFFER: £349 + VAT (normally £749)
After years of working with clients providing digital marketing consultancy and developing digital skills through our courses and qualifications it became really apparent that it is all very well devising or teaching a tried and tested strategy and then handing it over for our clients to implement, manage and measure but in reality it is actually these 3 crucial stages that require the most support.
So we developed a ROADMAP – Our Solution Framework is called it our Digital Marketing Mandate Model and won an award this year – It's our trademarked ultimate digital marketing solution – If you imagine you are asked to bake a cake – and you were just given the list of ingredients you would need the actual recipe to guide you through each step and produce an amazing cake.

We discovered that there are actually 8 key areas of Digital Marketing so therefore we developed the actions behind each area – Tried and tested – proven strategies that as practitioners we can guarantee work and not only use for our own business but every day for clients.