Description
3-Day Face-to-Face Ultimate Social Media Marketing Training Course
Our 3-day ultimate social media marketing course for business hosted in Manchester is ONLY £1249 + VAT
Option to upgrade to the Specialist Diploma in Social Media Marketing for £300 = £1549 + VAT! 
3-day intensive course – Includes certification as the course is accredited by The Digital Marketing Institute, course materials, unlimited after course support, all refreshments and lunch on all days.

We offer all delegates the option when booking their place on the 3-day face-to-face social media marketing course the opportunity to achieve this professional, worldwide recognised qualification by simply upgrading to progress onto studying the diploma through our online learning community at an extra cost of £300*
Watch the video from our Head Trainer & Founder to learn about our social media courses, what they cover and who they are for to help you choose the right course for you!
This course covers absolutely all aspects of social media marketing that would be required in any sales, marketing or business development role in today's business world!
It is ideal for current digital marketers to take their knowledge to the next step and is ideal for those already involved in digital marketing in the commercial sense.
Who should attend?
The course will suit anyone who is involved in social media marketing, either in-house or agency side. It is ideal for those who are comfortable with using social media but need to develop a more strategic approach to increase the results from their efforts.
Learn how Business Consort's Social Media Courses helped Alejandro develop his brand and business to increase online visibility and social media presence

Who is the course for? This course is designed for those wanting to work in marketing or marketing professionals who want to specialise knowledge & understanding of what digital marketing is & how it relates to the marketing industry & turn that knowledge into successful marketing strategies.
Course Level:  Suitable for all levels – We do offer an Online version of this course and Online CIM diploma too.
No matter what your role in the company you will benefit from gaining insight into today's digital arena. 
Upon completing the 3-day course you will be at a masterclass level which means you could practically implement anything you have learned in a commercial role whereby social media marketing is required.
If you decide to upgrade to follow on to study the DMI Specialist Diploma in Social Media Marketing you will achieve first level degree level (level 5 equivalent) as an accomplished social media marketer who could implement, run and manage a social media marketing team and run any complexity of online social media marketing campaigns at a senior level.
View Diploma Brochure & Syllabus…
You will have the opportunity to gain skills and knowledge to understand the fundamental planning concepts for an online social campaign as well as key factors in implementation, measurement and evaluation of successful campaigns.
Overview
Digital marketing has evolved from a peripheral element of organisational marketing to one which is at the hub of customer-centric communications in an increasingly multi-channel environment. Our qualification will ensure you are equipped to deal with this shift and make the most of the new business opportunities to offer. In addition, you will understand be able to apply the tactics needed to create, run and measure a customer-centric social media strategy.
Implementing our social media strategy can increase your social network by 100% and engagement by 100%
By creating social media strategy you can then control and manage your time more effectively and in turn get more from your social media marketing.
What will the course cover? There are 11 modules in this 3-Day Course:
Social Media Marketing & Current Social Landscape
Facebook
Twitter
LinkedIn
All other relevant social networks
YouTube
Content Creation
Content Outreach
Future Trends
Social Media Strategy & Planning
Video marketing
Day 1: Social Media Essentials
Getting the best from social media platforms and using all of the hidden features, benefiting from consumer behaviour & getting your social media working
You will learn – This section is very much about the practical use of social media networks and building a strategy to grow networks and engage audiences.
Facebook
Twitter
LinkedIn
Other relevant social networks – Pinterest, Instagram, Google+
YouTube
Social Media & Advertising Campaigns
Future Trends
Foundation Strategy & Planning
Day 2: Advanced Social Media
Advanced Strategy & Planning – The next part of the Strategy and Planning module is the the advanced section of the course which focuses on growth, engagement and lead generation. It focuses on more advanced techniques and methodology to planning and implementing an integrated social media strategy.
How to create a social media strategy using our planning template
How to perform and record results of your social media marketing audit (including competitor analysis)
Measuring and montoring – social listening and social media management tools
Using social campaign results to improve lead generation and conversion going forward
Linking social analytics to multi-channel including web behaviour
Content Creation 
Content Outreach 
Social Media & Advertising Campaigns – The practical implementation plan, demo and case studies behind getting your advertising down to 1p per conversion
Day 3: Video Marketing Workshop
The third section of the course covers video marketing from actual filming to optimsing for online viral marketing
You will learn;
 We'll be guiding you through the process on how to create effective video content.
We'll take you through some simple hacks to produce valuable content quickly and simply.
We'll also look at how video marketing can work within your marketing process and your sales process in order to maximise ROI.
Video marketing techniques and how to use videos effectively for your business
How you can create films yourself.
How to optimise and repurpose videos for social media platforms.
This fast track and extremely intensive course is the perfect platform to go onto attain one of the most in demand qualification by employers which is the DMI accredited digital qualifications such as the DMI Specialist Diploma in Social Media. View Brochure & Syllabus…
Where is the course venue? Manchester City Centre
Business Consort, Lowry House, 17 Marble St, Manchester M2 3AW

Situated in the heart of Manchester's business district between King Street and Market Street – Off Spring Street a short walk from Piccadilly Station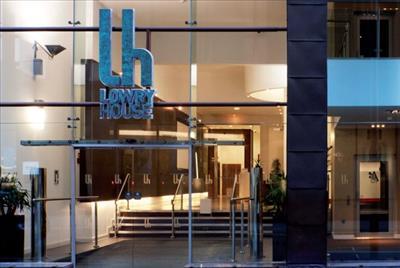 Hotels nearby: Our venue is on Marble Street which is in the centre near Primark and Piccadilly Gardens and we think MotelOne near Picadilly station is a great location and extremely well priced so there are lots of hotel nearby including Travelodge, Premer Inn etc – view map
What's included? All course materials and refreshments and lunch PLUS unlimited after-course support.
Accreditation for CPD hours – This course has been accredited for CPD hours within the Chartered CPD Programme by the Chartered Institute of Marketing. You will receive a certificate after completing the course, which can be used as evidence for your CPD record card.
---
We offer all delegates the option when booking their place on the 3-day face-to-face digital marketing course the opportunity to achieve this professional, worldwide recognised qualification by simply upgrading to progress onto studying the diploma through our online learning community at an extra cost of £300*.
All attendees will receive a certificate to state they have achieved Business Consort's masterclass level of digital marketing which is the next step up from our advanced digital marketing course and those wishing to take their expertise to the next level can continue to study through our online learning community to achieve the DMI Specialist Diploma in Social Media Marketing which is recognised at level 5 (equivalent to first year degree).
Studying the online DMI Specialist Diploma in Social Media – Takes 30 hours to complete after attending the intensive 3-day fast track digital marketing course!
Upon successful completion of a 3-hour Pearson VUE computer-based examination you will be awarded one of the world's most widely recognised digital marketing certification.  You'll also gain an internationally recognised badge to display proudly on your LinkedIn profile.
Certified Digital Marketing Specialist in Social Media Social media has grown to become one of the primary communication channels online and is now an integral component of a successful digital marketing strategy.
* If you wish to upgrade to study the DMI Specialist Diploma in Social Media Marketing in addition to attending the 2-day fast track intensive course then all tuition, support and online course modules are included with the £300 + VAT upgrade fee but you will need to pay for the exam in order to complete the qualification – £140 which is paid direct to Pearson Vue exam centre of which full details will be included in your welcome email. As soon as you book your place and if you have chosen the upgrade version you will receive your welcome email to the diploma with next steps as well as login details to access the online learning community which contains the syllabus and assignments. 
There are no exams required to be undertaken to achieve the diploma but the qualification comprises the following three units & you will need to complete a written assessment after each module:
Business Consort – The Social Media Academy is an Accredited Study Centre & the Diploma in Digital Marketing will provide you with CPD hours within The Chartered Institute of Marketing's Chartered CPD Programme. You will receive a certificate after course completion.
Course Trainer Dawn McGruer MCIM FRSA MIoD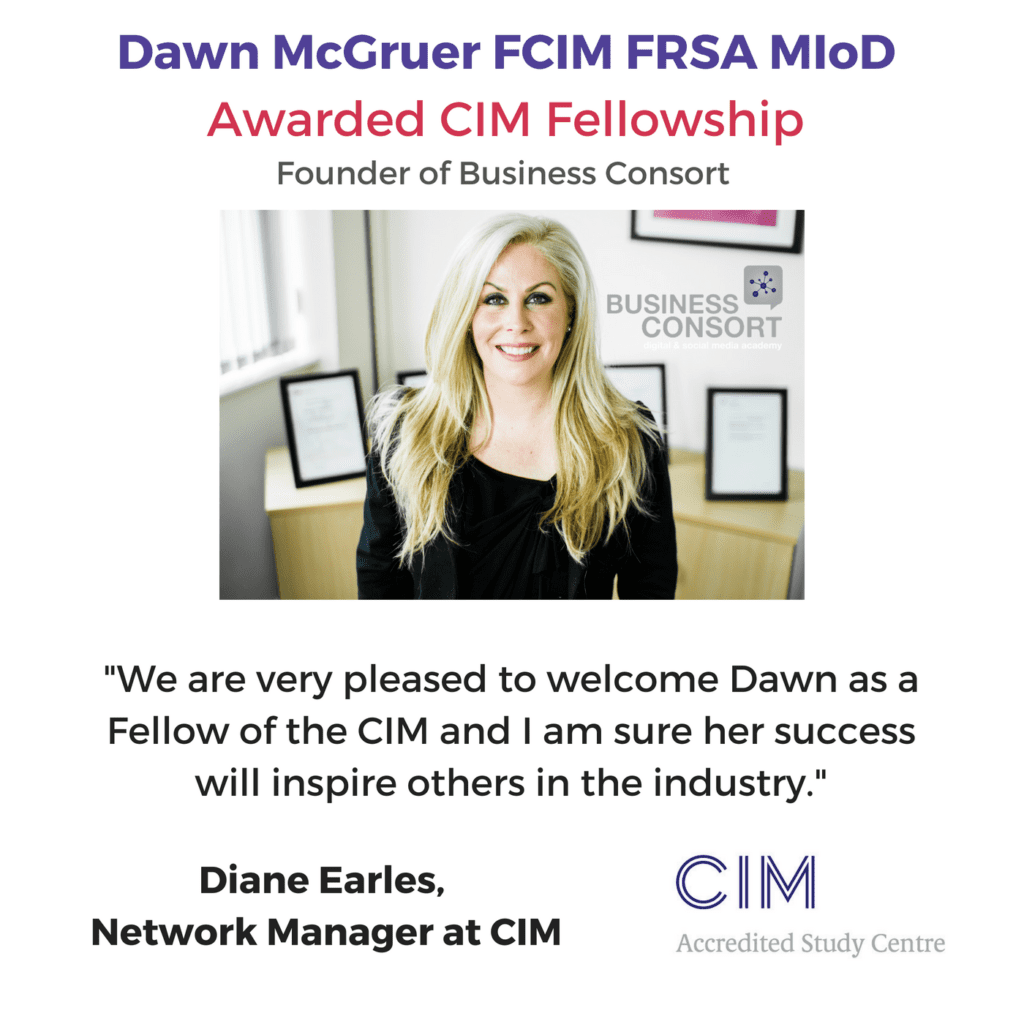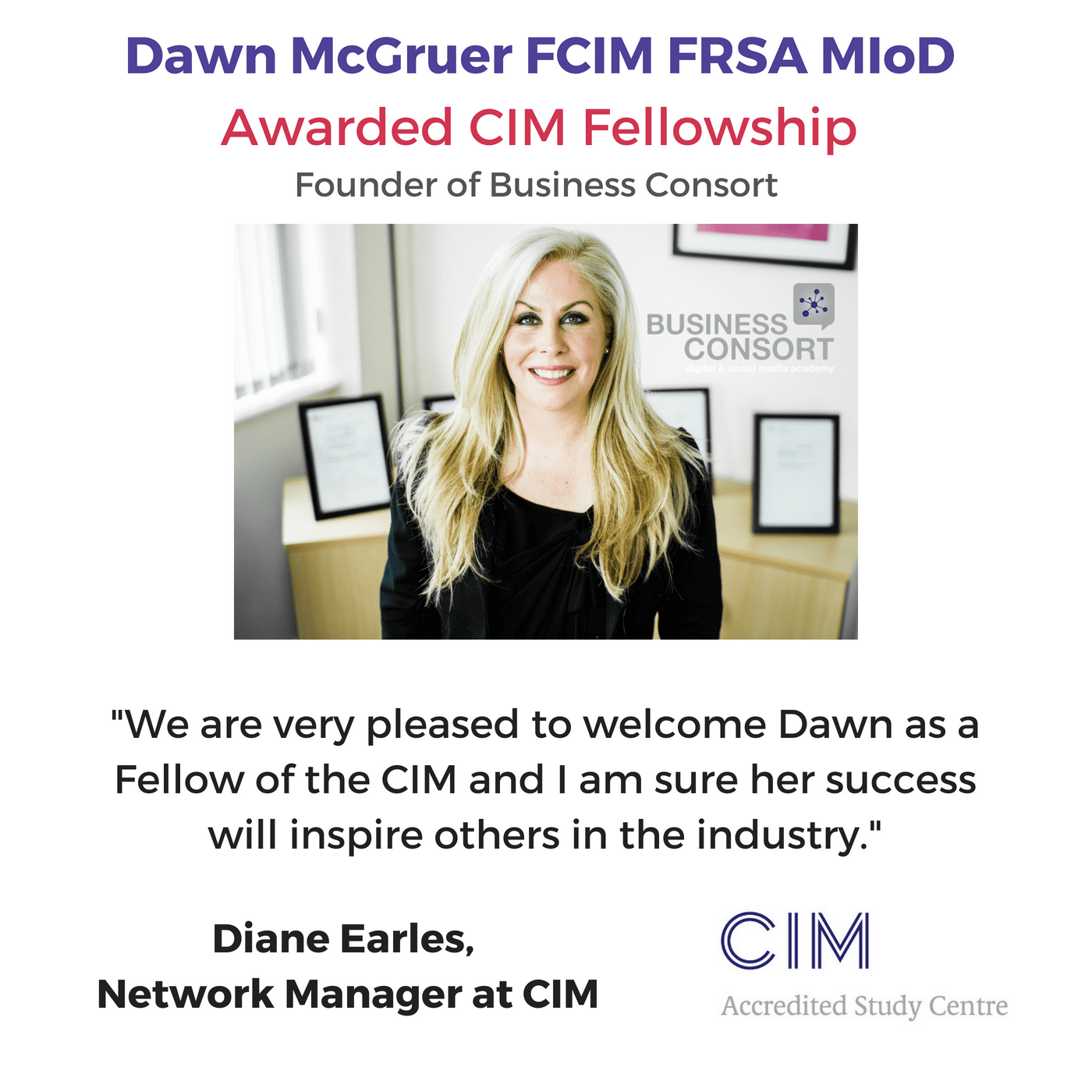 Dawn is an award winning digital marketing trainer, practitioner and consultant who has become a key influencer in the world of digital.
Founder of Business Consort
Digital Strategist
Keynote Speaker
Published Author
CIM Qualified Tutor
20 years' experience
Over 5 million subscribers
Ranked Top 1% globally on LinkedIn
45,000 strong LinkedIn network
Over 10 commendations from the CIM
Finalist CIM 'Marketer of the Year'
Lifetime Fellow of Royal Society – RSA
Awarded CIM Fellowship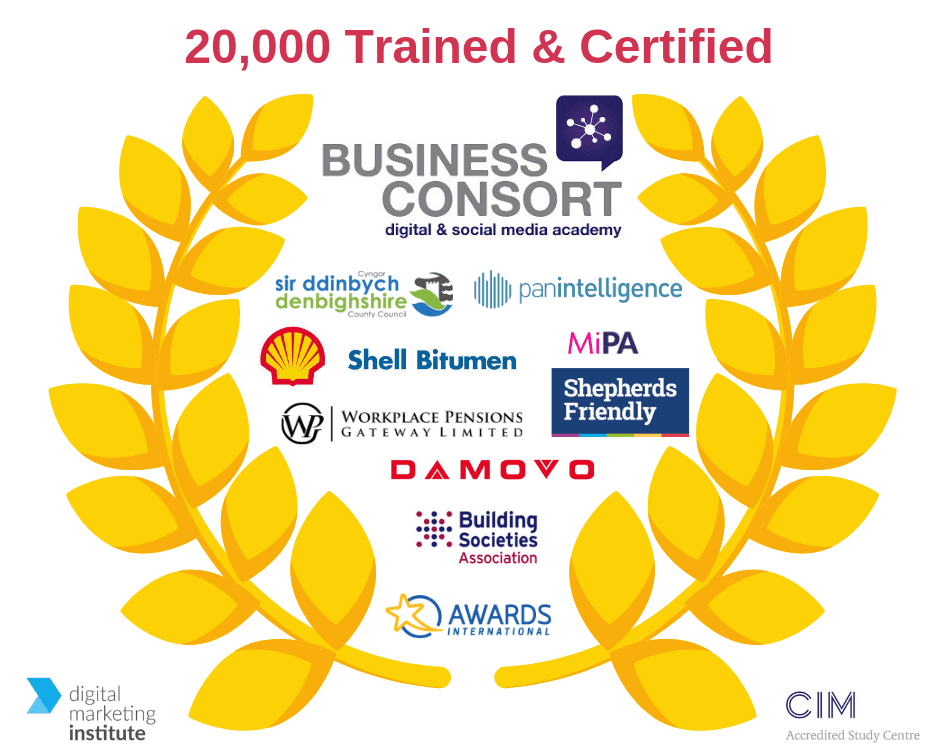 When you study with Business Consort, you benefit from;
Intensive courses, accredited under the Chartered Institute of Marketing
CPD programme from an accredited study centre of excellence, which has received 13 CIM commendations for qualifications
Learning from a part agency, part academy – we are all practitioners so we practice what we preach
Combining strategy with tips and tools to implement straight away, with a focus on real planning, sales and ROI in your business
Experience of having trained and certified over 20,000 customers to date
Small class sizes and unlimited after course support
Learning online, face-to-face in London or Manchester, or at your premises
Our Price Guarantee means we are at least 20% cheaper than any like-for-like accredited courses worldwide