Description
VIP Academy – 90 Day Fast Track Results Mastermind Coaching & Mentoring Programme
Want to work with one of the world's most influential digital marketers?
For the first time ever our Founder Dawn McGruer FRSA FCIM MIoD who is ranked #1 globally by LinkedIn in her industry has decided to launch the Academy offering a 12 month Mastermind programme.
Limited to just 12-Places – Next cohort launching 3rd February 2020
Dawn has a passion for developing digital skills and has developed a unique way of sharing her vast knowledge and expertise through our VIP Academy. This way she can provide dedicated digital marketing coaching, mentoring and consultancy just like having your own virtual digital marketing manager.
Pay Upfront SAVE £300 –  £2547 + VAT or Pay Monthly £949 + VAT  for 3-Months which covers the entire 90 Day Programme.
The academy will offer businesses of all shapes, sizes and sectors the chance to work with an industry leader.
The aim of the academy is to help you maximise your digital marketing profits to scale and grow your business through helping you develop and implement the best digital strategy for your business.
Dawn will use her expertise to empower you to create and run succesful digital marketing campaigns.
After 20 years of working with clients providing digital marketing consultancy and developing digital skills through our courses and qualifications it became really apparent that it is all very well devising or teaching a tried and tested strategy and then handing it over for our clients to implement, manage and measure but in reality it is actually these 3 crucial stages that require the most support so we developed a ROADMAP.
The academy wil be structured using  online POWER HOUR sessions which will focus on 6 key areas of our ROADMAP to help you develop your digital marketing strategy using Dawn's unique framework;
AUDIT
PLAN
IMPLEMENT
MANAGE
MEASURE
IMPROVE
Customer Testimonial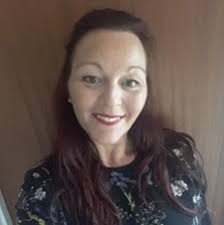 WOWZERS!! So much accomplished & so much to do! This stuff is so flippin AMAZING!! 
My task list is do-able, my goal is too important to me not to make the most of the guidance, teaching, advice & support you are giving us Dawn McGruer & I cannot thank you enough. 
You may not realise this but this is a truly life changing experience for me! 
My business has to bring me the same level of income that I used to get paid at a Senior Level as a Learning & Development Partner, at the VERY LEAST & until now, that all seemed a little bit out of my reach.
Tracey Jones-Bolding – Bold Sales Founder
VIP Academy
1 x POWER HOUR – 1:1 Fact Finding & On-Boarding Session to get to know you and your business and to identifying your key objectives
Develop Your 30-Day Bespoke Digital Marketing Audit & Digital Marketing Strategy Development – 10 action items broken down into weekly tasks
Strategy Document – Your 30-Day Plan (will be utilised as basis for creating 30-day rolling plans)
Fast Track Course to develop your digital skills and knowledge to get you off to a flying start
30 min x 1:1 Zoom Call every week with Dawn to develop and drive your digital strategy and review your actions
1 x Group POWER Hour each month with Dawn to develop and drive your digital strategy
Quarterly VIP Strategy Days in Manchester working with Dawn to implement and manage your strategy
Access to expert advice direct from world leading digital influencer Dawn McGruer  FRSA FCIM MIoD
FREE Resource Library: Courses, Tools, Planners, Templates & Checklists
Personalised training plan developed to upskill you as quickly as possible over the 12 months (free of charge option to complete online or face-to-face courses)
VIP Academy Members will also be invited in to Dawn's INNER-CIRCLE which allows you to access her vast network and collaborate on joint opportunities and ventures. Rest assured just this one aspect of the Club will return your investment ten-fold as she holds some amazing accolades as well as some enviable connections.
This entire package is worth almost £150,000 and we are offering this amazing opportunity to just VIP's for just £949 + VAT a month!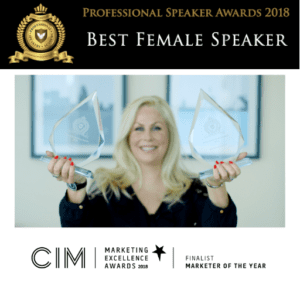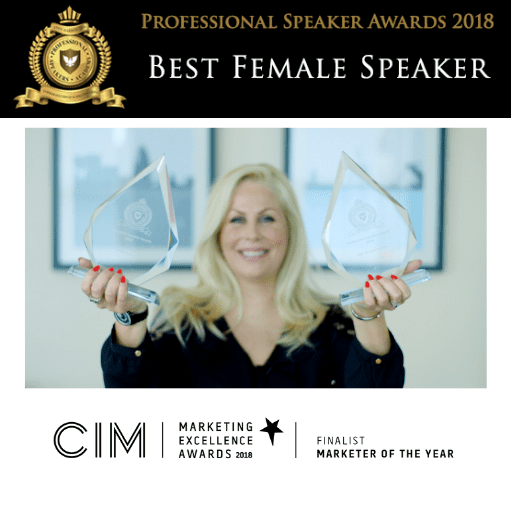 Dawn's Bio
Dawn is the founder of Business Consort – Digital & Social Media Academy which boasts an alumni of 25,000 trained and certified professionals worldwide.
She is an award winning digital marketing speaker (Best Female Speaker), author and trainer who has become a key influencer in the world of digital over the past 20 years having amassed over 5 million subscribers and is Ranked in the top 1% on LinkedIn in her industry(45,000 strong LinkedIn network) LinkedIn Profile
In addition, she also was shortlisted for the CIM Marketing Excellence Award 'Marketer of the Year'.
She has signed an amazing publishing contract with Wiley for her second book due to be released in Autumn 2019 and continues to be invited to speak on stages across the world to share her digital marketing knowledge. The book is based around her Award-Winning Solution Framework which is the Digital Model she teaches at the Academy.
She was also invited as a lifetime Fellow of the RSA – The Royal Society for the encouragement of Arts, Manufactures & Commerce in recognition of her expertise in the field of social media marketing and her work to raise awareness of the advantages of social media to business owners.
She is also a highly regarded judge for the annual Digital Experience Awards (DXA Awards).
Her vast marketing skills and experience as a senior marketer has been recognised as she has been awarded a CIM (Chartered Institute of Marketing) Lifetime Fellowship which is an extremely high accolade to achieve.
Dawn hosts a weekly podcast 'The Dynamic Digital Marketing Show' and also has a 30 episode series 'Digital Marketing Made Easy' both available in iTunes
Sign-Up Online – Join the VIP Academy today! 
Got Questions? Want to make sure the VIP Academy is right for you so call our friendly team on 0800 334 5784 or contact us