Social Media Content Creation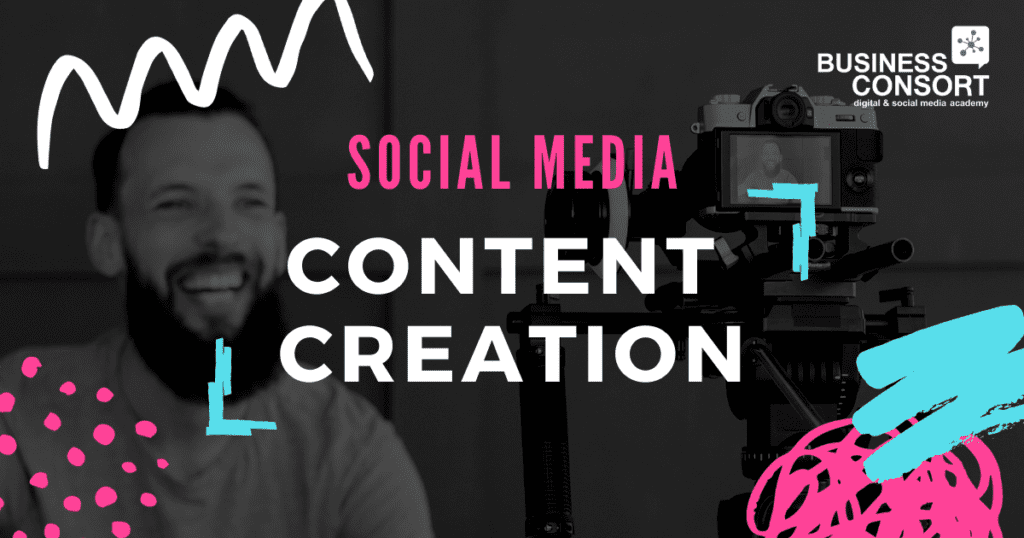 Here are some statistics—oh, we do love throwing around good data—for those that think social media isn't 'the right fit' for them:
3.4 billion people use social media—that's about 45% of the global population
Around 90% of Millennials, 75% of Generation Xers, and almost 50% of Baby Boomers are logging in on a regular basis.
The average user spends over two and a quarter hours each day, scrolling through posts or sending messages on social media.
Around three-quarters of businesses admit that their social media marketing effectively improved their operations.
Check that bottom one again.
Three-quarters of businesses say that utilising social media improved their operations.
With such a vast market ready and waiting, covering almost every demographic you can think of, if you're not already engaged in social media marketing, you really should be asking yourselves why?
But where do you start?
There are specialist social media content creation companies who'll happily do the work for you, yet many choose to keep it in-house, to retain control of the tone and delivery. To do that you'll need the right content creation tools for the job at hand.
Being such an significant arena for marketers, vying for your subscriptions and one-off payments, is big business. Inevitably then, there are thousands of digital content creation software apps and programs to choose from.
A basic introduction to social media content creation
You can't just post a bunch of pictures and expect everyone to love you. The Internet is saturated with brilliant content (as well as its fair share of horrors), and users' expectations are high.
If you bore them, fail to provide what they want to see, or look like you're trying too hard, they'll dump you in an instant.
What do they want? To be educated, entertained, and amused. They almost always want a good deal too. On top of that, they want you to make them look good to their friends and followers—so your content should be something they want to share.
The key is the name. SOCIAL. You need followers that engage with you, to tell their friends about you, to become the stepladder that lifts your brand into the limelight.
How to start content creation
You know what you want: to sell your products or services, to raise brand awareness, or to create a larger following, but do you know exactly what it is that your customers want?
Especially when it comes to their daily trawl through the socials.
You need to know your customers inside out. And for that, you need data. There are tools for that. Guesswork will only result in hit and hope. To hit the target from the outset, download some analytics tools to study each of your primary demographics.
With your new data at hand, you need to know how to use it. That means having a plan of what you should be posting, and when.
Once you've decided on your content, you'll need the tools to build it, to post it, and equally importantly, to monitor how it performs.
Don't ever rush into creating your content. Always consider your goal or target, and who's going to see and react to your posts. Irrelevant posts are one of the main reasons users unfollow brands. One careless post can cost you thousands of followers.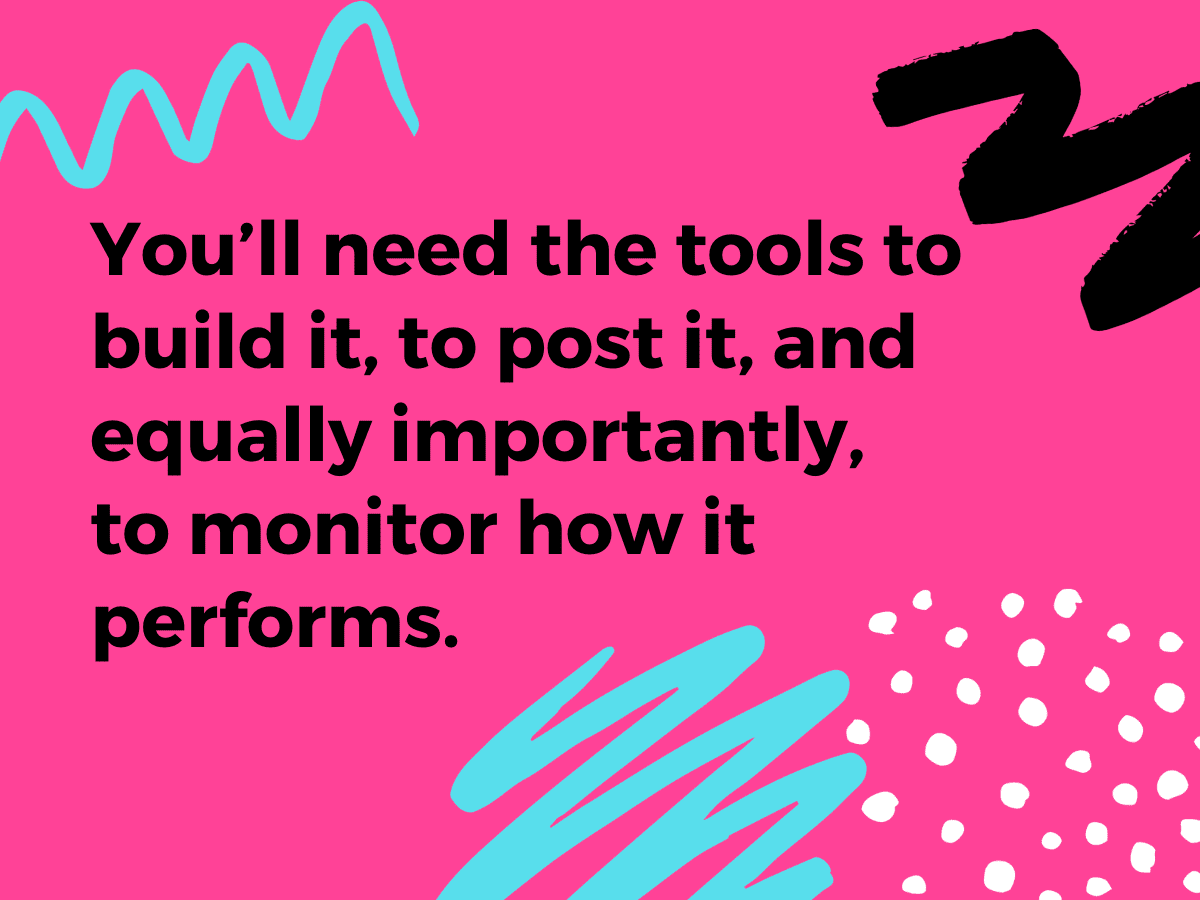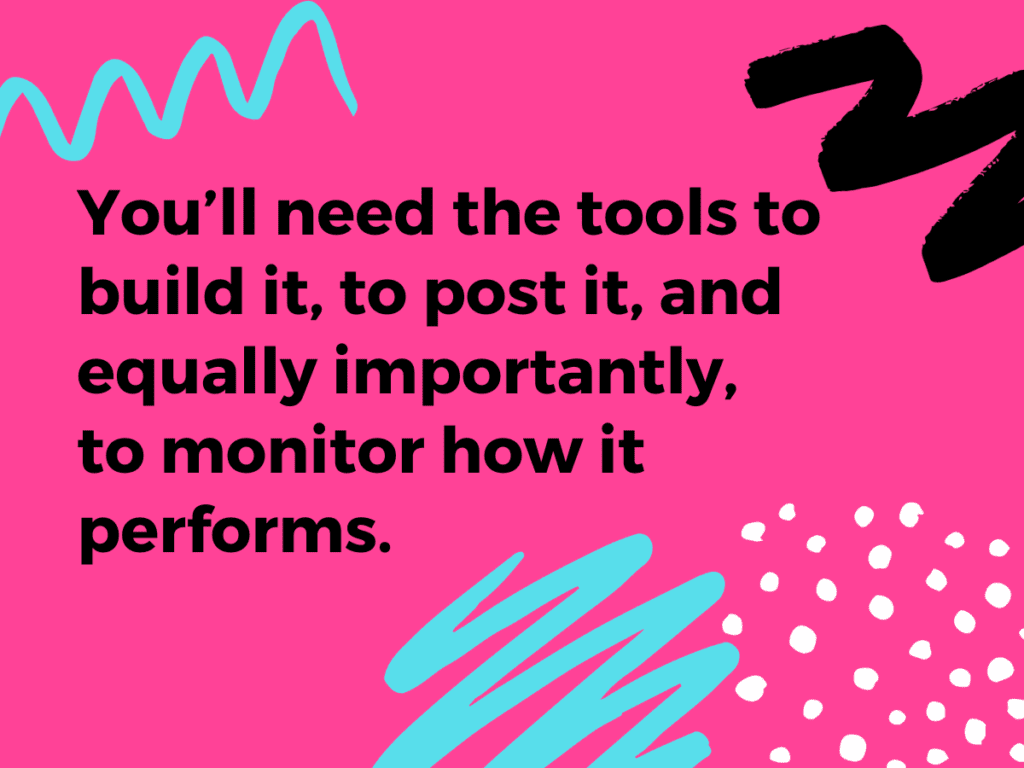 Take expert advice on social media courses
If you're looking for professional training into every type of social media content creation course, you're in the right place. We've got experts at every level, ready to guide you through your social media journey. We deliver video marketing workshops, LinkedIn and Facebook Ads accelerator programmes, and a ton more to boot.
Check out our full list of current courses. We offer everything from introductions into digital and social media marketing, to those that deliver 365-day content management plans.
Best social media content creation tools
The following aren't necessarily social media tools specifically, but they do deserve a special mention. When it comes to gathering data before you even start creating content, you need it to be proven material.
After that, you want what you make to be as professional as you are. Your content creation tools only go halfway—writing beautiful copy is the other half.
Typeform
When it comes to gathering that data, reaching out to your followers is a great way to go straight to the horse's mouth. However, they're not going to give it up for nothing. That's why giveaways and contests are so popular—as are quizzes.
What is the one constant of all social media users? They're pretty much all just killing time. Even when there's not much in it for them, social media users can't seem to resist a quiz. What other reason would there be for learning what type of bread you are, which Power Ranger you're most like, or what your Christmas elf name is?
Typeform is an easy way to create your quiz, in various formats, using all sorts of elements and features. Use it wisely, and you'll learn everything you need to know about your followers.
Grammarly
It's not necessarily a social media tool, but one of the worst things any business or marketer can do is to look unprofessional. Grammarly helps with that. Its spelling and grammar checking is streets ahead of anything like it. It can also help with tone and delivery.
BuzzSumo.com
We mentioned that real data is the best guide into what's working for everyone else, and one way to track that is using apps like BuzzSumo. Type in your topic, and you'll see posts and their engagements across all the socials. You can investigate your competitors to find out which are their best content performers, and see how your accounts are performing by comparison.
Data is everything when it comes to choosing your topics. Your research will help you get it right, first time.
Social media video tools
Video is massive. As soon as the Internet moved into its broadband era, out went bandwidth restrictions and in flew rich-media content. It's eye-catching, engaging, and the amount of information you can deliver is far superior to other methods.
Just check your social feeds; it's everywhere.
Whether you're animating infographics, recording tutorials or reviews, or making your followers laugh—there's no denying that it's hands-down, right up at the top of the content tree.
So what should you choose? There are plenty of apps to choose from and finding the right one for you (and your needs and budget) will sadly mean a lot of research. However, we're here to suggest some of the best places to start your search.
Animoto
Animoto turns your images and videos into slideshows. It's one of the few tools that allows you to create square content—perfect for Instagram without any unnecessary and frustrating cropping.
Lumen5
Lumen5 analyses your blog content and creates storyboards for you. It recommends images and videos, allowing you to drag and drop them into relevant frames.
BIGVU Teleprompter
If you're delivering reviews, tutorials, or news updates, learning lines or following a script can be a bit of a nightmare. Enter BIGVU that displays the script for you to read, while recording your performance. It's got plenty of nifty editing features to make you stand out too.
Social media graphics tools
Employing a graphic designer can really impact your budget, especially when you're posting on several of the socials, a few times each week.
Accessing template design packages and their automated content creation tools is almost priceless. They're not, of course—they all come with subscriptions or in-app expenses. What you will find, however, they won't match the rates hiring a designer or using an agency.
Canva
Canva is easy to use with thousands of templates and design elements. It's an industry favourite, covering every aspect of design, but handily, with a special section for social media.
Crello
Another similar tool, with over 10,000 templates and 65 million stock images, is Crello. If you're running out of ideas, hit their inspiration tab. You won't be stuck for long.
Piktochart
For something a little more specific, Piktochart creates infographics, charts, and graphs to display your data. Pick a theme and colours that match your brand, and you'll assume a superior level of consistency across everything you post.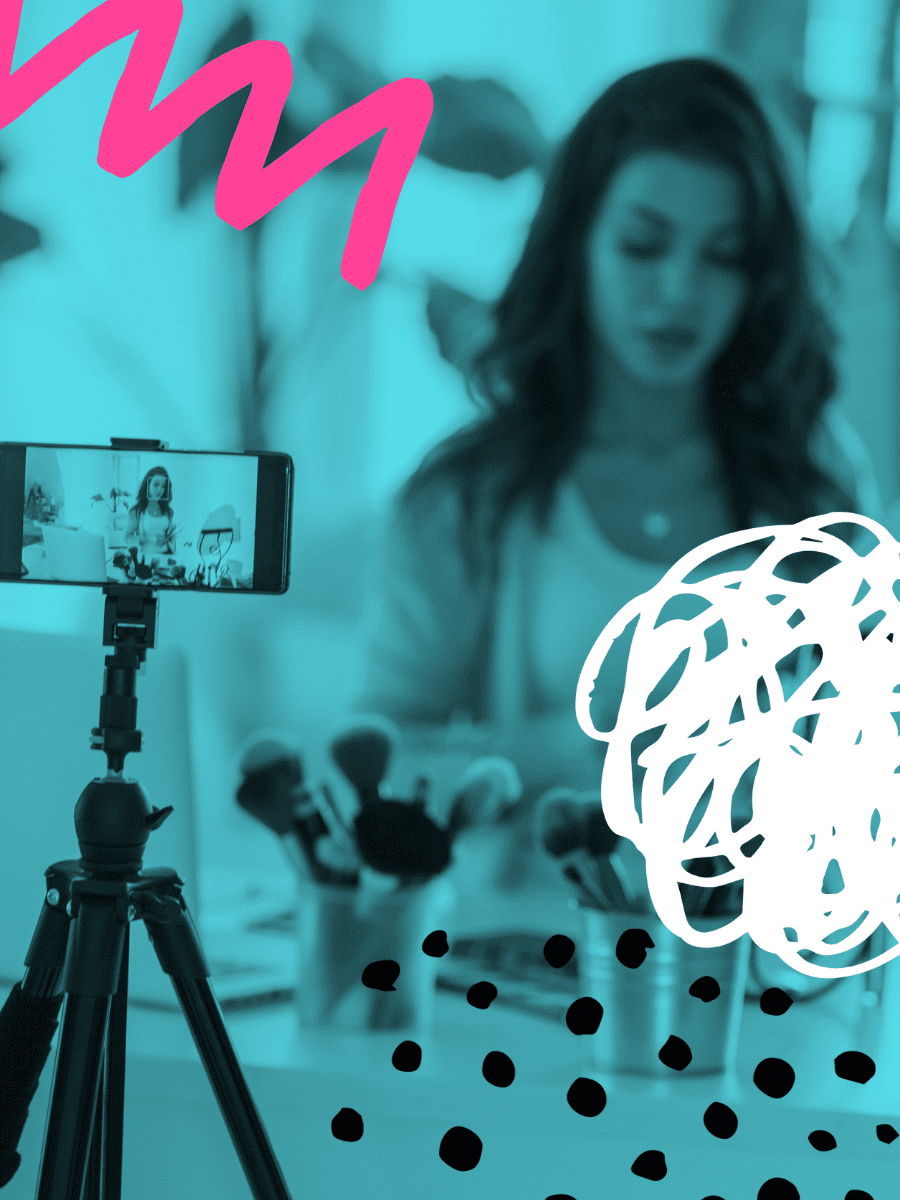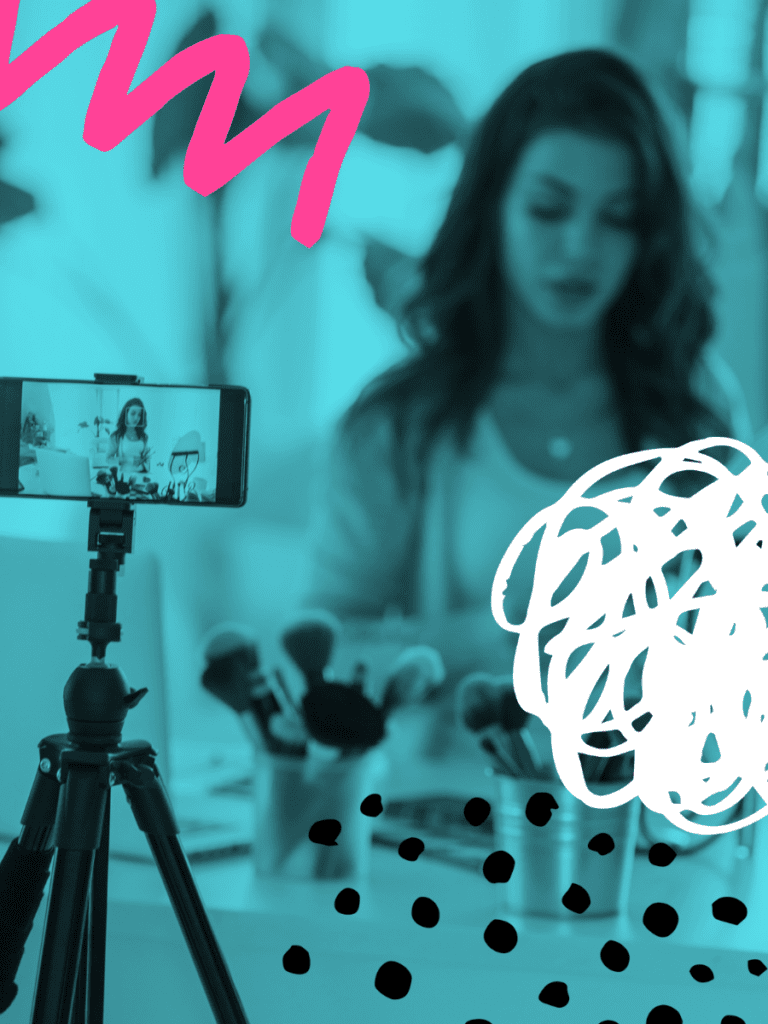 Social media GIF creation tools
The meme-must-have for every SM poster is a GIF creator. Capture anything you like, edit it, animate it, and slide it into your posts as a small slice of the hippest trending mode of online fun. Your stories never looked so current without them.
GIPHY Capture
Gifs.com
Gifted Motion
GifPal
Filmora Meme Generator
Social media tracking tools
Not so much about content creation, but finding out what you need to post to get the best results is still a big part of making considered and qualified choices. Tracking what everyone else in your industry is doing, and how you compare, can now be done via your desktop or mobile apps.
YouScan
Maybe
Coosto
Brand24
Digimind
Content creation trends
Another method of giving your followers precisely what they want is to check industry content trends. How do you do that? Well, what's trending? What are the most popular hashtags? What's in the news right now that everyone's talking about?
Get all of that information streamed straight to you instead of having to go out and find it for yourself. Work smarter—not harder. It's the golden rule to save you time and money, after all.
Feedly.com – Industry news direct to your account
BuzzSumo.com – Picking premium topics by website or topic
Hashtagify.me – Determine the popularity and success of any hashtag
Time to develop you digital marketing skills?