Are you using LinkedIn to your advantage in 2018?
So the question that I am asked every day is what social network gets the most engagement? – "Oh that's easy – LinkedIn 100%" and if you are using LinkedIn to your advantage in 2018 you will already know this.
I am an avid LinkedIn networker with over 20K connections and another 20K followers – Connect with me on LinkedIn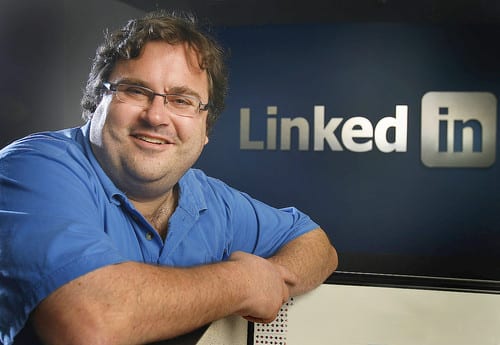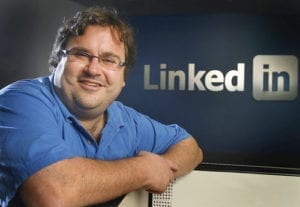 The History of LinkedIn
Although LinkedIn started almost 16 years ago even before Facebook came on the scene – It was in late 2002, Reid Hoffman (pictured here on the left) recruits a team of old colleagues from SocialNet and PayPal to work on a new idea.
Six months later, LinkedIn launches. Growth is slow at first—as few as 20 signups on some days—but, by the fall, it shows enough promise to attract an investment from Sequoia Capital – Fast forward to 2018 and it has 500+ million members!
I have been a loyal LinkedIn networker since the beginning and see the huge benefit being on LinkedIn has to offer.
Still so many aren't using it to the full potential and don't have any clear strategy to drive their influence as an industry expert.
Use LinkedIn To Your Advantage in 2018
It's a social network. So be social
On our LinkedIn Masterclass I am always asked – what is the etiquette on LinkedIn for connecting?
You have to think of LinkedIn just like a networking event – Picture your news feed as a room of bustling business professionals – Imagine each post as a conversation.
In an event you'd mix with others – chat and exchange ideas but for some reason some find it more difficult online. If you simply chat AT others it's never going to be a great end result so every time you see a post from now on consider what your 'HUMAN response' could be – If it's an article or an infographic – perhaps 'great article or interesting statistics'. This is in turn seen by the posting party and their audience extending your reach and existence.
Grow you network outside your circle
LinkedIn is not a an online directory of who you know – It's a social network of contacts who could recommend and refer, assist as a supplier – you name it not a list of prospects.
I use LinkedIn daily to find suppliers – like translators, AV equipment, partner with event speakers – anything you would naturally think to Google – Try it like a search engine and it's amazing the opportunities it reveals.
So next time someone sends a connection request that you don't know – check out their profile and if it looks reasonable connect – You are not moving in with them and you can always remove them as a connection.
Don't just collect people
Again it is very tempting to just add people to your network but having a huge list of connections on LinkedIn if you are going to utilise that network. Imagine the news feed now with your accolades and news in it – It i simple if you do nothing – guess what nothing will happen but if you post something you have just double the chances of getting more people knowing about you and engaging with you.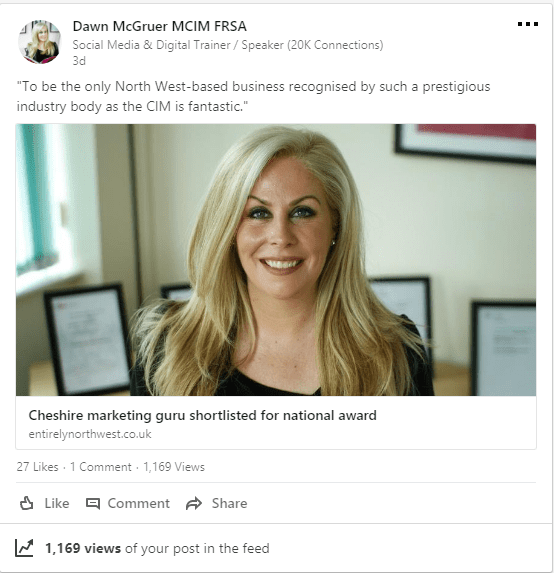 Unfortunately sitting back and waiting will achieve nothing – You have to be proactive and even if you post once a week – Post an accolade like your or your businesses achievement – They get the best results – Think about a newspaper and all the human interest stories – The only difference is this is online.
I have been short listed as 'Marketer of the Year' by the CIM in the National Marketing Excellence Awards so as you can see this post (on the left) is still getting engagement as we speak but was posted 3 days ago and is still reaping the benefits.
This is brand awareness and personal profiling – It's like your online PR just keeping you and your business in the eye line of others and it doesn't matter even if thousands who see it don't interact because they don't need to click through and read an article or comment, like or share because they will have got the gist.
On average we get thousands of views for this type of content and people mention it offline too when I see them so it definitely works.
Extend the lifecycle of your post
Video gets 87% more engagement and 1200% more shares than other media so what are you waiting for get that video out – Well the problem is a combination of issues – some fear it, some don't know how to get started and some just don't like the idea or procrastinate.
Did I mention that video can just keep on going and working for you sometimes for as long as a week for some of our videos.
When posting try to avoid the standard promotional content – For us its not about posting about digital marketing training courses but about posting industry related news, tips, insights , trends – Don't just report the news though tell people what it means to them – For instance we recently posted about Facebook's latest algorithm changes and wrote a blog about how they could continue to reach customers.
Organic Leads
We get about 80% of our leads for speaking, consultancy or corporate training through LinkedIn and people don't only judge your profile but they look at your credentials such as recommendations.
I wouldn't connect to someone who didn't bother to complete their profile and add a photo and I would possibly even think negatively about the brand they are associated with – Look you wouldn't have a blank or incomplete page on your website so don't do it here.
Oh and a photo gets you 21 times more profile views!
LinkedIn could often be the first touch point with your brand so make it a high impact and persuasive one!
I often get people saying – LinkedIn doesn't work or just isn't worth the bother but could you honestly walk away from a ready made audience set to hit billions that helps us reach 150 new, quality contacts a day and generates us 80 new leads a week?
Use LinkedIn To Your Advantage in 2018 and come along to a a 2-Day Fast Track LinkedIn Masterclass in Manchester or London or Online and start reaping the results you deserve – We will not only provide you with a guaranteed strategy that will double your network and your engagement but we will show you how to create amazing content in less than 10 minutes with no design knowledge PLUS we will show you how we increased our lead generation by 373% in one week.