so what is Content marketing? It is probably the most popular aspect of marketing across the internet for business due to the return on investment it provides.
Marketing is impossible without the creation of content and over recent years we have seen decline of spend across more traditional methods of advertising such as banner or pay per click Google adwords because of the cost involved and results versus other digital channels.
A large amount of Google search users will skip straight to organic listings under adverts – Accordingly to a recent SEOmoz article organic results are 8.5x more likely to be clicked on than paid search results!
Also the fact that Google is no longer showing AdWords ads on the right hand side of its search results pages which makes it more competitive for the 3 or 4 spots available pushing organic listings down more means that many businesses are pursuing search engine ranking and domination of results through content marketing as a more cost effective method but also to attract traffic for broader search terms.
Consumer behaviour shows that approximately 25% of our searches are around brands, products and services we are actively looking for but the greater number of searches are centered around solving a pain – We search to solve a problem, to get the answer to a question, to research or learn more or compare options.
Keywords are rarely used on a daily basis as part of many marketing strategies and often are neglected after the initial website build and optimsiation meaning it becomes very hard to increase ranking positions and number of times presented in results as a business may only have opportunity to appear in search results for their company name and offerings which would be fine if someone is searching for something specific.
If we turn it around and lets think about your customer journey – Lets imagine you are searching for a 'yellow widget' we may search for the 'best yellow widgets' or 'top 10 yellow widgets' to start comparing options, or research to find out more about types of yellow widgets or the benefits of yellow widgets – we go through a variety of terms to before establishing our shortlist. We may also click through a variety of related articles and materials on our search. Content marketing allows us to create 'tell not sell' articles to enhance the journey!
Again with the term 'Blogging' this often acts as an instant turn off to businesses who think it will take over their lives or drain their employee resources with no real benefit – but in fact there is a huge business case for blogging such as increase in traffic and leads.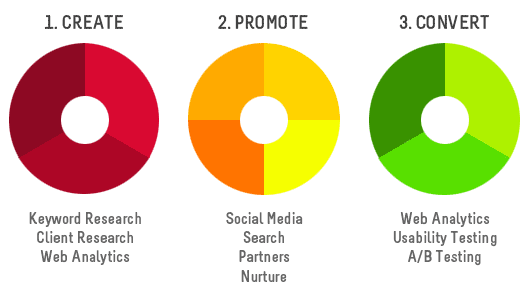 Websites with Blogs have 434% more indexed pages (helps search engines & SEO efforts) and 97 % more inbound links. (U.addresstwo) see latest 2016 blogging facts
Blogs tend to be where we create this type of content which could be video, article, infographic, whitepaper, tips etc as well as our online press releases.
Google basically rewards businesses who create good quality, unique content on a frequent and consistent basis and successful sites such as the BBC are quite simply blogs – So taking this principle on board content marketing using business blogs as well as promotion tools like email and social networks etc to share and gain reach can increase your engagement and search ranking tenfold.
Developing a consistent and frequent content strategy geared around SEO (search engine optimisation) means we can reach a wider audience, attract visitors into our websites, capture data of prospects which is critical to build sales or lead generation funnels as well as nurture them through to conversion as well as engaging with existing customers for repeat purchase.
Using inbound marketing as a strategy using our website as a content hub tends to be the most effective method as content purely posted in social networks has a short term visibility an d no ongoing seO benefit as content is locked behind a login so Google can't see this meaning it can't be found in search results.
Durability of content whereby it can keep on working for our businesses is key due to the fact we really want to reap the exposure and reach of content over a pre-longed period of time which will in turn enhance visibility in search results of search engines and thus increase web traffic and leads.
Don't forget to subscribe to our blog to follow our digital marketing tips and news…and connect with us on social media, share this article to help others or join the conversation below and feel free to ask any questions and we will be happy to help! 🙂