SEO or search engine optimisation is possibly one of the most misunderstood elements of online marketing. Digital agencies have made a tidy profit from businesses lack of knowledge on the subject and unfortunately in some cases caused some detrimental results through applying bad practices.
The term 'search engine optimsiation' quite simply refers to the appearance in search results within a search engine such as Google (reaches 90% of the Internets audience) resulting in more click-through to a company website or blog posts hence more traffic and ultimately more conversion.
SEO is very important for any business as Google handles over 3.5 billion search submissions a day – Check out this recent article '100 Amazing Google stats and facts'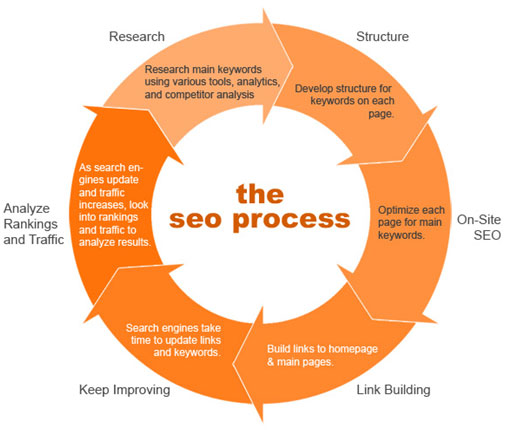 The more we appear in search for an array of terms the better. Think about it in terms of the more content you create such as blogs or pages, images or videos etc then the more property you are buying on the web and the larger your property portfolio the more visibility you have.
SEO is an on-going process not a one-off activity and it should be considered as an investment.
Your Google adwords campaign is only going to perform for your business for as long as you pay – Content marketing however is a strategy many have adopted because of it's return on investment.
Content marketing is a fairly new buzzword banded around in digital but just what does 'content marketing mean?' – Well it is simply the creation of content for the web to drive inbound traffic. Think of it as drawing your audience in based on their interest.
An article you publish from your blog will keep on creeping up he search ranking and could be bringing in even more leads and traffic 6 months down the line than it did when first published.
Consider creating evergreen content as part of your content and search marketing strategy because articles such as this one 'what is SEO' is timeless and will still be relevant in months to come unlike timely new pieces.
I would say the biggest pitfall of search marketing is the lack of use of search terms relating to problem solving. Consider the fact that the majority of us use a search engine to research or identify a solution to an issue we have.
So using the example that we as a training provider want to appear in search for terms such as 'seo course london' this assumes the searcher knows about seo and wishes to learn more.
What about the people searching to find out 'what is SEO' they are not going to search for a course necessarily but research more about it and perhaps could be inspired into attending a course by reading an array of articles all about SEO, its importance for business, why a business needs an search strategy and so on.
Imagine that 25% of searches are those looking for something specific but 75% of searches are looking to find a solution.
We want to use a knowledge base such as our blog to help draw in visitors interested in our topic 'digital marketing' – we want to establish ourselves as influencers in this field and build our authority and trust with readers through a tell not sell approach. We want to reach a broader audience using search terms covering our business, products, services etc as well as helping to bridge the digital skills gap.
Would someone feel closer to a brand or business if they had read several useful articles about a subject they were interested in or they had seen numerous times in search results? – well the answer is most probably.
SEO can be simplified into an activity all marketers can be involved in – it is not a dark, complex art only suited to digital experts or agencies. Establishing the terms you wish to rank for is probably the hardest element, followed by mapping out pages on your site to map those keywords to followed by a consistent content marketing strategy to generate useful blog articles to match what people are searching for in your industry. A business should always perform an SEO audit to establish exactly how visible they are in search prior to any other activities.
Don't forget to subscribe to our blog to follow our SEO tips and news…and connect with us on social media, share this article to help others or join the conversation below and feel free to ask any questions and we will be happy to help! 🙂