According to a recent study by McKinsey (Women in the Workplace 2018) women remain underrepresented.
This is particularly true in tech industries where only about 20% of Tech Jobs are Held by Women (Small Biz Trends:Women in technology statistics) and a lack of female mentors could be playing a part in inspiring the youth of today.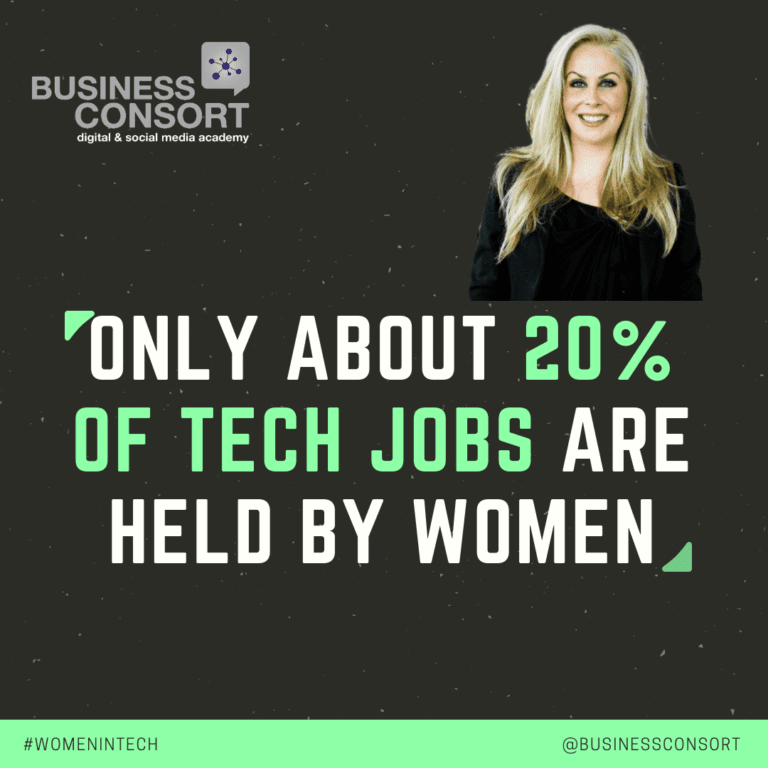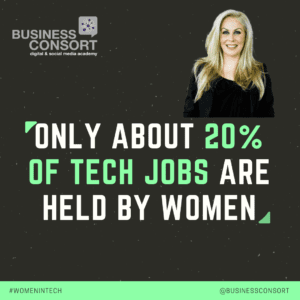 I (Dawn McGruer Ranked #1 for Digital Marketing on LinkedIn) have worked in tech for the past 20 years and although I do see more and more females in the world of tech it is still a very slow evolvement. There needs to be a concerted effort to attract more women to the technology sector but the gender pay gap isn't helping with the average salary for women reported as £59,209 and £78,599 for men.
According to the recent Computer Weekly Salary Survey 2017/2018 UK & Ireland, the UK will have 800,000 unfilled IT jobs by 2020. So we are facing a huge worldwide digital skills gap.
This skills gap was indeed addressed by the Education Secretary, Damien Hinds back in January 2018 in his first speech in this position so there needs to be investment in the youth of today who will be tomorrow's tech and business leaders and entrepreneurs.
I am passionate about bridging the digital skills gap and have concentrated my efforts into developing digital skills through Business Consort Digital Academy. I am proud to say we have reached over 25,000 in our alumni who we have successfully trained and certified to CIM standards but there is still a long way to go.
I feel that digital marketing is such a central skill to have in business today due to the fact online presence contributes heavily to business success.
I see a vast amount of organisations who have absolutely amazing products and services but still struggle to reach the levels of profit they require to sustain and grow.
This is largely down to ineffective and insufficient marketing not the actual demand for the product or service but more to the visibility and reach to their target audience and markets.
So how can we empower our business owners, marketers and upcoming talent?
I feel digital marketing and tech related skills need to be taught in schools and there needs to be more inclusion of digital marketing as a whole in University degrees.
As a CIM tutor for the CIM Digital Diploma in Professional Marketing I can honestly say I am shocked at how many degree holders have little knowledge of digital marketing in the business world. Even those who have marketing related qualifications have not had the exposure in the syllabus to digital marketing for commercial purpose. This is really disappointing in an era that is so focused to online trading and commerce.
I feel that curriculum needs to encompass real-world business skills because again when we look at the talent coming into business many are not equipped with what these businesses need in a marketing or tech related role.
Apprenticeships have been a welcome addition to this sector but still they are coming into an apprenticeship totally fresh and under-exposed to the concepts of business.
If we could reach our youth in schools and follow this solidly through higher education or apprenticeship training businesses would be more at ease in employing young talent because there would be a higher level of expertise that would fundamentally help them add to productivity and profit far quicker.
This is often over looked because when you look at job adverts the majority want experience because they don't have the resources or time to micro-manage and train from scratch. If we could help bridge this gap we would see a more diverse recruitment approach from business and younger talent would have more opportunities to accelerate their careers.
Join the digital revolution and join our 30 day Digital Challenge – Download our FREE PDF Guide packed full of 30-Days of Digital Tips…
Dawn McGruer FRSA MCIM – Multi-Award-Winning Digital Marketing Speaker, Author & Trainer
Awarded Best Female Speaker by The Professional Speaker Awards
Publishing Contract with Wiley for Digital Marketing Book covering our Award-Winning Solution Framework
Ranked top 1% on LinkedIn for Social Media & Digital Marketing – Social Selling Index.
My mission is to 'Maximise Digital Marketing Profits to Scale & Grow A Business' and started my busines at age 21.
I am a digital marketing specialist, trainer, consultant and owner of Business Consort; a leading digital agency and training academy, accredited by the CIM (Chartered Institute of Marketing)
Trained & Certified > 25,000 professionals (Founder of Business Consort- Digital & Social Media Academy)
We provide digital marketing services to national brands, such as HPE, MBNA, BT and Virgin Media, and SMEs across all sectors.
Over 14 commendations from the CIM for exceptionally high student pass rates (99%)
Passionate about digital marketing and driving business growth through enhancing online presence and increasing brand awareness, I have successfully designed and implemented effective digital marketing and social media campaigns across all sectors. I am committed to researching and studying new developments in the industry so I can deliver innovative marketing solutions and provide relevant skills and knowledge to business owners and individuals.
I am particularly confident in building, cultivating and managing branded online communities across social media platforms. Technically proficient, skilled in data analytics and digital metrics.
A dynamic, forward -thinking leader, adept at managing a diverse, highly skilled team, I am committed to delivering an exceptional service across digital and social media marketing training and services, and welcome opportunities to connect.