3-Days | London | Manchester
Mar 3rd – Mar 5th 2020 | London
Mar 17th – Mar 19th 2020 | Manchester
Jun 9th – Jun 11th 2020 | Manchester
Jun 23rd – Jun 25th 2020 | London
Oct 6th – Oct 8th 2020 | Manchester
Oct 13th – Oct 15th 2020 | London
The Fast Track Academy is a 3-Day intensive workshop aimed at helping marketers, business owners, professionals and entrepreneurs to master the world of online marketing and social media. Covers all aspects of marketing required in today's business world;
MAINTENANCE MARKETING – Plan for Maximising & Sustaining Online Presence & Positioning
DIGITAL CAMPAIGN MARKETING – Lead generation & Conversion Strategies to Achieve Maximum Return On Investment
Attend 3-Day Course in Manchester or London or learn Online
£1549 + VAT (or £1749 with CIM Diploma) - Includes refreshments, lunch, workbooks, CIM Certificate upon completion + unlimited after-coure support
JOIN US IN LONDON OR MANCHESTER FOR THE 3 DAY FAST TRACK ACADEMY IN MARCH, JUNE OR OCTOBER 2020…
MOST POPULAR COURSE
An intensive 3-Day Course in London or Manchester - Hosted 3 x times a year (March / June & October) - Our Fast Track Academy is available as a standalone CIM Certified Course but you have the option to upgrade to study CIM Digital Diploma in Professional Marketing.
The 3-day Fast Track Course covers 80% of the syllabus for the CIM Digital Diploma and then you studied the remainder online. The key difference is the diploma is a worldwide recognised qualification that requires 3 x assignments to be completed to graduate opposed to a certified course which has no assessment or qualification at the end.
We offer two study option for the CIM Digital Marketing Diploma - You can study online or attend the 3-Day Fast Track - Blended-learning study option (study remaining 20% online) which we run 3 x times a year in March, June & October
All Courses run from 10am-4pm with a 1-Hour lunch break from 1-2pm
Proposition, Presence, Process, Customer Personas, journey - Process of attracting and converting your audience.
The key channels + underlying principles & approach to digital marketing
Marketing as a Revenue Generator NOT a Cost
7 Steps to Social Media Success + Daily Actions & Tactics to Double Engagement & Audience Size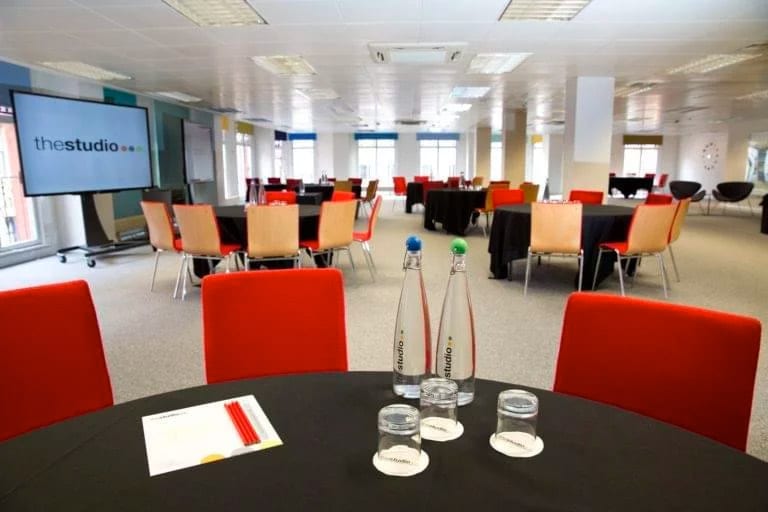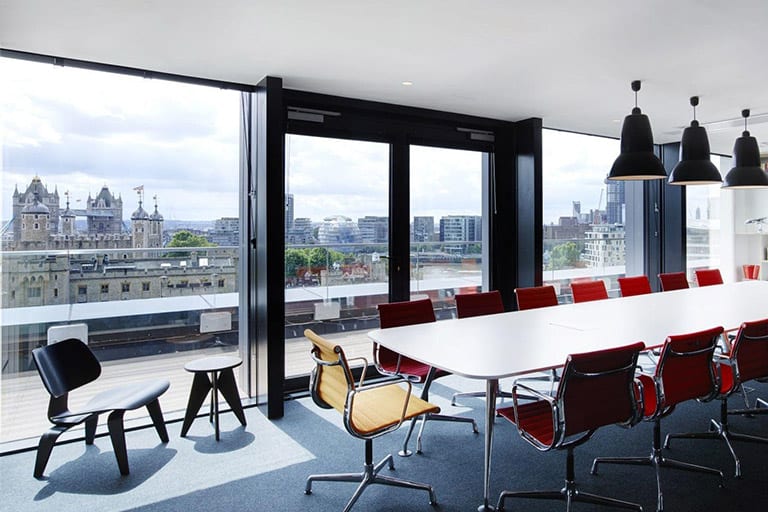 Search Engine Optimisation (SEO) + Pay Per Click (PPC)
Email Marketing + Lead Generation funnels
​CRM's & Social Selling + Affiliate Marketing, partnerships & influencers
Online PR & Advertising + Creating Ad Campaigns
Digital Marketing Strategy + Audit
​Digital Metrics & Google Analytics
Content Marketing + tactics for conversion & designing a killer website
Digital Marketing Tools for efficient & effective content marketing
​How to create engaging content: video, images, infographics, animations
​Designing high impact profiles and landing pages that convert to leads
​Write Blogs that drive traffic and gain interaction
Guaranteed Results in 30 days!
30% saving of your time, 7 x increase in your ROI (return on investment), 50% increase in leads and ultimately better campaign performance and profitability.
At the Fast Track Academy you will learn 8 Powerful Ways to Marketing Your Business Online using our unique, trademarked 'Dynamic Digital Marketing Model' created by our Founder Dawn McGruer which is published in her Best-Selling Book which is a finalist in the Business Book Awards and listed by Book Authority as one of the World's BEST Digital Marketing Books - Every delegate will get a free signed copy!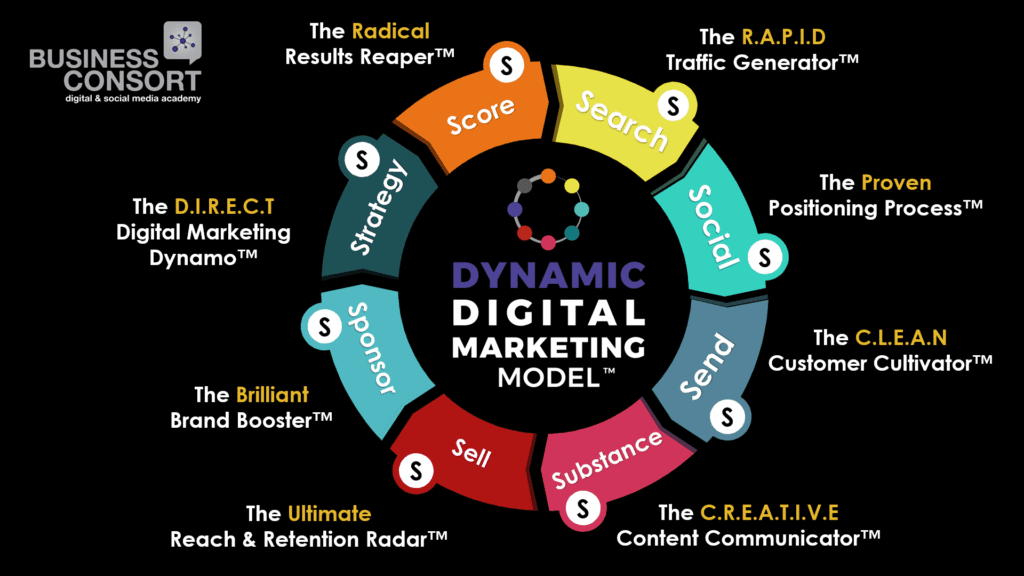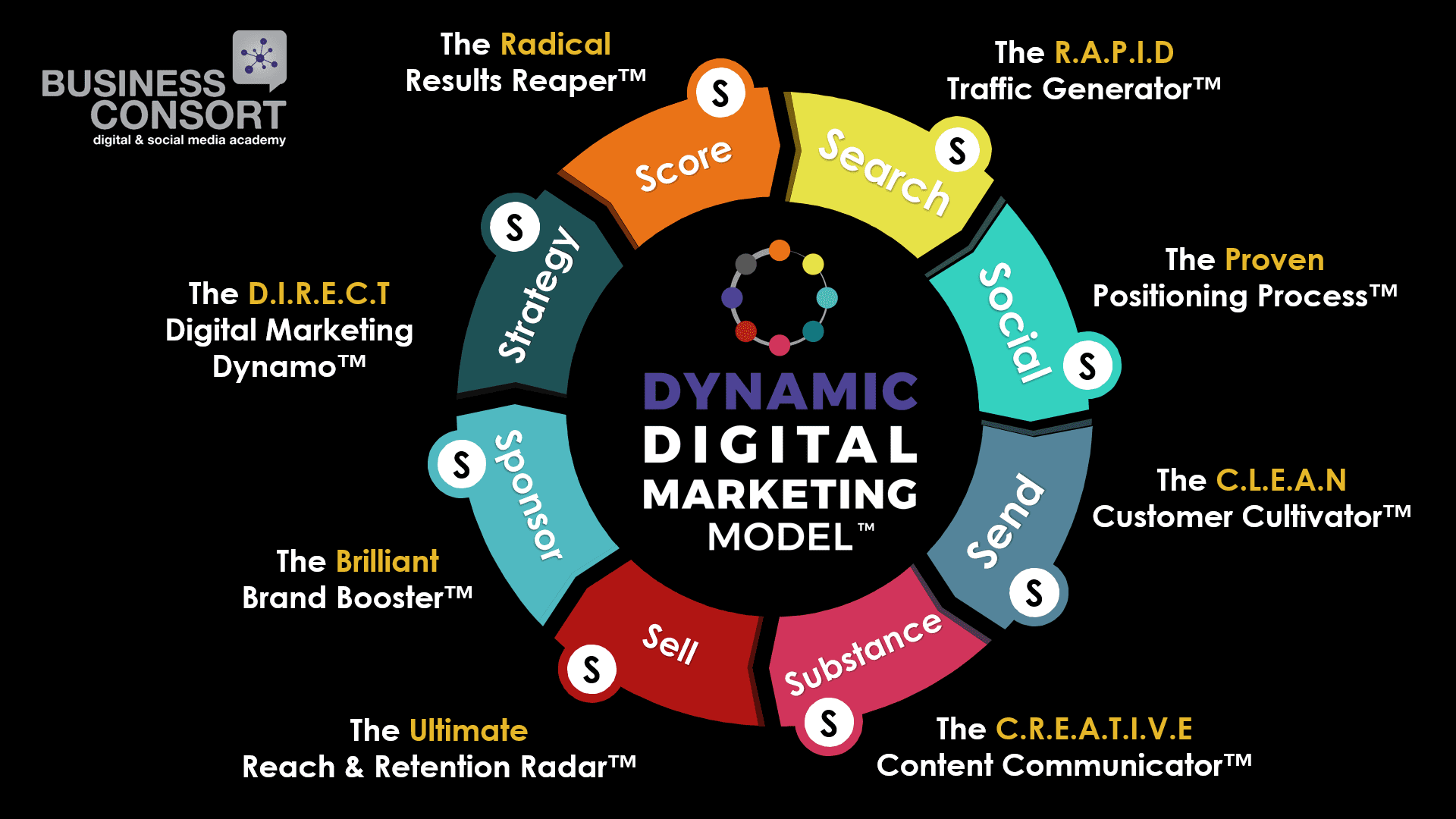 ... 8 Powerful Ways to Market Your Business Online
Demystifying the dark art of SEO (Search Engine Optimisation)
7 Steps to Social Media Success (Building & Engaging Audience)
Email Marketing Magic (Funnels, Lead Generation, Automation)
Creating Content that Converts(Design Landing Pages, Graphics, Video, Animation, Infographics & More)
Social Selling (The Stages of Digital Influence)
Creating Killer Advertising Campaigns (Social Ad Strategy)
Dynamic Digital Strategy (Auditing & Planning)
Turn Marketing into a Revenue Generator(Measure & Improve)
This course is accredited by The Chartered Institute of Marketing and offers the opportunity to upgrade to study the CIM Digital Diploma in Professional Marketing as it covers 80% of the syllabus - You would then study the remainder online and complete assignments to graduate with a worldwide recognised qualification + honorifics after your name, attend graduation ceremony in Westminster.
This course is for you if you...
Accelerate your career & boost your business
JOIN OVER 25,000 CLIENTS WHO HAVE ACHIEVED AMAZING RESULTS!
Don't take our word for it, here are just three clients who have gained huge benefit from joining BUSINESS CONSORT ACADEMY
from £1549 + VAT (or Payment Plans available)
INTERESTED?....GOT QUESTIONS?....
Call our team 0800 334 5784 or...
BEST PRICE | BEST QUALITY | BEST EXPERIENCE
Our price guarantee means we promise we are 20% cheaper than any like-for-like accredited course + discounts are available for multi- delegate and courses or charity bookings.
degree level qualification
UNLIMITED COURSE SUPPORT: Keep up to date with the latest tips, trends and techniques + Network with like-minded peers
​ALL COURSE MATERIALS: Workbooks & CIM Certificate  + Refreshments & Lunch
MARKETER OF THE MONTH: We offer a huge incentive to implement what you learn by submitting your campaign to become marketer where we showcase you and your business to our vast network of 5 million - An amazing promotional opportunity! 
​RESULTS: Guaranteed Results in 30 days - 30% saving of your time, 7 x increase in your ROI (return on investment), 50% increase in leads and ultimately better campaign performance and profitability.
Upgrade to study the CIM Digital Diploma in Professional Marketing as the fast track course covers 80% of the syllabus with the 20% remaining to be studied online.
Complete 3 x real-world assignments relating to their business.
Graduate with a worldwide recognised qualification and honorifics after your name (equivalent to undergraduate degree) & earn in excess of £50-100K.
All students studying the diploma are eligible for a Totum Student Discount Card which offers huge savings!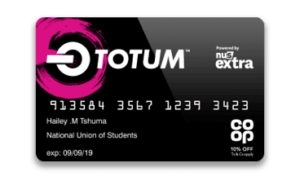 VIP PASS: Preferential seating, exclusive networking, private Q & A session with course leader
SLIDES & VIDEOS: All Slides from the Course as PDF + Online Course Videos (perfect resource to help you implement the tools and techniques you learned).
12-MONTHS IMPLEMENTATION COACHING & MENTORING: Consort Club Online Membership To Develop Your Career & Boost Your Business
​ONLINE MONTHLY MASTERCLASSES: Continue to develop your digital skills
​​4 X FREE EVENTS: Covering the latest online marketing and social media tips, trends, tools & techniques in Manchester & London
IT'S DIGITAL MARKETING MADE EASY!
Location, hotels & Travel
Business Consort Training Venue
CitizenM Tower of London Hotel
40 Trinity Square,
London
EC3N 4DJ
Located right on top of Tower Hill Underground Station and close to the Tower of London and Tower bridge. Our vibrant and plush training rooms are situated on the 7th Floor of CitizenM with absolutely amazing views of the Tower of London. Great rates are available at this hotel if you are looking for a base whilst attending the course.
Nearest Tube / Station: Tower Gateway & Fenchurch 2 mins or Aldgate Tube 5 mins
LEARN FROM LEADING DIGITAL EXPERT - dawn mcgruer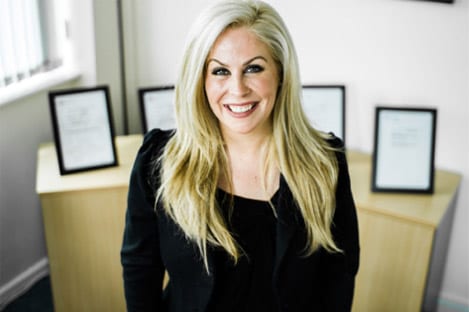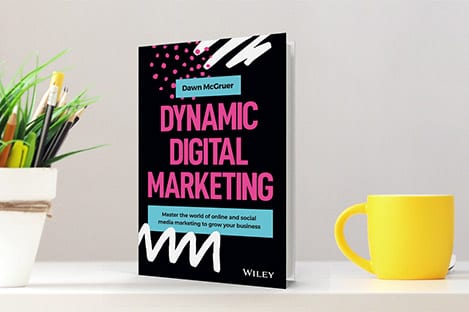 Dawn McGruer is an award-winning speaker, trainer, practitioner and consultant who has become a key influencer in the world of digital marketing. She was named Best Female Speaker at the Professional Speaker Awards, and her Dynamic Digital Marketing Model was named Solution Framework of the Year. Dawn is founder of Business Consort - Digital & Social Media Academy, which has enjoyed 14 years of success. Her insights are in high demand, and her expertise and experience has been rewarded with lifetime Fellowships with the Royal Society and CIM.
Dawn has a strong online presence including ranking in the top 1% globally on LinkedIn as well as boasting an enviable 5-million-strong subscriber base which proves she has the credentials to lead others to digital marketing success.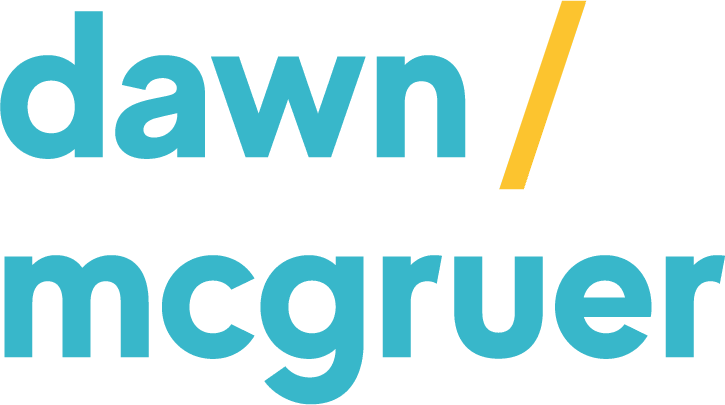 Best Female Speaker - As featured in




from £1549 + VAT (or Payment Plans available)
just some of the lovely people we work with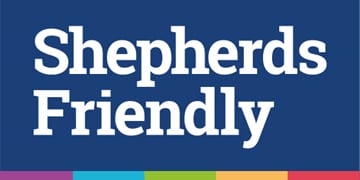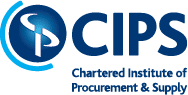 Frequently Asked Questions
Generally we would looking to help you achieve a 30% saving of your time dedicated to marketing activities, 7 x increase in your ROI (return on investment), a minimum of 50% increase in leads and ultimately better campaign performance and profitability. At the VIP Fast Track Academy we aim to maximise your digital marketing efforts to scale and grow your business.
YES – The CIM Digital Diploma in Professional Marketing is a worldwide recognised qualification which is equivalent to an undergraduate degree which you can study as you work instead of attending university.
YES – You must join the CIM £65 and pay £185 for them to assess and mark your assignment (there are 3 of these). You have a year to compete the diploma but you can renew to extend if for any reason you need to for a fee of £149 + VAT for 6-months or £249 + VAT for 12-months
YES – We will give you all the dates over the next 12-month to choose from and we include everything from course materials to refreshments and lunch.
Just click to book your place and on the next page you can choose your preferred study option and whether you would like to upgrade to study the CIM Diploma
YES – We are a CIM study Centre of Excellence with a 99% pass rate and over 14 x commendations for outstanding results achieved by our students studying the CIM Diploma. The Fast Track Course is accredited under the CPD programme and you'll receive a certificate upon completion.
Emma Mallinson, Global Marketing Product & Solutions Manager, Shell
"The training has given us the ability to lead discussions with our global digital teams within the organisation to request the appropriate support to get channels up and running.
It's also given us the know-how on building digital such skills into our communications strategy and reaching the right people".
Darius Ward, Entrepreneur 
"Dawn combined the what and how of Digital Marketing in perfect symphony.
As a result of her guidance and class training, I've become a Certified Digital Professional and secured my first 6-figure contract with a major Swiss company"
Fiona Challis - Speaker, Author, Channel Enablement & Sales Expert
"Dawn is truly outstanding to work with!
Not only was Dawn a dynamic speaker with excellent presentation skills, she has extensive knowledge and is a true expert in digital marketing and how drive new lead generation and build lasting relationships with your prospects online."
All courses are available to be delivered at your own premises - SAVE 40% on per delegate fees from £199 + VAT per delegate.
from £1549 + VAT (or Payment Plans available)
Other courses you may be interested in