Description
Online Digital Training POWER HOUR – Online training, planning and strategy sessions
Ideal for businesses who would like ongoing training, development, guidance on strategy and assistance in their digital and social media marketing planning – These power hours are completely tailored to your own personal learning objectives.
Is a POWER Hour right for you?…
✅Do you need clarity on your goal?
✅Do you need help getting your plans turned into specific actions?
✅Do you need help turning your ideas into reality?
✅Do you want to sense check the direction you are taking?
✅Do you want to make consistent monthly revenues?
✅Do you want more time to spend on other areas of your life?
GET 2020 off to a flying start with a strategy and planning session – LESS THAN HALF PRICE for any bought in October & November and sessions can be taken up until end of January 2020. Purchase your POWER Hour now and our team will be in touch to book a date and time that suits you 🙂
ONLY £549 + VAT (1 :1 Session)
SAVE a further 10% if you book 2 or more sessions – Just get in touch and we'll invoice you for POWER BUNDLES
This is a popular option when looking at upskilling on a particular topic or for creating a strategy and plan for your business. We create a bespoke session just for you based on what your goals are and if you are looking to create a strategy we will work with you to complete your 2020 planning template that we provide on the session so you'll be ready to get your plan into action after the session.
What is a POWER HOUR?
Our POWER HOURS are one of our most popular services we offer as they offer continuous professional development through guided learning and mentoring. They bridge the gap of knowledge – implementation – strategy – We provide all the aspects an external marketing consultant or agency would provide but we teach you how to do it and work with you to implement and manage it as well as assisting in reviewing results and monitoring effectiveness.
ONLINE TRAINING in bite size one-hour sessions based around your own learning objectives.
Most clients use these sessions to support their implementation and development of digital and social media plans. We structure our courses to advise the best course of action in terms of strategy as well as actually teaching you how to implement and manage the aspects and actions plan.
We tend to find weekly or monthly sessions are the most popular options initially moving onto quarterly sessions thereafter but you can book ad-hoc sessions too.
What can the sessions cover?
The sessions can be interactive training courses or a combination of training with a view to creating a strategy – It is entirely up to you!
We can cover any aspect or area of internet marketing but here are a few of the most recent topics we are asked to include in our sessions;
Search Engine Optimisation (SEO)
Search marketing – Pay Per Click (PPC)
Types of online advertising
E-mail marketing
Viral marketing
Online PR
WordPress
Website optimisation / management / build /design
Ecommerce
Blogging
Content marketing
Affiliate marketing
Social media
Strategy creation
Digital marketing planning
Digital metrics & monitoring tools
Digital processes – Choosing an agency / outsourcing /CRM / Digital Tools / Automation software etc
Regulation, social media governance and online codes of practice
PLEASE NOTE: Our trainers cover most areas of business related skills training from customer services to presenting etc.
When are the sessions?
These sessions run every week – You can simply place an order and we'll be in touch to find out when you would like your POWER HOUR and also what you would like to cover so we can build you own personalised session.
How does it work?
Simply BOOK ONLINE & we'll be in touch to arrange a convenient date then you send us your objectives and we will tailor your online session to your exact needs.
You can use these 1 hour sessions however you like – As training or consultancy – Anything relating to digital marketing and your online presence can be covered by your course tutor.
You can use the time to have digital marketing tools, campaigns and strategies set-up by Dawn and she can teach you what she's doing along the way so you can develop and amend projects later. Plus you'll get a video recording of the session to refer back to.
You can use Dawn's time to plan or develop strategies, learn new skills or ask advise and feedback on current activities – She can suggest best course of action and help brainstorm ideas or even show you proven case studies and business models that you can template for your own business.…You choose and we prepare the session accordingly to ensure you achieve your goals!
All you need is access to a computer so you can see our screen and you can talk through your speakers/ headset or dial in using a telephone. We use Zoom for the session and record the video for you to refer back to.
All course materials, workbooks and after course support are included and you will receive a recording of the session after the course.
Who will host your POWER Hour – Dawn McGruer who has over 20 years of experience in the world of digital marketing and has won numerous awards for her campaigns, client work and as a keynote speaker on the topic. She has also just published her latest book with Wiley on Dynamic Digital Marketing.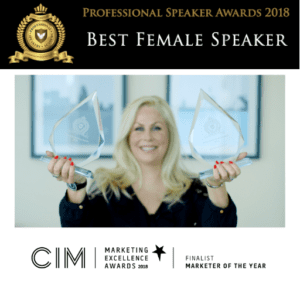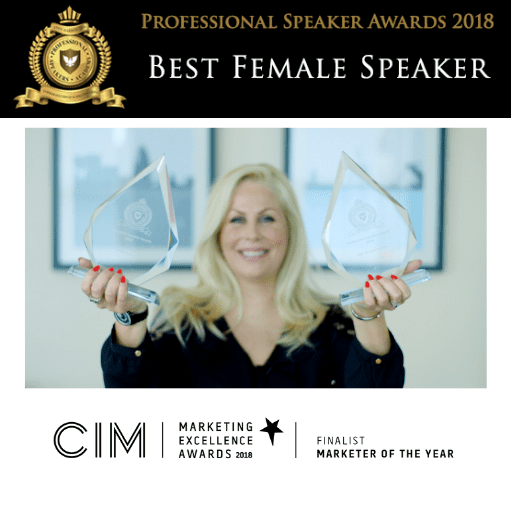 Dawn's Bio
Dawn is the founder of Business Consort – Digital & Social Media Academy which boasts an alumni of 25,000 trained and certified professionals worldwide.
She is an award winning digital marketing speaker (Best Female Speaker), author and trainer who has become a key influencer in the world of digital over the past 20 years having amassed over 5 million subscribers and is Ranked in the top 1% on LinkedIn in her industry(45,000 strong LinkedIn network) LinkedIn Profile
In addition, she also was shortlisted for the CIM Marketing Excellence Award 'Marketer of the Year'.
She has signed an amazing publishing contract with Wiley for her second book due to be released in Autumn 2019 and continues to be invited to speak on stages across the world to share her digital marketing knowledge. The book is based around her Award-Winning Solution Framework which is the Digital Model she teaches at the Academy.
She was also invited as a lifetime Fellow of the RSA – The Royal Society for the encouragement of Arts, Manufactures & Commerce in recognition of her expertise in the field of social media marketing and her work to raise awareness of the advantages of social media to business owners.
She is also a highly regarded judge for the annual Digital Experience Awards (DXA Awards).
Her vast marketing skills and experience as a senior marketer has been recognised as she has been awarded a CIM (Chartered Institute of Marketing) Lifetime Fellowship which is an extremely high accolade to achieve.
Dawn hosts a weekly podcast 'The Dynamic Digital Marketing Show' and also has a 30 episode series 'Digital Marketing Made Easy' both available in iTunes