Online Marketing Courses Launch

As an award winning CIM study centre of excellence we are really pleased to launch our NEW online marketing courses to replicate our classroom learning experience online as we have so many requests from delegates about online learning – we already provide our Digital Marketing Qualifications online which are hugely popular so we decided to break down all areas of Digital Marketing into bite size video based learning chunks.
Our online digital marketing courses offer learning anywhere at anytime – 24/7 and can be taken alone or to support face-to-face courses hosted in London or Manchester.
In addition to our new course launch we have also launched a brand new after-course support portal to enhance our classroom learners after they attend the courses- We offer unlimited after-course support through our online group & forum which allows delegates to maintain contact direct with their tutor – Dawn McGruer FRSA MCIM MiOD, ask questions, post content, network with other members as well as accessing FREE online course content which we provide as part of our Digital Developer Course which every course attendee is automatically enrolled on to continue their professional development.
We will also release monthly webinars as video style learning to further aid in their development of digital skills and keep them abreast with digital trends, tools, predictions so they know how digital marketing is evolving and what that means to their business. We encourage members to participate in our Facebook group as notifications of latest news and new content will instantly be connected back to their group to access.
Each course is 2-hours long and we will be launching more and more courses every week and month throughout 2017 and we look forward to reaching our 150 course benchmark by the end of the year.
All of our Courses are accredited under the Chartered Institute of Marketing CPD programme
Online Courses from £99 + VAT – normally £199 + VAT each
Key Features & Benefits
Bite Size Lessons split across modules
Certificate upon completion
2-Hours of video content per course
High-Definition Video Style Lectures
Slides downloadable as pdf notes
Flexible Learning at your own pace
Gain Up-To-Date Industry Knowledge
Internationally Recognised Accreditation
Supporting Downloadable Course Guides
Dedicated tutor to Guide & Coach you through the Course
Private messaging contact with your tutor
Draw from your tutors Expertise in Digital Marketing
Access our Online Learning Community 24/7
Watch Video Lectures on Mobile Devices – Anywhere & Anytime!
Unlimited after-course support
Our online learning community is extremely clear and easy to use and can be accessed on desktop or any mobile device.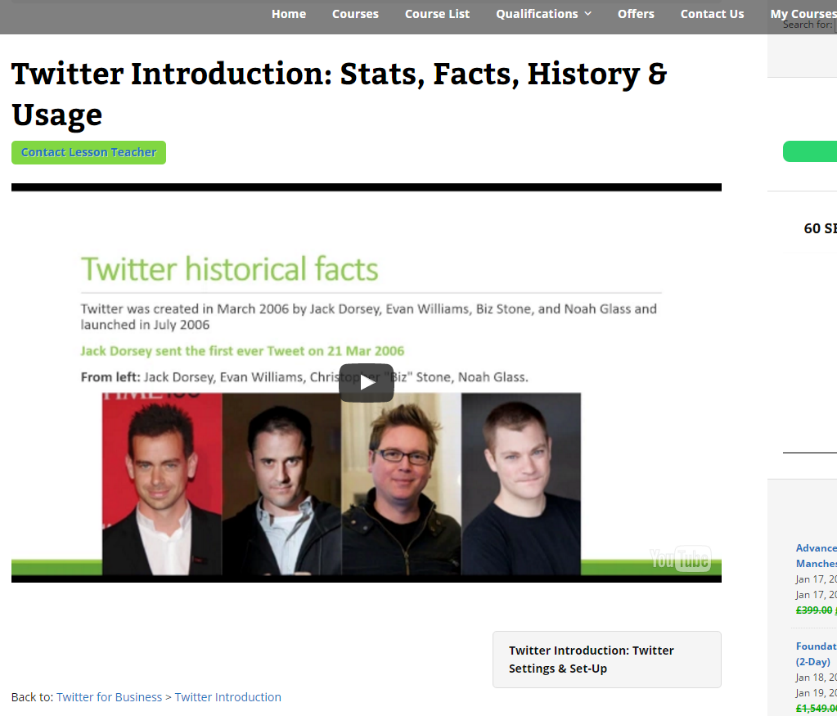 Professional – worldwide recognised qualifications
PLEASE NOTE: Study any of our qualifications online for ONLY £749 + VAT – Normally £1549 + VAT (A Massive £800 SAVING until 31st January 2017 – This offer won't ever be repeated

Professional Diploma in Digital Marketing Accredited by The Digital Marketing Institute – Learn More…

Study ONLINE £749 + VAT (normally £1549 + VAT)
2-day Fast Track in London or Manchester £949 + VAT (normally £1749)
Professional Diploma in Digital & Social Selling Accredited by The Digital Marketing Institute – ONLINE £749 + VAT (normally £1549 + VAT)
CAM Diploma in Digital Marketing Accredited by The Chartered Institute of Marketing – Learn More…

For help choosing the right course email us or call our team on 0800 334 5784 (You can also click on live chat on our website if you'd like help online!)
BEST PRICE GUARANTEE means we are 20% cheaper than all like-for-like course in the UK
Learn more about the importance of digital marketing
Need help finding the right course? Call our team 0800 334 5784
Let us know what topics you would like to see covered in our online course portfolio – comment below – subscribe to our blog and keep ahead in digital marketing – spread the word and share our news with your network 🙂